We are thrilled to announce that our first batch of UpGrad Product Management Program launched on 30th July and is running houseful with students from top schools like IITs, IIMs, ISB, working at companies such as Practo, HP, Coca-Cola, Adobe, Intel, and others.
The sheer diversity of the batch stands as a testament to the exponentially growing interest in the field of product management. 70% of the batch consists of students with over seven years of work experience. There is a healthy balance of professionals from technical and non-technical background, current and aspiring product managers and budding entrepreneurs. Our students hail from varied geographies such as Mumbai, Delhi, Bangalore, Kolkata, Dubai and Germany. While the cohort has a mix of students with diverse backgrounds in terms of experience levels, geographies and work backgrounds, what binds them together is the common goal to start and successfully grow their career in product management.
"Structured approach, live projects and mentorship from industry leaders are all which attract me to this program," says Pulkit Jain, an IIM graduate currently working at Adobe. Kushagra Jaiswal, an IIT Delhi alumnus who is working on his own startup, feels this is a  "chance to learn something which is not frequently taught and the chance to network with the stalwarts of this line of job."
Product management as a role has come to be one of the most critical ones in current times. There's no better time to be a product manager in India than today given the booming Indian startup ecosystem.  With the growing number of startups and tech companies in India fighting neck-to-neck to have a competitive edge by launching a new product every year or by constantly improvising on the existing product, there is an increasing demand for PMs who understand the consumer behavior of Indian users. Product managers are the backbone of any product team who play an all-encompassing role of seeing the team through till the product launches in the most responsible and efficient way possible, no matter what they have to do. Neena Budhiraja, Director – Product Management at Ola, says that a product manager is the 'CEO of his/her product'.
Manish Jethani, Head Consumer Products at Grofers, who was the founder of food delivery startup Spoonjoy says "India is going online; even the older generation is rapidly adopting technologies like Facebook, Whatsapp, etc. Now that a lot of products are being made in India for Indian population, there is a gap in availability of people who understand the user behaviour and what needs to be built."
While the demand for this role is at an all time high, the skill-set required is scarce. This is largely because the product management is a nascent career option in India due to which a mentor ecosystem has not developed. Moreover, it is a role that needs one to have a deep understanding across diverse areas such as technology, design and business.
To fill this huge demand and skill gap, UpGrad introduced an extensive five-month online Product Management Certification Program — a program that allows you to learn, develop and implement the necessary skills to be an ace product manager. It gives you a sneak peek into the experiences and anecdotes of leading product managers at Microsoft, Paytm, Practo, Myntra, Bookmyshow and other leading companies, inspiring you to hone your soft skills and understand the fundamentals of product management like user research, product design, product analytics and much more.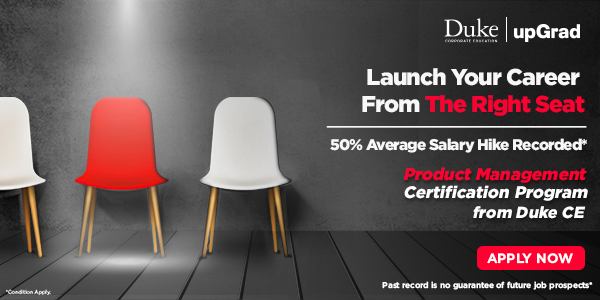 The UpGrad Product Management Program is a fantastic tool to have at your disposal to learn product management.  – Mangesh Dalvi, AVP – Products, Myntra
This course gives you an opportunity to be mentored one-on-one by the product heads of leading technology companies such as Practo, Paytm, Microsoft, Goibibo, and Freshdesk, and learn through live Q&A with industry experts. It lets you get a hands-on experience by making you solve real product problems faced by the industry and thereby building your own product portfolio by the end of the program. Its special placement assistance program helps you showcase your product development knowledge to potential recruiters, thus helping you step into the shoes of a good product manager seamlessly.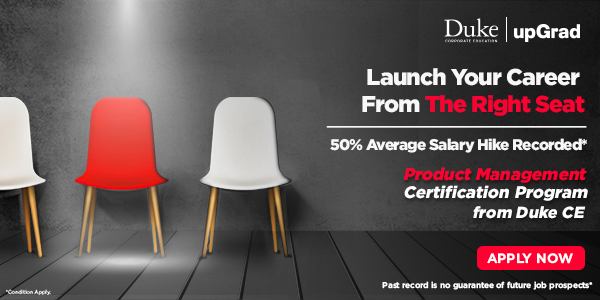 Here is what Punit Soni, ex-Chief Product Officer at Flipkart, has to say about product management in India:
To know more about this program, take a look at the detailed syllabus here. And if you are floored by it, don't be discouraged by the 'bookings closed' sign. The admissions for the next batch which starts on 15th October is already open. You can sign up for it at any time right here.
Study Product Management Courses online from the World's top Universities. Earn Masters, Executive PGP, or Advanced Certificate Programs to fast-track your career.
Featured Program for you: Design Thinking Certification Program from Duke CE
Build Cutting-Edge Products
UpGrad's Product Management Certification Program
Learn More