As the markets start to reopen, enterprises around the world are looking at a rapid recovery mode to overcome the muted economy. Businesses are now preparing for the decade of the never-normal, an era of isolated workforce driving combined business growth. And tech companies are the torchbearers, some of them making plans to have a permanent remote working staff in the near future.
But how do you efficiently drive full-scale digital transformations with remote IT teams?
Enterprises know that while remote working has become the new normal, the expectation of collaborative IT teams to deliver swift operations is not new at all. This is where the increased need and demand for the full stack workforce comes in. Embracing full stack allows enterprises to be nimble with a lean, self-sufficient team by fully utilizing the resource to code both front-end and back-end, as well as everything in between like system administration and server maintenance.
Full-stack developers break down siloed disciplines by unifying technology, processes, and people. This DevOps culture improves collaboration and coordination. This helps enterprises with the agility they need with smaller teams.
Here are a few full-stack advantages that can give you a competitive edge
The Technical Advantage
Continuous software delivery


Complete ownership of the entire software lifecycle means

, code changes reach production—and new value reaches the customer—as soon as possible.

Less complexity to manage


Full stacker's ability to move from one operation to another and a collaborative approach with different disciplines helps businesses streamline processes and fast-track development.

Faster resolution of problems


Full stackers understand all the layers of programming, allowing them to quickly identify and resolve problems on the fly.



Read: Full Stack Developers Demand in India: Hottest Profession
The Cultural Advantage
Happier, more productive teams


When a full-stack developer takes on a project, the overall productivity of the team gets a boost. He/She acts as a bridge between the front end and back end, fostering greater collaboration and sync. Their natural ability to lead by example, help them motivate and inspire their teams.

Higher employee engagement


A full-stack developer is an inspiration for everyone, especially the newly employed individuals. Their knowledge of both front-end and back-end technologies makes them great mentors, helping juniors see the big picture and seniors see the benefits of greater collaboration.

Greater professional development opportunities


Going full-stack naturally opens doors for traditional roles to move towards DevOp roles. It creates a professional development path for all your existing functions, from front-end to backend to QA/QC teams to delivery teams, helping you curb the employee attrition problem.
The Business Advantage

Faster delivery of features

to give you the competitive advantage

More stable operating environments

to work smarter and more efficiently

Improved communication and collaboration

for increased productivity

More time to innovate

rather than spending time on fixing and maintaining



Full-stack value chain to add value to your business
Customers are now expecting enterprises to go from concept to prototype within weeks while maintaining focus on the bigger picture. They are expecting
Agile product delivery


FSD culture allows you to deliver products in a more agile way, frequently. This allows you to go from concept to beta test to the final release earlier than planned saving businesses time, money, and resources.

Ability to change


With a full stacker on board, the team can constantly refine and reprioritize the overall product backlog, whilst delivering on the agreed subset of features during each iteration. This allows the team to introduce changes within weeks by planning the changed backlog items in the next iteration.

Not just product, business value delivered


By getting the client involved in deciding the feature priority, the team understands both the business focus and customer needs, in turn allowing the team to deliver features that add value to the business.
This has naturally evolved a few traditional roles into full-stack roles to keep up with the requirements of continuous development, integration, and delivery with efficiency.
Isolated developers to FSD –

Pockets of expertise to end-to-end solutions

QA/BA/QE to FSE –

From a business analyst or a tester to full-stack engineers to

maintain quality and ensure the responsiveness of applications by reading and tracing code to build test automation.

Support Engineer SRE –

Technical Operations to Site Reliability Engineer (SRE) to drive a higher level of automation in application deployment

.
Delivery Manager –

who can gather unarticulated needs, create ROI, envision solutions, understand modern architecture, and manage the engineering team to deliver with small agile teams.

From Architect Digital to Solutions Architect –

Design the overall architecture of the web application from concept to cloud implementation.
Learn about: Full Stack Developer Salary in India
2020's most in-demand skill is not available on demand
It's not a surprise that the tech world is now ruled by Full Stack Developers. HackerRank Developer Skills Report suggests that across company sizes, full-stack developers are top priority: 38% of hiring managers say it's the #1 role to fill in 2020.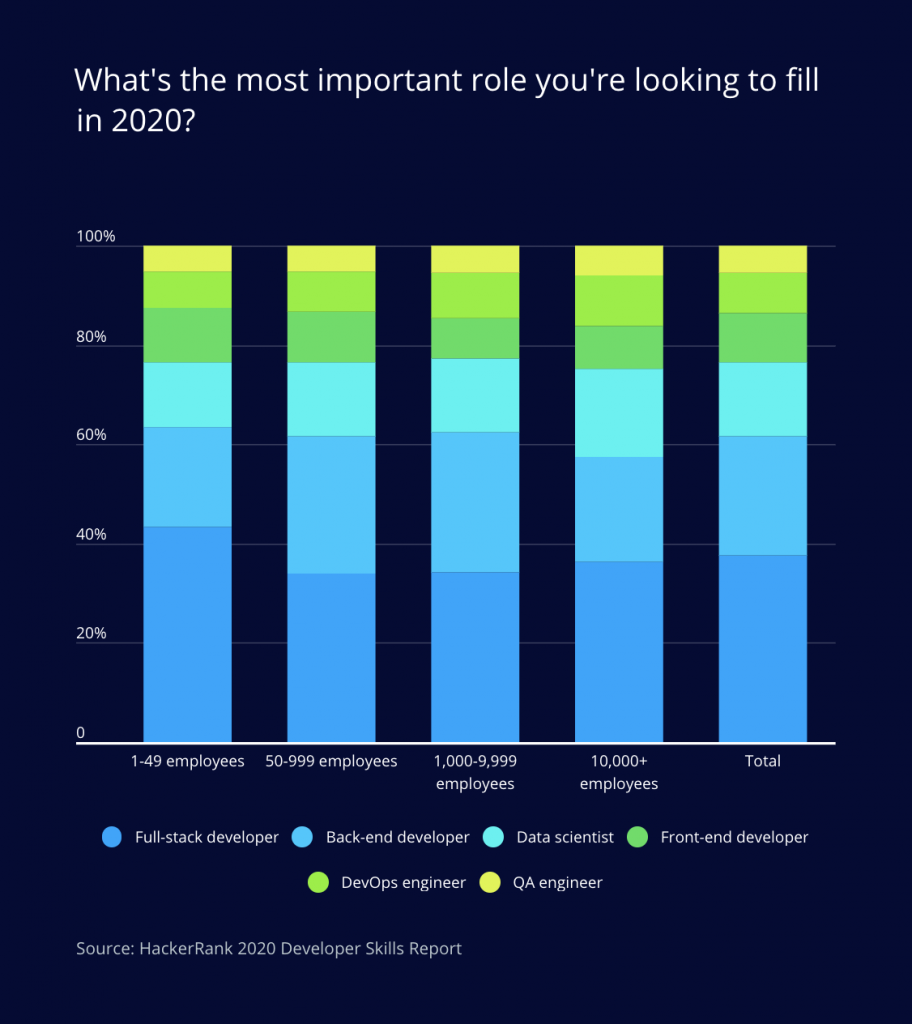 While Full Stack Developers are most in-demand, there's a critical gap between wanting to hire Full Stack Developers and the available talent pool in India. With over 1,20,000 full stack developer positions open in India and just 1/3rd available expert talent pool, it's becoming harder for companies to find the right talent pool.
Start-ups are setting the new norms of agile development, and often only hire Full Stack Developers to manage both time and money constraints. This has forced bigger companies to work doubly hard to keep up. But there's a huge difference between hiring 10 or 12 developers and hiring them in thousands. This is exactly where the need for deep skilling at scale comes in.
Deep skilling at scale comes with a stack full of advantages
Those who were sitting on the fence have by now (The COVID-19 reality link to the whitepaper) realized that online learning is the future of upskilling. However, it is also important to understand why and how online learning will help you not just with upskilling but deep skilling at scale (brochure Link) making you future-ready.
1. Adapt at scale
Deep analytics and the pulse of market trends have always allowed online learning players to be one step ahead of the demand chain. So, while the companies were busy looking at developer talent in isolation (front-end, back-end, server-side), online learning had already erased the borders and adapted to the new reality of making the taskforce ready to deliver full stack ability (link to the brochure). So, whether you want to upskill 100, 1000, or 100,000 employees to stay ahead of the game, when you are ready to turn on the operations, we are ready to take it full-scale.
2. Outcomes at scale
The outcome can mean many different things to many companies. That's why, over and above our plug and play solutions, we also work with businesses to understand their needs and create customized programs to deliver on those outcomes.
So, whether you want to get
a. Deployment-ready full-stack workforce within 6 months
b. Reduce employee bench time
c. Improve overall utilization and productivity
d. Bring uniformity in coding standards
Or align your L&D plan with your business growth strategy,
we are with you every step of the way from creating the best deep learning experience to achieving the outcomes you desire.
3. Deep learning at scale
upGrad Enterprise's, Full-Stack Diploma program specifically focuses on problem-solving and putting things together from concept through to delivery to create a real product as an outcome so that your employees can fully experience the full stack journey. And the real-time immersive environment means that they strengthen the core concepts to deliver from day 1.
Together we can create a new online learning paradigm
At upGrad Enterprise, we are obsessed with learners' success. For us, it's not just about them completing the program, it's about strengthening their core concepts and providing exposure to the latest software development tools so they can keep adapting to the changing tech landscape.
Our unique human-assisted learning experience, best-in-class mentors, access to the industry experts and our alignment with the most renowned academies mean that your employees will not learn in isolation. And when you combine that with our best-in-class AI to keep the learners engaged, our industry-defying rates of over 85% course completion will not surprise you.
To date, over 500,000 learners have been successfully deep skilled via upGrad at industry-defying rates of over 85%. Our cutting-edge curricula and collaboration with the leading global faculty and industry experts make us the pioneers in helping enterprises create a workforce that is ready to conquer tomorrow, today.
Still, need convincing? Download the brochure
Or Reach out to us on enterprise@upgrad.com