What do you study in a business analytics course? 
What is a business analytics course syllabus? 
If you're looking for an answer to these questions, you've come to the right place. This article will throw light on our business analytics syllabus, and you'll find out what you can expect to learn from the same.
We offer the Certified Program in Business Analytics with IIT Bombay, and this article will discuss the syllabus of that course. This program teaches you the necessary skills for becoming business analytics professional. IIT Bombay is a recognised Institute of Eminence (IoE) and, according to (QS) World University Rankings 2020, it is ranked 1st in India. 
Also check: Business analyst career path and professional roles.
Our Business Analytics Course Syllabus
Our business analytics course teaches you the foundational skills you need to become a professional in this industry. You will learn about all the technologies and subjects professionals use in this sector through videos and live lectures. Our course offers weekly live lectures every Sunday where you can resolve doubts and interact with instructors.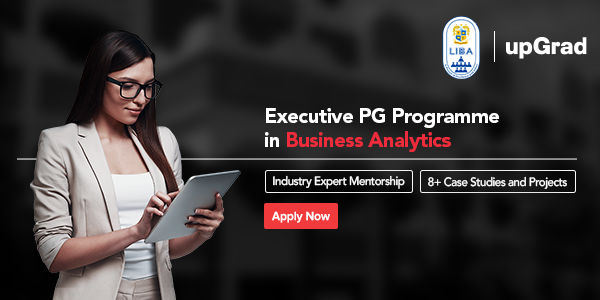 Even though our business analytics syllabus is highly detailed, the course lasts for 7-months only. Moreover, it is completely online, allowing you to pursue the program from anywhere in the world. You don't have to interrupt your professional life to learn business analytics as you can learn from the comfort of your home or any other place you like. 
Some of the top skills you will learn in this program are SQL, Tableau and Python. After completing our Certificate Program in Business Analytics, you'll receive a completion certificate from IIT Bombay CE and QIP (Continuing Education & Quality Improvement Programmes). 
Our learners also read: Business analyst course free!
Read our Other Articles Related to Business Analytics
We have shared a glimpse of our business analytics course syllabus below so you can understand what to expect from this program: 
Introduction
The first section of our business analytics gives you an overview of the course with interesting examples from the field of business analytics. You will learn about the different modules available in the program and understand the opportunities available in this industry. 
Read: What is business analytics – Its Career scope, Salary & Job Roles.
Python
Python is among the world's most popular programming languages. It is a highly versatile language with applications in data science, machine learning, and business analytics. The reason behind Python's high popularity is its various libraries. 
In this section of our course, you will get familiar with Python and learn how to manipulate data sets in this language by using Pandas. Pandas is an open-source and the most robust library for data preparation and analysis. 
Descriptive Statistics
This section will throw light on descriptive statistics, the process of analyzing a summary statistic that quantitatively describes or summarises features from a group of information. This module will also throw light on some of the concepts from the next section of our course, Prelim Stats Concepts. 
Read our Other Articles Related to Business Analytics
upGrad's Exclusive Business Analytics Webinar for you –
How upGrad helps for your Business Analytics Career?
Prelim Stats Concepts
This section will further explain descriptive statistics and several other foundational concepts, including conditional probability, random variables, and distributions. Learning about these concepts will help you move onto more advanced subjects in the latter half of the program. 
Exploratory Data Analysis
After you've studied the basics, the course will cover exploratory data analysis, which we use to find and analyze patterns in the data to generate actionable insights. Exploratory data analysis is also an essential skill for data professionals, and it primarily uses statistical graphics and other data visualization techniques. 
Statistical Inferencing
This section of our Certificate Program in Business Analytics will make you familiar with statistical inferencing. You will find out how to infer insights for a vast population using a small sample. It is also the first module that lasts for two weeks. 
ANOVA and Sampling
You will learn more about levering statistical concepts and your generated insights to solve problems in this module. The course will teach you how to formulate and validate hypotheses for a population to solve business problems. 
Time Series
This is another 2-week module where you will learn how to analyse and forecast a series that varies with time. A time series refers to a sequence of data points recorded in time order taken at successive equally spaced points in time. It can be annual, monthly, weekly, or even by the minute. 
PCA
You will understand crucial concepts related to dimensionality reduction, PCA fundamentals, and how you can use them on supervised and unsupervised problems. 
K-Means and K-NN
K-means is among the most popular and powerful classification algorithms in machine learning. This section will make you familiar with K-means clustering and how you can use it to classify data. We use K-means clustering to classify data into different clusters when we don't have any predefined labels. 
Neural Networks
Neural networks are computer systems focused on resembling the functions of a human brain. They are an advanced branch of artificial intelligence and machine learning. This module will teach you the fundamentals of artificial neural networks (also known as ANNs) and how we use them in business analytics. 
Optimisation
This section of our business analytics course will teach you the fundamentals of linear and non-linear optimisation to reach an optimal solution under different decision constraints. 
Simulation
Here, you will learn about how you can run simulations to understand decision-making under uncertain circumstances. 
Applications of Business Analysis Part I
By now, you would have learned all the fundamental and advanced concepts of business analytics. Hence, we'll cover how you can apply business analytics in different avenues of an organization. This section will cover business analytics applications in Big Data, Business Problem Solving and Marketing Analytics. 
Applications of Business Analysis Part II
Like the last section of our business analytics syllabus, this one would teach you how you can approach open-ended problems through data to generate valuable insights. Some areas we'll cover in this module are Financial Analytics, HR Analytics, and Operational Analytics. 
Our learners also read: Business Analytics Free Online Courses
Start learning today!
We hope you found this article on our business analytics course syllabus useful. If you're interested in learning more about our business analytics course, you can directly check out the course page: Certificate Program in Business Analytics.
upGrad's Certificate in Business Analytics from IITB  on "Applying Business Analytics" can help you enhance your business performance and drive growth. Since the course is conducted 100% online, it doesn't require you to compromise focus on business operations. So, book your seat now and avail the benefit of learning from world-class faculty and industry experts for the next seven months!
You can also check out IIT Delhi Executive Management Program in Business Analytics. IIT Delhi is one of the top institutes in India and also one of the oldest IIT's and is always excelled in giving highly industry-relevant courses, Now IIT Delhi has partnered with upGrad to get these top IIT Delhi courses online. They have a variety of other programs like Machine Learning, Executive Management Programme in Strategic Innovation, Digital Marketing and Business Analytics etc.
Learn Business Analytics Courses online from the World's top Universities. Earn Masters, Executive PGP, or Advanced Certificate Programs to fast-track your career.
What is the entry-level salary of a business analyst?
In general, entry-level business analysts make anywhere between Rs. 3,00,000 to Rs. 5,00,000. The average annual salary of a business analyst with less than a year of experience is Rs. 3,59,807. Business analysts with 1-4 years of work experience earn Rs. 5,27,712 on an average. As you gain more experience, your average salary goes up as well. With over 10 years of experience, you can expect to earn between Rs. 10-20L per annum.
What are the top companies that hire business analysts?
Some of the top companies that offer good salary packages to business analysts are Tata Consultancy Services (TCS), Accenture, Computer Sciences Corporation (CSC), Capgemini, etc. The average salary offered by them is around Rs. 7L per annum. Other companies like HCL and Wipro have roles open for business analysts too with an average annual salary between Rs. 5-6L. Amazon, the ecommerce company, pays anywhere between Rs. 3-17L per annum depending on their seniority level.
What are the 3 types of Business Analytics?
The primary 3 types of business analytics are descriptive analytics, predictive analytics, and prescriptive analytics. Descriptive analytics deals with the historical data of the company using data aggregation and data mining to uncover different trends and patterns. Predictive analytics is a little advanced technique of data analysis that makes predictions for the company's future. Predictive analytics only gives us the raw results. Prescriptive analysis then does the job of prescribing the best choice out of the ones available. According to the problem at hand, the type of analytics is chosen to work on the same.
Be a certified business analyst