Introduction 
Any postgraduate degree is a great tool to boost one's career and open doors to better job prospects. Especially in a saturated sector like law, doing an LLM will increase your opportunities in both government and private sectors. 
But recently, there has been a lot of confusion regarding the LLM course duration. Is it one, is it two, or is it more than that for different institutions? 
In India, you can either do a one-year or a two-year-long LLM program to become a licensed advocate. But which one is the right one for your to choose? 
Keep on reading to find out as we discuss the duration along with their pros and cons. 
What Is An LLM Course?
LL.M (Latin Legum Magister) is a postgraduate-level degree course in the legal sector. This course revolves around various subjects of law and comes with the choice of opting for different concentrations, such as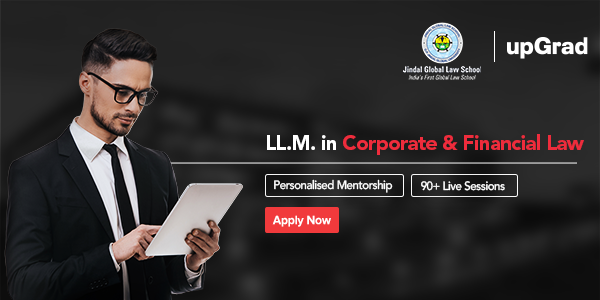 Civil Law 

Criminal Law 

Business/ Commercial Law

International Law 

Corporate Law

Tax Law

Human Rights Law

Health Law

Immigration Law

Intellectual Property Law 

Environmental Law 
The huge variety of concentrations provides students with the opportunity to become highly specialised in a short span of time. 
In most cases, to pursue LLM, the candidate must have an LLB or an equivalent degree in a relevant field. LLB is a three-year bachelor's degree in law that entitles students to practice as advocates. However, students without a law background can still apply to the LLM program, but they must demonstrate a good grip over the subject they wish to specialise in.  
Depending on the LLM duration, an LLM degree is mainly of two types that are full-time and part-time. 
Learn Law Courses from the World's top Universities. Earn an LLM Degree to fast-track your career.
LLM Course Duration 
The duration of LLM courses depends on various factors, including the type of program you are pursuing and the country from which you are doing it. Based on these, your LLM degree can either be one year, two years or four years long. 
1 Year Long/ Regular LLM 
For those who pursued LLM before 2018, a year-long LLM degree was the norm. However, the duration of the course was under continuous scrutiny till 2013. In 2013, BCI announced that they were planning to increase the duration of LLM from a year to two since it would align with international standards better. 
After a lot of consideration, in 2017, BCI announced that they would be availing a two-year-long LLM degree from the academic year 2018-19. However, many colleges in India challenged this decision of BCI, which is why the one-year course duration is still being followed across various institutions. 
2 Years Long/ Regular (Updated) LL.M.
Colleges and universities that felt the need to expand their LLM course duration adapted to the new model. Following the new model, the course duration for LLM stretched for up to two years but is still considered equivalent to a year-long LLM degree. 
Private universities across India still offer students the choice to pursue a year-long LLM program. However, there has been a lot of speculation following the abolishment of the one-year-long LLM course, as BCI ruled against operating the course from the academic year 2022-23. 
In India, the academic year starts in June-July, so the decision is yet to be confirmed if the one-year-long course will get entirely scrapped or continue alongside the updated one. 
4 Years Long/ Extended Part-time LL.M.
A candidate can choose to stretch their LLM course duration to four years; in that case, it is considered an extended part-time degree. 
In a two-year program, you will learn everything in two full units (two courses equal one unit, meaning two semesters per year and four semesters in two years). 
Whereas in a four-year-long program, you complete one course each year, so you only have to sit for examinations once every year. This is more suitable for professionals who can not attend school full-time. 
But please note the Bar Council of India does not recognise part-time LLM. Therefore, candidates pursuing the same will not get a practice license in India.  
LLM Course Durations In Different Countries 
Here's the list of the top countries and their LLM course durations. 
| | |
| --- | --- |
| Country  | LLM Duration |
| United States  | Regular course LLM courses generally span one year, but some private institutes may offer longer or part-time courses ranging from two to three years.  |
| United Kingdom  | A regular LLM course can vary from one year to 2.5 years, depending on the university.  |
| Canada  | Regular courses may take one to two years, depending on the course and university.  |
| Australia  | A regular LLM course is one year long. |
| Germany | Regular courses can be either one or two years long, depending on the chosen program and university.  |
| France | The regular course lasts one year, and the part-time course lasts two years.  |
Which One Is Better 1 year, 2 Years or 4 Years long LLM? 
Since candidates cannot legally practice with a part-time course (more than two years) in India, it is better to rule out that option first. 
From the chart above, you can clearly see that most countries prefer to keep this postgraduate degree within a year. They believe that since the LLM course aims to provide an opportunity to focus on a particular area of law, stretching its time span will defeat the purpose. 
However, BCI thinks otherwise and believes a year might be too little for candidates to completely grasp or master the concentration they are picking. Therefore, the two-year course is being prioritised in India. 
This discussion has been going on since 2013. In 2022, LLM candidates received the freedom to choose their course duration. However, the confusion did not end there. BCI also announced abolishing the one-year LLM program from the academic year 2022-23, leaving an uncertain future for the program. 
Hence, if you plan to pursue LLM to practice legally in India, opting for a two-year course will ensure your degree stays relevant. But ultimately, the decision boils down to your personal preference. 
LLM Course Curriculum 
Different universities have different subjects included in their LLM program; however, in India, some of the most common specialisations include
Environmental law

Criminal law

Human rights and Humanitarian law

Constitutional law and Personal law

Business law
Here are the top Indian universities that extend LLM programs to legal aspirants. 
Benefits Of Pursuing an LLM Course
Here are some notable benefits of pursuing an LLM course.
1. Obtain The Chance To Work Overseas 
Many LLB graduates prefer doing their LLM from a foreign university to understand another country's law and legal system. This knowledge is highly valuable and gives candidates a competitive edge over their peers. Therefore, exposing them to global opportunities. 
2. Become Specialised 
In most cases, graduation does not let the candidate narrow down their interest and focus on a particular subject. On the other hand, LLM is all about mastering a particular field of law. By pursuing an LLM degree, candidates get to master their field of interest and further pursue a career on the same path. 
3. Switch Your Path 
If you have already obtained a specialisation but hope to follow a different path, you can restart your journey with the help of an LLM. Since the course tenure is significantly shorter than most master's degrees, it is feasible for working professionals to pursue and turn the wheels of their career towards their track of interest. 
4. Boost Your CV
Having an LLM can significantly boost your CV if you are a fresher. From obtaining work opportunities in the corporate sector or upskilling to strengthen your litigation skills, an LLM can catalyse your career to reach new heights. 
5. Calibrate Your Research Skills
Returning to academia means investing long hours in legal research, which will eventually help you improve your research skills as a lawyer.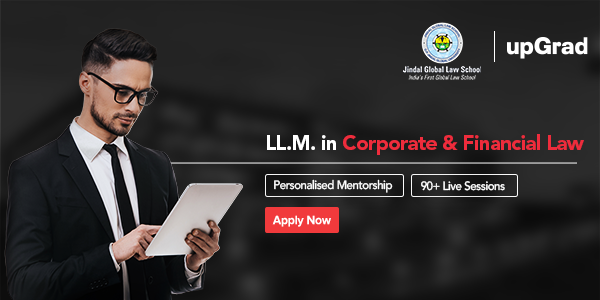 Explore our Popular Law Courses
Get Your LLM From Foreign Universities With upGrad 
Have you always wished to pursue higher education at top foreign universities? This is your chance to make it happen! upGrad, in collaboration with California's leading Golden Gate University, has presented an advanced legal degree to help you fulfil your dreams. 
The Master of Laws (LL.M.) in International Business and Finance Law is the boost your career seeks to fuel your journey as an in-demand legal professional! With an expert-led curriculum comprising in-demand skills such as International Trade Law, Comparative Association Law, Business Law, and International Issues in Intellectual Property Law, learners advance on a global scale. The course is best suited for working professionals aiming to upskill towards attaining better opportunities. 
Enrol now to become a part of the leading global academic destination with upGrad!
What are the eligibility criteria for pursuing an LLM course?
The specifications may vary slightly from college to college, but in most cases, the candidate must secure at least 55% marks in their graduation level in order to get admission to LLM. While some private colleges may give admission to graduates with any subjects, most require the applicant to be graduated with an LLB or equivalent course.
What is the expense of pursuing an LLM course in India?
The average course fee for doing LLM in India is around 2 lakhs per annum, but it can go lower or higher depending on the college you get into.
What is the salary expectation after doing LLM in India?
The average salary packages of LLM graduates range anywhere between 8 - 15 LPA based on the role and sector they choose. However, these figures depend on various factors, including location, skills, experience and top recruiters.
Prepare for a Career of the Future