What is Business Analysis?
All businesses operate on a set of working procedures. An expansion from small scale businesses to large corporate houses, all systems run on a set of defined standard procedures. These rules can be aimed at an operational task-projection or from a business viewpoint.
All departments in organizations work simultaneously to attain a singular goal of business development. The operating bullets define how tasks need to be done, by whom, and on what scale.
The standard operating procedures (SOPs) or business models affect the outcomes of marketing campaigns. The ultimate objective is to increase business returns and benefit more with less cost.
Business Analysis is when you dive deep into these SOPs and models to extract data and process ways to reason a project/campaigns success or failure. The analyst here works to establish data, recommend analytical stand-points, and implement changes.
Learn Business Analytics Courses online from the World's top Universities. Earn Masters, Executive PGP, or Advanced Certificate Programs to fast-track your career.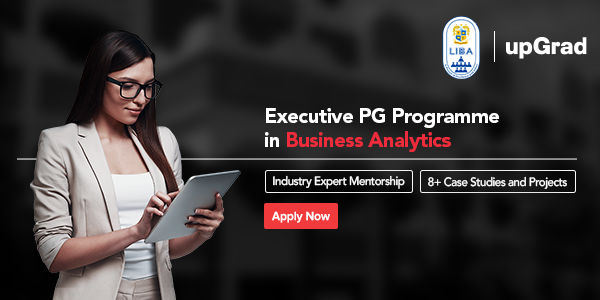 Explore our Business Analytics Programs from World's Top Universities
Understanding a Business Analyst
The profile of a business analyst is described best with a simple, classic example of comparing their role with a healthcare consultant.
Doctors in the healthcare industry serve a primary responsibility to treat their patients. They apply methods in consultations and medications to prescribe. The process involves:
Attending to their patient, 

Enquiring issues, 

Analyzing symptoms, 

Diagnosing results, and 

Prescribing medications 
Now, relate the points mentioned above with the role of a business analyst as one who:
Identifies problem areas in a business process

Determines responsible factors

Uses tools and techniques to formulate a solution

Presents the recommendation in a data-driven method, and 

Reports the data-driven change to processes
The responsibility of the doctor is to use their consultation skills to treat the responsible agent, causing sickness. Similarly, the responsibility of a business analyst is to use their data analysis skills to find solutions to business problems.
Must read: Learn business analytics online free!
Describing the Roles of Business Analyst
The position of a Business Analyst in an organization demands the use of data analytics to bridge the gap between information technology (IT) and the business.
Your business might be working on a problem that is not bringing the desired results. This is where the Business Analyst (you) will enter:
Help the organization understand their business problem and the need to work on a particular project (if data says it is required)

Provide solutions backed with data and business models to make the stakeholders understand the areas that would need changes

Document those needs and requirement to implement into the business

Come up with new plans to increase returns
By socializing with users and business leaders, you will understand how a data-driven change can alter effectiveness in existing processes. You will be needed to evaluate your idea's technological feasibility and the company's financial support. 
Read our Other Articles Related to Business Analytics
Qualifications of a Business Analyst
You need to have a minimum of a bachelor's degree to be qualified for the Business Analyst job profile. Other educational qualifications will vary with diverse industries and job requirements. Learn how to become a business analyst.
Degrees in finance, accounting, or business administration prove to be useful to satisfy job demands. It can pertain individually to business administration or be general to a distinct industry.
Be it a health sector or software IT group, the requirements on skill set and educational background will reflect demand. Specific additional courses and certifications on Business Analysis programs will prove to be useful to showcase knowledge of the subject matter.
Our learners also read: Business Analytics Free Online Courses
upGrad's Exclusive Business Analytics Webinar for you –
How upGrad helps for your Business Analytics Career?
Skills Required
The profile expects you to be functionally productive while juggling with cost constraints and reasonable ideas for higher output. To meet the demands of the Business Analyst profile, following skills will be expected:
Organisational Skills

Functioning

in an organisation and collaborating with various departments

Analytical Skills

Data Analysis and Interpretation

Business Process Re-engineering

Remodelling

processes and implementing changes in existing business plans 

Business Administration Concepts

Basics of finance, accounting, marketing and operations

Understanding technology and network models

Engineering processes with the help of technological competence 

Cost-benefit Project Analysis

Evaluating alternate decisions and analyzing outcomes

Orientation to details

Pricing and Budgeting processes require detailed inputs

Writing Skills

Documenting business plans with technical information for stakeholder's ease in understanding

Soft-Skills

Ability to think out-of-the-box

Being an Influential Leader

Presentation Skills

Demonstrating chosen pathways to valuate maximum profit

Technical Skills

It is not necessary to be a computer programmer for a business analyst profile. The job demands intermediate computer operating skill with the use of spreadsheets, database programs, and software.
Learn more about Business analyst skills.
Industry Opportunities
With the upscaling rise in demand, various industries are opening up positions of Business Analysts. The impressive profile and job description are leading many professionals to opt for this role as the next step of their career growth-plan.
Some of the industries witnessing a rising demand of business analysts are:
Government Organisations and Public Sector

Information Technology 

Small-scale businesses

Multinational Business Corporations

Health and Hospital Services

Finance and Banking Institutions

Consulting Firms
Business Analyst Job Description
The business analyst works incorporating technology and data-driven analysis to offer business solutions.
They report the same to responsible executives and stakeholders with the following tasks:
Planning and Monitoring Business Plans

Defining Role

Establishing the scope of the business and IT projects

Levelling out problem areas at each step in the organisation's workflow

Analysing Variance

Investigate differences between actual and planned behavior, sales difference

Initiate changes from the conventional and existing business processes

Budgeting and Pricing

Setting aside financial asset for a business plan

Defining each business step's price

Business Forecasting

Predicting future developments in sales, expenditures and profits

Preparing with adjustments for unexpected events
Obligations on Accountability
Your business could be a product, service, software or hardware based. Working on data sets, all that is required from you is to improve efficiencies and add value to the business.
Your duties as a business analyst include:
Quality Assurance

Project Management

Conduct surveys on projects

Alter existing processes to increase returnsFormulate business cases

Carry out statistical analysis

Take steps to make the internal departments for effective

Product Management

Modify product and service offerings

Collaborate technical and process re-engineering

Present data-driven recommendation on changes

Invent new systems
Reasoning solutions on the scale of financial structure and feasible operations, you will be responsible for:
Design test cases on business plans

Review cases to optimise returns

Manage the scope of business projects

Analyse acceptance of the project under review

Instal methods to modify changes

Deploy mechanisms to increase returns
Expectations on know-how
A lot is expected here, from inspiring others to devising plans to scale heights in business growth. Following are some of the requirements from the profile of a business analyst in the organisation:
Understanding how the business in the particular organisation works and operational process flows

Working on multiple projects to meet deadlines 

Collaborating with project managers on the mission

Brainstorming ideas to meet ends with multiple teams and stakeholders

Documenting loopholes from standard procedures

Re-evaluate opportunities on business returns

Documenting processes to refine the problem that is to be solved

Add details to the solution with technological inputs.
Conclusion
As leaders in growth, business analysts are required to indulge in various tasks of the organisation's framework to be the catalysts for change.
Companies across both IT and e-commerce sectors pay excellent compensation to deserving candidates who can add value to their organization. Apart from the regular educational qualifications and work experience, having advanced Business Analysis certifications also helps in bagging jobs that offer high-level salaries.
What is the method of business forecasting?
The forecasting technique is the tool you'll use to collect and analyze data for your forecast type. There are two types of business forecasting methods: qualitative and quantitative forecasting approaches. These are the actions you take to create the data you want to utilize in the future.
What exactly is the distinction between a project manager and a business analyst?
The project manager is responsible for the idea, planning, implementation, and conclusion of a particular project. Business analysts, on the other hand, are primarily focused on the end product and ensuring that it meets the goals and wants of the project's key stakeholders. Project managers have an advantage over business analysts when it comes to changing jobs since project managers generally have both technical and managerial capabilities, whereas business analysts often just have business skills.
What qualifications do you need to work as a business intelligence analyst?
A bachelor's degree in statistics, computer science, business administration, or a similar subject is required for business intelligence analysts. Many business intelligence analysts seek to acquire a Master of Business Administration in order to expand their career options and make more money. You'll need a mix of technical, soft, and analytical talents to be a good BI analyst. You'll have to mine data using sophisticated tools and software, then analyze it to spot trends.
Plan Your Career Today