Blockchain is one of the fastest-growing technologies in the modern-day industry landscape. Popular as the foundation technology behind cryptocurrencies, today its use cases proliferate beyond banking and finance. In this blog, you will learn about the importance of blockchain applications in the education sector.
Learn Software Engineering Courses online from the World's top Universities. Earn Executive PG Programs, Advanced Certificate Programs or Masters Programs to fast-track your career.
Check out our free courses to get an edge over the competition
But before we delve into the implementation, let us first get some technical terms out of the way.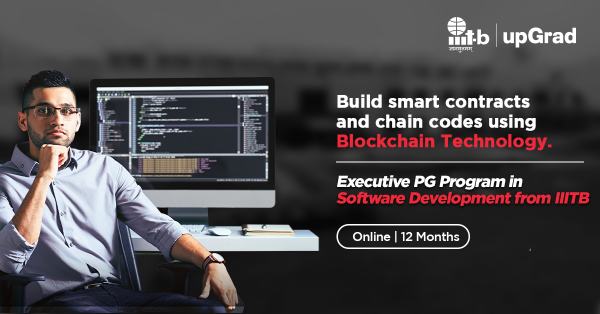 What is Blockchain all About?
Blockchain is a decentralised ledger or database containing a "chain of blocks" to store information. The data can be related to transactions, date and time, participant details, and so on.
While electronic databases have been around for quite some time, blockchains have transformed data storage and management by giving secure access to all participants involved. A traditional (centralised) record is trickier to safeguard from theft and loss as all information is available at a single place. On the other hand, a distributed ledger keeps authentic and verified copies of the original files across multiple locations. This also makes the process of data-sharing and maintenance more transparent and democratic.
Check out upGrad's Java Bootcamp
Blockchains can be categorised into the following categories:
Public: Anyone can join and contribute to this authority-free network.

Permissioned: Only invited and verified participants, such as members of an organisation, can join such blockchain networks.

Private: This type of blockchain is similar to a permissioned network but is owned and managed by a single organisation.
"Smart contract" is another significant part of the blockchain vocabulary. It is a computer program that runs on the blockchain, enforcing the negotiation and performance of the contract. It contains the terms of agreement between the buyers and sellers. Today, technological advancements have made it possible for such contracts to be executed by educational institutions.
Check out upGrad's Full Stack Development Bootcamp (JS/MERN)
University administrators, teachers, and students can now engage in digital agreements for various purposes, including assignment submissions and loan payments. These blockchain applications are discussed in more detail in a separate section below.
Importance of Blockchain
Blockchain as a data storage opportunity can generate immense benefits for organisations in manufacturing, healthcare, and education. According to Gartner's 2019 CIO Survey, 2% of higher education institutions had already deployed blockchain while 18% planned to do it in the next 24 months.
This industry acceptance speaks of the many advantages that blockchain brings to the table, including:
Transparency;

Security;

Reduced costs;

Traceability;

Speed and efficiency.
Universities, schools, startups, and nonprofits can adopt blockchain solutions to enhance the efficiency of student data management and create better ways to engage learners. Additionally, blockchain allows external stakeholders like employers to assess the validity of students' skills. Let's dive into the specifics.
Blockchain Applications in Education
1. Record keeping
Blockchain enables the administrative department of institutes to manage student records without unnecessary hassles. Since all credentials and certificates are stored on a distributed ledger, there is no need for intermediaries to verify the academic papers, degree, certificates, etc.
2. Courses and Certificates
Certification of course contents is one of the most commonly requested student records in the K-12 system as well as in higher education.
This information is critical in determining whether a student should move from one academic level to another. Transcripts also serve as a badge of achievement by showcasing students' grades in various subjects. In the conventional education system, the records have to be manually stamped and signed multiple times to ensure accuracy. However, blockchain applications eliminate the need for such time-consuming and labour-intensive processes.
On a blockchain, one can obtain the complete, verified documentation of completed courses and academic achievements with just a few clicks.
Explore Our Software Development Free Courses
3. Accreditation
Just like the course content and grades, diplomas and degrees can be saved on the blockchain. This way, hiring companies don't need a paper copy certified and stamped by the university. Instead, they can access a verified digital copy using a link.
So, blockchain not only makes it easier for employers to verify qualifications but also prevents instances of fake degrees from being submitted.
Blockchain-stored diplomas have already entered the market with institutions like MIT taking the lead in issuing virtual academic credentials, back in 2017.
Another use case is accreditation. The concerned authorities can use blockchain applications to verify the quality of education offered by a learning institution.
4. Fraud Prevention
Consider the case where a person applies using fake academic papers and the interviewer hires him based on his qualifications. If the candidate is unskilled for the job, the organisation's performance would suffer. With blockchain, it is possible to avert such scenarios.
Hacking is another potential risk in data management. Hackers can identify vulnerabilities in the education systems and further manipulate and delete user information. But if the institution implements a blockchain for storing all student information, no modifications can happen without permission to use the online ledger.
Explore our Popular Software Engineering Courses
5. Skill Badges
Apart from the standard work experience, a person's resume has additional information like technical knowledge, language skills, co-curricular activities, etc. These details are not simple to verify, but third-party experts can validate a candidate's skills by granting a digital badge or certificate.
The digital skill badges can be stored on a blockchain for easy access. Open Badge Passport is a prime example of this type of portable and shareable application. Schools, vocational organisations, education companies, and associations are using this service to release micro-credentials in digital format.
6. Decentralised Online Learning
Learning institutions usually have unique specifications for their study programmes, which often results in inconsistent course content. Also, students rarely have a say in what they are taught and merely attend the recorded lectures as passive recipients.
When blockchain technology is introduced into the mix, there is a greater opportunity for real-time data exchange and interactions between students and teachers.
In-Demand Software Development Skills
7. Plagiarism Check
Incidents of students presenting someone's work as their own are all too common in the academic world. For example, when an undergraduate student submits a research proposal or final dissertation, and it is found to be copied from the internet. The consequence? The institute can revoke certificates and even suspend the person.
With blockchain technology, digital content creators can curtail the dispersal of copyright materials. Academic information is stored with advanced encryption on a secure chain, while the network is only accessible to permitted users. The owners can then track, access, verify, allow usage of their content in a safe way.
8. Better Online Platforms
Developing online learning platforms is one of the most popular projects among blockchain enthusiasts who want to transform the education space.
Here's how the system would work:
Schools deploy blockchain applications to connect students and teachers.

Study materials are shared and on the online platform.

Users can purchase internal tokens for doubt resolution and feedback from standby tutors.

Education materials can be downloaded to facilitate self-paced learning.

Students can earn more tokens by watching tutorials, interacting with the content, and inviting new users to the platform.
As you can see, blockchain makes education convenient, swift, and engaging for all parties involved.
9. Newmarket for Digital Assets
Study institutions have to engage in several monetary transactions with students, parents, banks, and donors. These include charging fees, processing payments, granting scholarships, etc.
Custom Blockchain protocols can be built to make this process smoother. King's College in New York City evidenced the same in 2014 when it replaced credit card transactions with bitcoin payments for accepting student fees. In the near future, we may see more universities using cryptocurrencies as a method of accepting and disbursing payments.
We are likely to see a new brand of digital assets being created and traded on safe crypto exchanges such as Kraken. Cryptocurrencies may even be used to buy goods and services within the academic community. One can visualise custom tokens being used in bookstores, cafeterias, and tuition centres.
With this, we have given you an overview of the emerging blockchain applications in education. These trends represent relevant opportunities for fresh graduates and professionals. Read on to know more about the skills required to enter this space.
"
upGrad's Exclusive Software Development Webinar for you –
SAAS Business – What is So Different?
"
Learn Blockchain Online
Whether you are a fresh Computer Science graduate or an early-stage IT professional, an advanced degree in blockchain can help you kickstart a career in the field. Payscale estimates the average salary of professionals at Rs 8,07,760 per year. With the right skills and experience you can go on to occupy senior-level positions (Blockchain product manager, and tech architect, legal consultant, etc.) and earn as high as 20,00,000 to 30,00,000 per annum.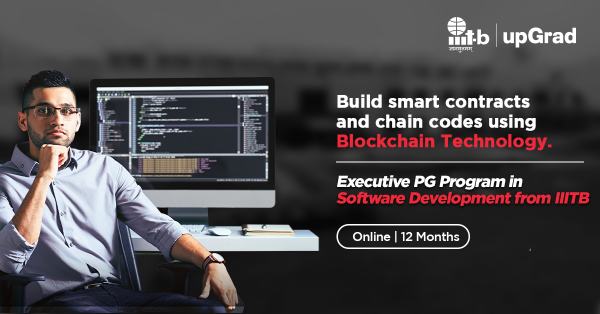 Read our Popular Articles related to Software Development
The Executive PG Programme in Software Development- Specialisation in Blockchain by IIIT-Bangalore and upGrad is specially designed for those seeking to attain a specialisation in the blockchain. It can help you refine your blockchain skills while helping you connect with industry practitioners. Moreover, the qualification includes various third-party certifications to help you demonstrate your domain knowledge and competence to prospective employers.
In this blog, we discussed the potential of blockchain applications in addressing the challenges of poor learning and fraudulent conduct in the academic field. Technology is still witnessing massive innovations and holds a bright future ahead!