Software developers aiming to upgrade their skills must ascertain that they are the most sought-after in the tech industry. The search for becoming a well-rounded developer brings full stack development to the mainstream as it offers an extensive platform for software developers.
Full stack development entails the creation of a web application's front-end (client-side) and back-end (server-side) aspects. It is all about knowing how to program both server and client software.
Being such a popular and valuable platform in the industry, the question that now arises is- what is full stack developer?
What is Full Stack Developer?
Full stack developers are engineers who work on both the server and client side of software applications. With a well-rounded development knowledge, they work on front-end development, back-end development, API, server, database, version controlling systems, and more. Since they effectively work on the full stack of software applications, they are termed "Full Stack" developers. Moreover, they are acquainted with all layers of tech stacks that contribute to developing a software product.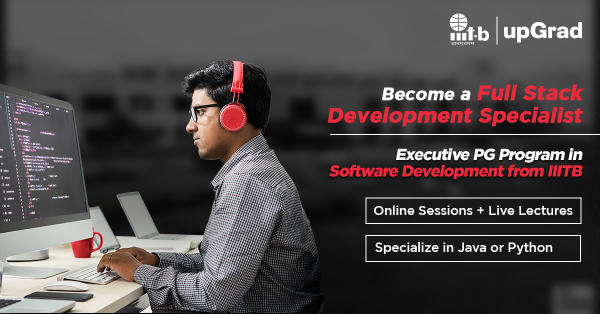 Alternatively, they are referred to as skilled programmers who are well-versed in user interfaces, user experiences, database architecture, design principles, and computational tasks. In India, the average salary of full stack developers is INR 5.5 lakh per year.
Responsibilities of a Full Stack Developer
Understanding what is full-stack web development or what is full-stack developer won't suffice; you should also understand the responsibilities of a full-stack developer.
Let's take a look at some of them.
Render user requirements into the architecture and implementation of software systems.

Manage a team of developers and effectively communicate product roadmap with them.

Manage overall software projects and coordinate with the clients.

Develop test code to validate the application as per the client's requirement.

Build visually-attractive, dynamic, innovative, and end-to-end software apps/products

Write optimised front-end HTML and JavaScript code.

Ability to design user interaction, user experience, responsive design, and overall web architecture.

Ability to work with servers, databases, APIs, third-party apps, and version control systems.

Guarantee cross-platform compatibility and resolve issues during the test and production phases.

Troubleshoot web applications with supreme accuracy.
Skills Required to Become a Full stack developer
After understanding what is full stack web development and the responsibilities of a full stack developer, let's get familiar with the essential skills that make a full stack developer successful.
Front-end skill for a full stack developer:
1) HTML and CSS
HTML (Hypertext markup language) is extensively used to design any website's structure. Primarily, it determines where and how to place different components (like font, colour, etc.) on the website and make it look appealing. It oversees the appearance of images and text on the screen. It provides a rich interface and user experience to any website. It formats the text as paragraphs, headings, pop-ups, and more.
CSS (Cascading Style Sheets) is a style sheet that lets you alter and style various web components for size, font, spacing, etc. It decorates the content on your webpage.
A full stack developer must know HTML and CSS to design a website effectively. You may be confused about what is full stack development course; the course imparts all essential aspects of front-end and back-end web development.
2) JavaScript
JavaScript is a lightweight, object-oriented computer programming language widely used to develop interactive effects in web browsers. It is also known as an interpreted programming language that you can use for front-end and back-end development. It makes web pages more dynamic and interactive.
It contains several useful features like prototypes, functions, higher-order event placement, and closure that helps full stack developers develop responsive web pages.
3) ReactJS
Full stack developers must learn ReactJS to create responsive, interactive user interfaces for web applications. It is an open-source front-end JavaScript library commonly used for developing user interfaces. It is quite beneficial to full stack developers because it allows the reuse of UI components and the development of extensive web apps that can alter data without reloading the webpage.
Check out our free technology courses to get an edge over the competition.
4) AJAX
AJAX (Asynchronous Javascript and XML) establishes communication with the server without reloading the web page. Hence, it improves the performance and user experience. The full stack developers use this concept to let their web applications asynchronously send and retrieve information from servers.
Back-end Skills for a Full Stack Developer
1) Ruby on Rails
Ruby on Rails is a framework and programming language widely used to create software as a service (SaaS), online stores, and social platforms. The knowledge of Ruby on Rails guides full stack developers on what they would need while they code. Thus, it increases their work productivity.
2) Python
Python is an object-oriented, interpreted, high-level programming language equipped with dynamic semantics. Python frameworks like Flask, Pyramid, CherryPy, Django, etc., help the back-end development.
3) PHP
PHP is the first choice for web developers and full stack developers who want to develop dynamic, complex, and user-friendly web applications. Due to its easily understandable and compelling syntax, full stack developers benefit from an easy coding experience. Moreover, it supports all the leading databases, including ODBC, SQLite, MySQL, and more. This is the key benefit of using PHP for full stack web development.
4) Node.js
Node.js is a platform that allows developers to run javascript code before using it in a web browser. It benefits full stack developers with its easy scalability, easy and fast coding, and a node package manager (to store multiple libraries in one line).
Check Out upGrad's Software Development Courses to upskill yourself.
5) SQL
SQL (Structured Query Language) is a programming language for retrieving and consolidating data in a relational data management system. The full stack developers use SQL to design rules for storing, extracting, or modifying server data. Moreover, SQL helps them to let back-end elements like databases or servers communicate with each other.
Explore our Popular Software Engineering Courses
Other skills for a Full Stack Developer
1) Database storage
A full stack developer writes the code required to perform relational mapping, which is used to access data from a database. All web applications depend on information saved in a back-end database. Efficient database storage allows apps and websites to extract information when it's required effectively.
Since full stack developers work on both the client and server sides, they must learn relational and non-relational data storage solutions like MongoDB and NoSQL databases.
Many aspiring developers may ask what is full stack development course. Well, the course includes all the fundamentals and skills that a full stack developer must learn.
2) Git and GitHub
Git is software used for tracking alterations in any set of files. GitHub refers to a web-based interface that enables multiple people to make discrete changes to a file simultaneously. The knowledge of Git and GitHub benefits full stack developers with the simplified iteration process, collaboration with version control, and easy cloud storage for source code.
3) Web architecture
Full stack developers must know all aspects of web architecture to build server-side structures that will fulfil client-side requirements. Learning web architecture makes them familiar with data structure, code structure, file categorisation, the application logic between the server and the client, etc.
Read our Popular Articles related to Software Development
4) HTTP and REST
HTTP is the protocol commonly used for streamlining communication with the client. REST is an interface between systems using the HTTP protocol to collect data or accomplish diverse operations (in diverse formats) on the data. REST works as a translator between the front and the back end. To ensure seamless communication with the client and translate between the front and back-end, full stack developers must thoroughly learn HTTP and REST.
5) Monitoring tools
When monitoring a software project, for example, when an app is ready to launch, the app may get crashed occasionally. Under such scenarios, the monitoring tools come in handy. The full stack developers must learn how to use monitoring tools to monitor application logs and server status. Moreover, these tools help them handle any unforeseen crashes and app complexity.
Explore Our Software Development Free Courses
Soft skills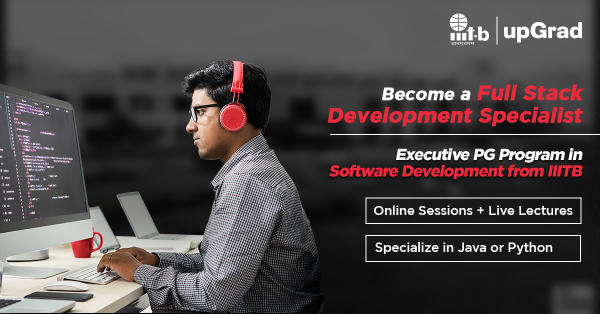 Technical skills won't be enough if you aim to become a full stack developer. You should acquire certain significant soft skills mentioned below.
Analytical thinking ability

Communication skills

Time management skills

Attention to detail

Creative vision

Organisation and prioritisation

Patience

Curiosity for learning
Elevate your career graph in software engineering by pursuing upGrad's DevOps Bootcamp –Advanced Certification Program. The course entails modules like DevOps methodologies, DevOps toolchain, Containerisation using Docker and serverless computing tools to cover significant aspects of DevOps. The course provides exceptional benefits like an immersive learning experience, 24×7 student support, live interactive classes, doubt-clearing sessions, mentorship from leading industry experts, and much more!
Also check, Executive PG Programme in Software Development – Specialisation in Full Stack Development and take your first step towards becoming a successful full stack developer!