By nature, the banking, financial services, and insurance (BFSI) sector have always been data-driven. However, today, institutions in the BFSI sector are increasingly striving to adopt a full-fledged data-driven approach that can only be possible with Big Data technologies. With Big Data Analytics, companies in the BFSI sector can not only grow their business but also work towards increasing customer satisfaction. 
Although data analytics has been an integral part of the BFSI sector, nowadays, companies in this sector are steering towards Big Data Analytics. The fundamental question that stakeholders ask before adopting Big Data is –
How can Big Data enhance our business and solve our problems?
With Big Data, companies can access valuable and accurate insights from large datasets, which gives them a competitive advantage over their rivals. Big Data the potential to bring many benefits to the table, including increased levels of customer insight and engagement, improved market trading analysis, and enhanced fraud detection and prevention, among other things. The most noteworthy contribution of Big Data to the BFSI sector is 'real-time evaluation' that allows banks and financial institutions to track and monitor customer behavior in real-time and offer prompt solutions accordingly. As the quality of services improves and delivery time reduces, it will provide a significant boost to customer satisfaction while also improving the overall profitability of the organization. 
"
upGrad's Exclusive Software Development Webinar for you –
SAAS Business – What is So Different?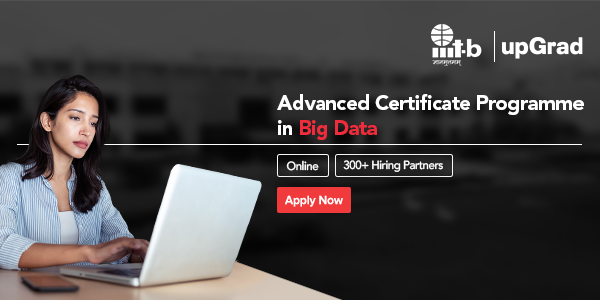 "
Big Data allows BFSI institutions to obtain a comprehensive understanding of customers, products/services, markets, industry regulations, competitors, and advertising channels. The most significant areas of application of Big Data in the BFSI industry are:
Improved levels of customer insight and engagement
Thanks to the digitization of financial products and services, customers are now increasingly interacting with BFSI institutions/brands on digital platforms. By leveraging Big Data technologies to dissect the data derived from digital channels (like social media), BFSI institutions to enhance their quality of products/services as they can gain a deeper understanding of customer pain points, preferences, and needs. Gaining customer insights is crucial not only to improve the customer experience but also to stay ahead in the competitive market. 
Improved fraud detection and prevention
It is not an unknown fact that the BFSI sector has long been the victim of fraud. Over time, the techniques and methods of hacks and breaches have evolved and upgraded to become more complex and sophisticated. This is where Big Data comes in. Big Data Analytics and tools can process and analyze massive datasets to identify patterns and predict fraudulent activities. This helps minimize financial losses to a great extent. 
Explore Our Software Development Free Courses
Improved market trading analysis
The rapidly increasing demand for the speedy execution of market trading in the financial sector has driven the adoption of Big Data for the same. The prime benefactor of Big Data is trading strategies that leverage sophisticated algorithms to trade financial markets rapidly. The BFSI market data is a vast ocean of Big Data itself. Big Data tools and analytics, the data gathered from different markets (based on geographical location, asset classes, market type, etc.) can be compiled with other structured and unstructured data to produce rich, hybrid datasets. These hybrid datasets offer a real-time, 360-degree view of the market scenario covering aspects like profit and loss (P&L) reporting, latest trends, trade execution, risk measurement, to name a few. 
Enhanced risk management
When it comes to risk management, Big Data finds application in areas like operational risks, integrated risk management, fraud management, credit management, and market and commercial loans. Big Data tools can:
Exponentially boost the predictive power of risk models, 

Enhance the system response time and effectiveness, 

Offer more extensive risk coverage, and, 

Create opportunities for optimum cost savings. 
The risk management teams can obtain highly accurate risk intelligence by gathering data from disparate sources in real-time.
Explore our Popular Software Engineering Courses
Enhanced employee engagement
Apart from all the 'technical' benefits, Big Data has another pivotal benefit – enhancing the employee experience. By leveraging Big Data tools and techniques correctly, companies can track, monitor, and analyze the performance metrics of their employees. This will help identify the strongest performers in the company as well as the weak or unhappy performers. Accordingly, companies can reward the top performers and take initiatives to improve the condition of weak/unhappy employees as well. In the long run, this will not only help build a productive and happy employee base but also a good work culture.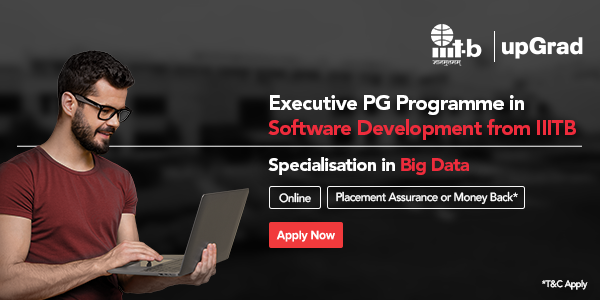 In-Demand Software Development Skills
Wrapping up
Thanks to Big Data Analytics and tools, companies in the BFSI sector are now able to deliver improved services at marginalized costs. As organizations in this industry are witnessing the first-hand experience of reaping the benefits of Big Data, more companies are joining in, thereby driving the growth of the global Big Data market in the BFSI sector.
If you are interested to know more about Big Data, check out our Advanced Certificate Programme in Big Data from IIIT Bangalore.
Read our Popular Articles related to Software Development
Learn Software Development Courses online from the World's top Universities. Earn Executive PG Programs, Advanced Certificate Programs or Masters Programs to fast-track your career.
How can Big Data benefit companies?
Big Data can help enterprises in a variety of ways, as long as they can collect insights from the data, generate actionable insights, and apply those insights to use. Customer service can be improved using Big Data, and marketing strategies can be personalized. They can also assist in enhancing worker productivity as well as everyday operations and service delivery. Big Data also aids in the reduction of operating costs and the identification of new income sources. It also enhances products and services, allowing businesses to acquire a competitive advantage in the marketplace. Big Data allows companies to obtain a better understanding of their consumers and markets, as well as improve supply networks and delivery routes.
What are the limitations of Big Data?
Many businesses lack the in-house expertise required to design, install, manage, and exploit Big Data. The types of data, the volumes of data, and the many origins of that data make it difficult to secure data and preserve personally identifiable information. Infrastructure scaling to fulfill performance and storage needs may be a time-consuming and expensive procedure. Analyzing big volumes of heterogeneous data takes time and resources, and it doesn't necessarily yield meaningful insights or expected results. Infrastructure, software, and labor costs may quickly mount up, making them difficult to manage.
What are the 5 Vs in Big Data?
Lead the Data Driven Technological Revolution