To pursue a career in business analytics, you'll need to be proficient in its concepts and have the necessary qualifications. Companies prefer candidates that have the latest skills, and a qualification shows proof of their knowledge.
If you're looking for a business analytics course and want to know if you're eligible for one or not, you've come to the right place. This article will talk about the business analytics requirement for our course. 
You'll learn about the minimum eligibility requirements for our Certified Program in Business Analytics course we offer with IIT Bombay. When you know the business analytics eligibility criteria, you can plan your career accordingly. 
Now, without further ado, let's dive right in! 
Business Analytics eligibility for our course
Our Certified Program in Business Analytics is a 7-month program and is made for current and aspiring business analytics, business intelligence, and data analytics professionals.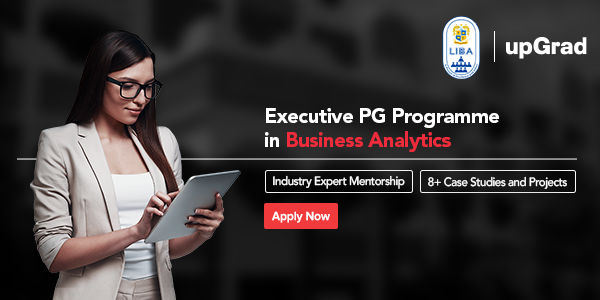 You must be a graduate (10+2+3) or a diploma holder (10+2+3) from a recognized university (State Government / AIU / AICTE / DEC / UGC / recognized international universities) in any field with at least one year of professional experience after graduation or diploma.
This program also requires you to be familiar with programming concepts, including variable assignment, loops, function, and data types. You must be proficient in graduate-level mathematical concepts, including matrices (matrix operations and representation), functions, and calculus (partial derivatives and differentiation). 
Must read: Business analytics free online courses!
Explore our Business Analytics Programs from World's Top Universities
That's all. If you meet these eligibility criteria, you can apply for this course right away and take the first step towards having a career in business analytics. 
It is also suitable for business analytics professionals who want to enhance their skill set, professionals in strategy, marketing, and operations who wish to use analytics in their field and improve their performance. 
This is also a suitable course for entrepreneurs, business owners, and business heads in different verticals who want to make data-driven decisions. Business analytics has many applications in the various aspects of an organisation, including management, finance, marketing, and human resources. 
The Application Process
Just as this course's business analytics eligibility criteria, the application process is also straightforward and easy. It has three steps:
Application Submission
In the first step, you will have to submit an application form and copies of your credentials through the upGrad portal. 
Shortlisting
After you have submitted your application, you will be shortlisted based on your eligibility and supporting documents. 
Offer Letter
In the final step, you will receive an offer letter from IIT Bombay. 
Our learners also read: Business Analytics Free Online Courses
More About our Business Analytics Course
Our Certificate Program in Business Analytics offers a personalised learning experience from industry experts through videos, live sessions, Projects and assignments in partnership with IIT Bombay. 
The program makes you familiar with the fundamental and advanced business analytics concepts so you can start a career in this field right away.
Read our Other Articles Related to Business Analytics
Our business analytics course offers you more than 81 hours of learning, including videos and live lectures. During the program, you'll receive weekly live classes every Sunday where you can resolve doubts and interact with your instructors. 
You will learn about all the necessary technologies for business analytics, including Python, Tableau, and SQL. The course will also teach you the following concepts:
Descriptive Statistics 

Exploratory Data Analysis

Statistical Inferencing

Linear and Nonlinear Regression

Tree Models

Text Mining

Business Problem Solving

Marketing Analytics

HR Analytics 

Financial Analytics
There are plenty of other subjects available in the course. Moreover, the project has three projects that allow you to test your business analytics knowledge and apply what you have learned. The first project will be on Statistics and Exploratory Data Analysis, and the second one is on Regression. The final project is on Predictive Analysis.
As the course covers so many advanced programming and data analytics concepts, it's vital to go through this course's business analytics requirements before you apply. 
upGrad's Exclusive Business Analytics Webinar for you –
How upGrad helps for your Business Analytics Career?
The upGrad Advantage
As it's an upGrad course, you will get additional benefits when you enroll. At upGrad, we strive to help our students kickstart their careers and pursue their dream jobs. 
When you join this course, you will get unparalleled guidance from industry mentors and teaching assistants. They will offer one-on-one and personalized feedback on your submissions to help you improve and become a skilled professional.
Apart from industry experts, you will also get a Student Success Mentor who will ensure you make consistent progress and will be there to resolve any queries that you may have. 
You will get access to a dedicated Q&A forum and personalized feedback on your case studies and assignments. The course also offers you access to group discussions where you'll interact with your peers.
All of these features ensure that you learn all subjects efficiently and smoothly. 
Why Pursue a Career in Business Analytics?
Business analytics is one of the hottest tech fields right now. The pay for a business analyst in India can go up to INR 10 lakh per annum, which shows how lucrative this field is. 
There's a lot of demand for business analytics professionals, but there isn't sufficient supply. Companies are constantly looking for skilled business analytics professionals to fulfill their analytics roles.
Apart from business analyst, some other prominent careers in this field are: 
Supply Chain Analyst
Analyses data related to a business's supply chain and helps in optimising supply chain management. Pay for this role goes up to INR 10 lakh per year. 
HR Analyst
Gathers insights on the employees of an organisation and helps in enhancing the performance of the same. The pay goes as high as INR 8 lakh per year.
Financial Analyst
Analyses investments and helps an organisation mitigate financial risk. The highest pay for this role is INR 10 lakh per year. 
Our learners also read: Business Analytics Free Online Courses
Start your Business Analytics Journey Today!
Now that you know the business analytics eligibility criteria for our course, you can plan your career accordingly and start your journey right away. 
Companies across both IT and e-commerce sectors pay excellent compensation to deserving candidates who can add value to their organization. Apart from the regular educational qualifications and work experience, having upGrad's Certificate in Business Analytics from IITB  on "Applying Business Analytics" can help you enhance your business performance and drive growth. Since the course is conducted 100% online, it doesn't require you to compromise focus on business operations. So, book your seat now and avail the benefit of learning from world-class faculty and industry experts for the next seven months! also helps in bagging jobs that offer high-level salaries.
Learn Business Analytics Courses online from the World's top Universities. Earn Masters, Executive PGP, or Advanced Certificate Programs to fast-track your career.
Why should I do a business analytics course?
When you do a business analytics course, you can use valuable organisation data to ensure a business flourishes and stays ahead of its competitors. With a business analytics course, you will learn how to quantify business values and translate them effectively for business implementations. It also helps you learn how to make smart and informed decisions for your organisation. A business analyst usually uses proper analytics to predict new projections and ideas. Since most course curriculums also involve the studying of visual data, you will be able to predict better trends.
How can I become a business analyst after doing an MBA?
If you're someone who has just completed your MBA, and is planning to pursue a business analytics career, you must have certain technical as well as non-technical skills. You need to be proficient in documentation, data analysis, presentation, modelling and flowcharts, wireframing, and communication and collaboration. The best way to become a business analyst after an MBA is by doing a short-term certified program in business analytics. You will not just get a basic knowledge of statistics but also important computer skills including SQL, Python, scripting language and statistical language.
What are the top career options after MBA Business Analytics?
With an MBA in business analytics, there is a broad range of options available. Some of the top career positions you can explore include financial analyst, marketing manager, operations analyst, personal financial advisor, supply chain analyst, management consultant, and business analytics, specialist. The pay scale you can expect in each of these roles depends upon the job title, seniority and industry sector.
Be a certified business analyst