Introduction:
Law directly or indirectly touches our lives every day, whether it is being fined for traffic challan, filling RTIs, or filing cases against harassment, theft, fighting, or victimization. Even after having a multidisciplinary character, it is and has been the fundamental concept of our society. It has evolved according to the changing customs and populations, but its importance and effectiveness have remained the same. A society without Law would lead to chaos and confusion, and people will take undue advantage of other people. This makes Law extremely essential, making Law professionals a necessity to society. Let's further discuss the benefits of pursuing a law degree after graduation
Law is one of thermos emerging fields and is in high  demand. The market for the law is expected to reach $998.73 billion in 2026 (Source). 
The law is in demand by various industries, which adds to the demand for law graduates. The law is in demand for e-commerce, finance, banking, digital media, goods and services, etc. The students can go for law courses after graduation or get certified in the respective niche they wish to create for themselves.
Organizations require the expertise of law graduates to take care of the minute technicalities that help safeguard the stakeholders. Law graduates are also required to advise on the norms so that the organizations do not breach any law. Law professionals must also represent their parties in a courtroom to defend their position. 
On average, the salary of a lawyer is 4.3 lakhs per annum. The average salary ranges from 1.4 lakhs per annum to 11.1 lakhs per annum (Source). Pursuing a career in law makes for a lucrative option.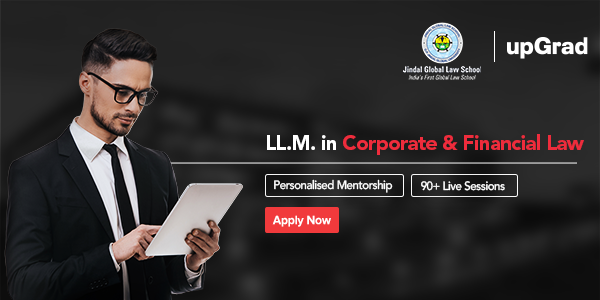 Learn Law Courses from the World's top Universities. Earn an LLM Degree to fast-track your career.
Benefits of building a career in Law:
While a profession in Law might be challenging at times, it can provide you with financial and social fulfilment. Mentioning the benefits of building a career in Law is a never-ending saga. The reason is that Law, being a multidisciplinary field, offers its professionals a vast number of advantages that other fields do not provide. From the numerous benefits, here are the top 3 benefits of taking up law after graduation as a career:
Exceptional Growth and Opportunities:

The market size of the legal services industry in India is more than US$ 1.3 billion. Indian companies have been spending almost Rs 40,000 crore a year on legal expenses. In today's work environment, the legal profession is one of the most profitable. A constant increase in earnings and sales increased caseloads, and significant salary increases created a plethora of career prospects in various legal roles. Law firms are offering starting salaries of a few lakhs per year to freshly minted law graduates, and the remuneration increases exponentially as one climbs up the ladder. For those pursuing litigation practice, there can be big money to be earned after initial years of struggle. Our legal system's intricacies have resulted in hundreds of legal job alternatives covering a wide range of core and non-core legal duties. The legal profession's function is increasing and adapting to keep up with the ever-changing legal system, from attorneys, judges, and mediators to paralegals, secretaries, and consultants.

Various client services and practice areas:

Client service is at the heart of every lawyer's job. The primary goal of a legal professional is to assist others in resolving their legal issues. The legal profession's increased segmentation and specialization have resulted in a rising number of legal specialities and subspecialties that cater to nearly every legal need of clients. Criminal Law, employment law, family law, product liability, and dozens of other practice areas are available to lawyers who want to pursue a career in litigation. Tax law, mergers and acquisitions, real estate, finance, and other corporate practice areas are available to legal professionals who want to pursue a career in corporate law.

Highly prestigious and intellectual field:

The legal profession is ever-evolving and changing, presenting you with new problems on a regular basis. It is regarded as one of the most important and prominent since it pays highly and has high moral values. With the growing need for legal services, many new-age legal experts are becoming more tech-savvy and modifying laws to make them more relevant to today's reality. The legal professional's intellectual environment is stimulated by navigating a developing legal system, technological innovations, enormous collections of case law, and the legal profession's demands.
Explore our Popular Law Courses
Different exams to clear to build a career in Law
The majority of law admissions in India are based on entrance exams. Most legal entrance examinations for UG-level law degrees after graduation or HSC assess students' aptitude/knowledge in General Knowledge, English, Numerical Ability, Logical Reasoning, and Legal Aptitude. Popular law examinations for PG-level law studies, on the other hand, include questions from constitutional law, jurisprudence, and other law disciplines such as Criminal Law, International Law, Environment Law, and Human Rights Law, etc. 
Mentioned below are some of the examinations you can take up to have a career in Law after graduation:
Common-Law Admission Test (CLAT)- for admission to 18 National Law Universities (NLUs). 

Law School Admission Test (LSAT)- for admission in institutes like Rajiv Gandhi School of Intellectual Property Law, IIT Kharagpur Law School, Galgotia University Law School, The Jindal Global Law School, UPES Dehradun, SRM University, Amity Law School, and many more. 

AILET – All India Law Entrance Test- for admission exclusively to National Law University (NLU), Delhi

AIL Entrance Test (Army Institute of Law Entrance Test)- for admission in Army Institute of Law (AIL), Mohali, Punjab

Symbiosis Entrance Test (SET)- for admissions to Symbiosis Law Schools situated in Pune and Noida

Delhi University Law Entrance Test – for admission in programs run by the Faculty of Law Department of Delhi University

Aligarh Muslim University Law Entrance Examination (AMU LEE)- for admission to Aligarh Muslim University

Banaras Hindu University Undergraduate Entrance Test (BHU UET)-for admission to Banaras Hindu University
Different job roles available for Law graduates
If you want to be a lawyer, you must first complete a legal program and obtain a law degree after graduation or HSC. After that, you'll need to pass the bar test and begin practicing law under the supervision of senior and experienced lawyers. You can also practice in specialized areas such as cyber law, income tax, or civil matters, depending on the circumstances of your case or according to your choice.
If you wish to be a judge, you must take the Judicial Services Exam post completing your law after graduation. Numerous companies create legal officer positions and interview candidates for them, and you could eventually work as legal adviser or corporate lawyer. Many banks also employ legal probationary officers, who are chosen through written examinations and interviews. After graduation, you can take JAG (Judge Advocate General) services in the Indian Armed Forces or work for a law firm. 
If you wish to work in academia and research, you might pursue an LLM and a PhD and work as a Professor of Law. Suppose you simply want to apply your legal knowledge to a different field, you could pursue civil services, management, investment manager, administration accountant, banking, insurance, human resource, labor officer, law reporting with media houses, social work, NGOs, politics, or even entrepreneurship.
Some of the designations in the law field are mentioned below-
Criminal Lawyer

Judicial Services

Legal Advisor

Corporate Lawyer

Civil Lawyer

Legal Journalist

Legal Analyst
Some of the skills required from a law professional are mentioned below-
Law knowledge

Writing proficiency

Communication

Research aptitude

Emotional intelligence

Critical thinking
If you wish to have a career in Law, then you can have a look at the LL.M. in Corporate & Financial Law (Blended Learning Program) course offered by Jindal Global Law school in collaboration with upGrad. You get career support, world-class faculty and triple alumni status from Jindal Global University and upGrad,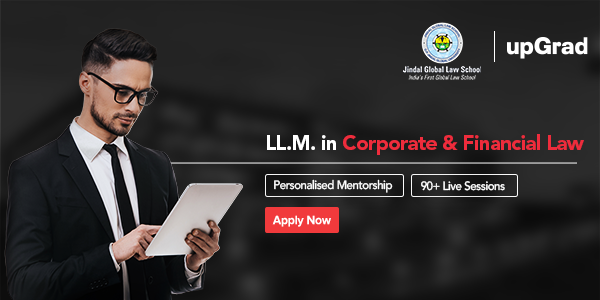 Read our Popular Articles related to Law
Conclusion
The legal profession is constantly changing and growing, presenting new difficulties and opportunities. What we must and must not do is governed by the law. It is used to resolve conflicts, punish, rule, do business, defend people's rights, and administer justice. Legal practitioners must be problem solvers and innovators who are willing to take on new duties, take on new problems, learn new technologies, and manage a constantly changing legal system. Each day is different in this dynamic legal environment, which generates a rewarding and exciting work environment and makes your law degree after graduation worth it.
What qualities do you need to be a successful lawyer?
To be a competent lawyer, you'll need a number of essential skills, many of which you may improve via your academic courses and employment experience. Law is an academically demanding profession, which is why certain businesses and chambers want top academics. Intellectual ability, drive, resilience, precision, teamwork, leadership, business awareness, and communication skills are among the qualities that legal recruiters seek. If you have the bulk of them, getting into the legal industry might be a fantastic career path for you.
What distinguishes law from other subjects?
Law is a multifaceted field. It is not a scientific topic in which definitions are uniform, and factual findings are stable and valid across time. There are hundreds of notions that might be correct or wrong at the same moment, depending on your point of view. Furthermore, because the law is concerned with the governance of numerous aspects of society, legal education is always evolving in response to the growth of the notions and principles of those multidisciplinary dimensions of society.
What is the average salary of a lawyer?
The average salary of a lawyer highly depends on their experience. Freshers earn around ₹508,952 per annum. Lawyers with 1-4 years of work experience make around Rs 606,537 per annum. Corporate lawyers with more than 5 years of experience earn Rs12,52,235 per annum. As a lawyer, your salary follows the exponential trend where it might not seem very high in the beginning but it grows rapidly as you progress in your career.
What are the benefits of studying law?
Law is a highly demanded profession, there is a demand for legal professionals by organisations, firms, individuals, government and more. Exposure to a wide range of people and getting to practice intellectual capabilities are other advantages of pursuing law. The higher compensation and better career prospects are added benefits.
Is law a good career for the future?
Yes definitely, the law is a good career for the future that provides more employability prospects as the demand is rising for law professionals. Moreover, the profession aims for better job security as well.
Do lawyers get paid well?
Yes, lawyers do get paid well. On average, the salary of a lawyer is 4.3 lakhs per annum. The average salary ranges from 1.4 lakhs per annum to 11.1 lakhs per annum. The salary may differ owing to various factors such as the field, experience, skill sets, organization, location, etc.
Which law is best to study?
Some of the promising fields of law to study are mentioned below- 1) Tax law 2) Corporate law 3) Intellectual property 4) Criminal 5) Civil 6) Environmental 7) Property
Prepare for a Career of the Future