If there's any education program that has gained global acknowledgement and popularity, it is a Masters of Business Administration (MBA) degree course. An MBA program is a postgraduate course that offers theoretical and practical training in a host of specialization areas like Economics, Finance, International Business, Operations Management, Sales, Marketing, Human Resources, Finance Leadership, Information Technology, Entrepreneurship, and Business Strategy, to name a few.
MBA programs are designed to impart industry-specific knowledge and skills while also training candidates in general business management. Plus, students also develop valuable soft skills like interpersonal and communication skills, organizational skills, business acumen, problem-solving attitude, and analytical skills.
Since these skills apply to almost all industries and job roles, MBA graduates can find employment opportunities across different industrial sectors.
Earning an MBA degree can make you eligible for taking on managerial and leadership roles.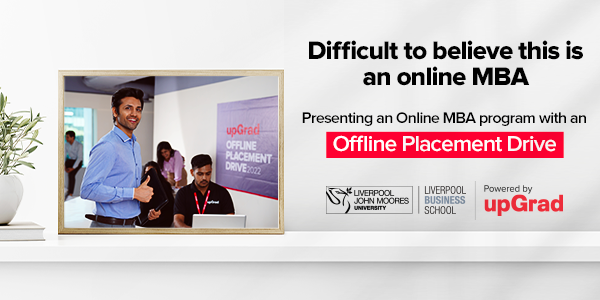 This post will explore the top MBA career options and their corresponding salary scale in the US. So, if you are an MBA aspirant, stick with us to the end!
Why pursue an MBA program?
Before we dive deep into the best MBA career options in the US, let's check out the reasons why you should go for an MBA course:
1. It Promises a High Salary Potential
An MBA degree is the pathway to bagging high-profile jobs with hefty annual packages. Since MBA graduates possess domain knowledge and business management skills, companies are ready to pay higher salaries to MBA candidates than their non-MBA counterparts. In the present market, there's a massive demand for MBA professionals owing to their sharp business acumen and administrative/managerial skills.
While it's true that MBA courses are expensive, students can recover a significant portion of the cost incurred in a few years, thanks to the high annual compensation.
MBA impart relevant skill sets to its students that are required in the industry. Not only the hard skills but also the soft skills are imparted during the course. This is the reason why MBA students are looked as an asset to their employers.
2. It Leads to Better Career Opportunities
It is a well-established fact that an MBA serves as the stepping stone to outstanding employment opportunities. Today, most companies and organizations demand skilled and experienced MBA candidates to lead management and senior executive positions.
Even as a fresher, an MBA graduate can handle challenging job roles quite well, owing to their general and niche skills. An MBA degree is a mark of excellence and competency in business administration and management. Naturally, as an MBA graduate, you will have a plethora of unique job opportunities across various domains.
MBA students are given better opportunities than their non-MBA counterparts. The reputed companies in the market require MBA candidates to fill the roles, the MBA graduates get these opportunities, and the non-MBA people miss out on these opportunities.
The organizations consider MBA graduates for leadership positions. Employers consider MBA graduates to be possessing the skills that are required to effectively lead a team, stay productive and more importantly business decision-making. There are various jobs after MBA in USA. This degree is valuable in all parts of the world.
3. It Features a Flexible Learning Model
Most colleges, universities, and private institutions offer three options for MBA programs – full-time on-campus courses, part-time on-campus courses, and correspondence courses. So, there's an option available for all.
While students can opt for full-time campus courses, part-time or online/correspondence courses are ideal for working professionals. They can continue to keep their job commitments while pursuing their MBA studies in the evenings or weekends. With such flexible choices, it becomes much easier to balance one's education and professional life.
The MBA is imparted in a variety of ways, which gives an opportunity to all types of working professionals to upskill. This is an added advantage that helps them to accelerate their career at any point in their life.
Available options for MBA in USA, India, Canada and across the globe are available which the learners get to avail according to their priorities and preferences.
4. It is an Excellent Platform for Networking
Students and working professionals from all over the world pursue MBA programs. Thus, when you enroll in an MBA program (particularly global MBA courses), you get the opportunity to meet with people from different educational, professional, cultural, and social backgrounds.
Plus, MBA programs include various networking events where you can meet with keynote speakers, established business owners, budding entrepreneurs, industry leaders, etc. These connections are precious as you might find potential employers or business partners and find new business inspirations from them. If you catch the eye of influential people in the industry, you might get fantastic recommendations that may help you obtain your dream job.
Networking is the key to procuring better job opportunities. The students must network at all times regardless of the type of MBA that they are pursuing.
The students must reach out to their peers, faculties or visiting faculties and strike up a quality conversation with them. Moreover, the students should acquire the skills of holding up a conversation, and getting connected over social networking sites must also be pursued. The jobs for MBA graduates in USA are limitless provided they have skill sets and are adaptive to nature.
5. It will Prepare you for Entrepreneurship
An MBA degree equips you with the requisite knowledge, skills, and practices needed to run a business smoothly. In fact, many MBA graduates become young entrepreneurs straight out of B-schools. MBA graduates are well-versed in business planning, finance management, operations management, decision-making, and team building. These are the foundational skills required for operating a business effectively.
The best aspect of obtaining an MBA degree is that it is a globally acknowledged credential. After completing your MBA course from a reputed and established B-school/institute, you can consider employment prospects from all across the world. You are qualified to bag prestigious jobs in govt./private sector in the country or an MNC or accept a job offer overseas.
Must Read: Reason you Should do Online MBA
Top MBA Career Options and Salary in the US
Before we look at the best MBA career options and their commanding salaries, it is important to acknowledge that each job's salary range depends on multiple factors. These determining factors are company size, location, job profile, and the candidate's educational qualifications, skill set, and work experience. With that being said, these are the top eight career options for MBA graduates in the US:
1. Chief Executive Officer (CEO)
Chief Executive Officers hold the highest rank in the senior executive bench of a company. They are the top decision-makers in an organization who make all the important corporate decisions regarding business operations and utilization of company resources.
They plan, implement, and determine an organization's vision and direction. CEOs must always be aware of the competitive landscape (external and internal), opportunities to expand to new markets, customer trends, and the latest industry developments. They act as the main point of contact between a company's Board of Directors and the different corporate operations teams.
Since CEOs are the company's public face, they must be master orators with strong communication, leadership, and critical thinking skills. Usually, they require extensive experience and knowledge of business management. The best MBA options for CEOs are Executive MBA in Organizational Leadership, Strategic Management, Finance, and Business Strategy,
Salary
The average yearly salary of Chief Executive Officers in the US is $823,896, while the typical salary range lies between $635,261 – $1,024,364 per year.
Some of the skills required from the CEO are leadership, team management, visionary, decision-making, problem-solving, analysis, communication, growth- mindset, etc.
2. Chief Operating Officer (COO)
Chief Operating Officers usually occupy the second most important rank in a company after the CEO. COOs oversee and direct the day-to-day administrative operations of an organization.
They handle a company's internal affairs, primarily focusing on devising and executing its business strategy in alignment with its long-term goals and vision. COOs determine the roadmap for business operations, establish actionable policies to promote company vision and supervise management executives' work. COOs report to CEOs.
COOs must be well-versed and experienced in various business matters, including business strategy, resource allocation, operations management, supply chain & logistics, and performance evaluation. Their goal is to drive sustained growth and boost the profitability of a company. Organizational Management and Business Development/Strategy are the perfect MBA choices for the role of a COO.
Salary:
The average annual salary of Chief Operating Officers in the US is $444,333. However, the salary range lies anywhere between $340,420 – $569,226 per year.
Some of the skills required from a COO are decision-making, leadership, operational expertise, business acumen, analytical skills, etc.
3. Chief Financial Officer (CFO)
Chief Financial Officers are senior executives who supervise and manage the fiscal/financial operations and decisions of an organization. The primary duties of CFOs are financial planning, monitoring the cash flow (revenues, profits, losses, etc.), and analyzing the financial strengths/weaknesses of a company.
They collaborate with departmental managers (marketing, sales, purchasing, pricing, finance, etc.) to gather and analyze financial data and report the findings to company executives, stakeholders, and business partners.
CFOs usually have in-depth knowledge of various domains like economics, accounting, finance, and market research. They determine and decide a company's investment, capital structure, and strategies to manage the budget/income. MBA specializations in Finance, Economics, Accounting, and Corporate Financing are great options for CFOs.
After MBA jobs in USA gets open for MBA graduates, and with effort, hard work and determination, the journey to get into C-suite does not stay a dream but rather becomes a reality for the students.
Some of the skills required to be a successful CFO are leadership, financial management, risk management, budgeting, resource management, communication, analytical, data analysis, decision-making, numeral literacy, statistics, etc.
Salary:
The average annual salary of Chief Financial Officers in the US is $385,412, whereas the typical salary range is $302,604 – $480,203 per year.
4. Chief Technology Officer (CTO)
As the name suggests, a Chief Technology Officer primarily focuses on developing a company's technological infrastructure. In this respect, CTOs develop the roadmap for efficient utilization of the company's technological resources, evaluate existing systems and implement new tech systems, and supervise all technology development operations.
Their main goal is to design innovative strategies to optimize an organization's technology policies and practices to stay relevant in the competitive market. CTOs work closely with the IT team of a company.
CTOs must demonstrate strong critical thinking and business acumen. They must have sound technical knowledge and experience in working with the latest technologies. They need to step up as inspiring leaders with excellent organizational and communication abilities. The best MBA specializations for CTOs are Information Technology, Information Security, and Information Systems Management.
Salary:
The average annual salary of Chief Technology Officers in the US is $247,381. The typical salary range for CTOs is $207,450 – $289,357 per year.
Some of the skills required from a CTO are technological expertise, security systems, cloud computing, database management, communication, IT operations, research and development, troubleshooting, etc. The scope of jobs for MBA students in USA widens with the right skill sets, and enough experience can take you to the next level of becoming a CFO.
5. Chief Marketing Officer (CMO)
Chief Marketing Officers are responsible for planning, designing, and executing the creative vision of a company. They set marketing goals, plan the marketing strategy, identify and monitor marketing KPIs, set the marketing budget, analyze consumer data to identify the latest consumer/market trends. CMOs are essentially the innovation catalysts and growth drivers of an organization.
CMOs must possess exceptional communication and negotiation skills. They require extensive marketing experience along with critical thinking skills, business acumen, and an analytical bent of mind. They often take the role of a leader and guide for the marketing department. Marketing Management, Social Media Marketing, International Business are the three ideal MBA options for CMOs.
Salary:
The average annual salary of Chief Marketing Officers in the US is $243,950, while the salary range typically lies between $199,460 – $307,340 per year.
Some of the skills required from a CMO would be understanding the market, customer identification, marketing techniques, strategy creation, analytical expertise, data management, people management, vision, problem-solving, decision-making, creativity, content management, etc.
6. Chief Administrative Officer (CAO)
Chief Administrative Officers manage and oversee the daily administrative operations and functions of a company. They lead and supervise individual departments, including human resources, IT, finance, sales, and marketing. T
hey are mainly responsible for the overall strategic planning and delegating tasks to senior managers. CAOs focus on business strategy development, including a host of tasks such as risk assessment, business expansion opportunities, setting goals and measuring key metrics, and planning projects that can drive company growth. CAOs report to both CEO and COOs.
CAOs must have good communication skills and the ability to handle stressful situations. They often have to function in a fast-paced and dynamic environment. Thus, CAOs must be excellent leaders with organizational, analytical, and problem-solving skills.
Aspiring CAOs can opt for Organizational Management, Business Development, Strategic Leadership, and Human Resources MBA specializations.
Salary:
The average annual salary of Chief Administrative Officers in the US is $348,540, and the salary range usually falls between $274,500 – $448,130 per year.
7. Medical Director
Medical Directors supervise the daily operations of hospitals, outpatient facilities, and healthcare institutions. They coordinate with medical teams and staff to set the goals for long-term care services, determine and monitor budgets, determine the standards for care delivery, recruit medical personnel (physicians, nurses, paramedics, etc.), and devise training programs.
Medical Directors usually work in hospitals, clinics, nursing homes, hospices, residential care units, assisted living facilities, and retirement communities.
Medical Directors hold medical degrees along with considerable work experience and board certification. They must be skilled in healthcare management and demonstrate excellent interpersonal, communication, organizational, and problem-solving skills. Healthcare Administration or Healthcare Management is perfect MBA specializations for aspirants who wish to become Medical Directors.
Salary:
The average annual salary of Medical Directors in the US is $286,513. However, it can range anywhere between $261,760 – $313,961 per year.
Some of the skills required by a medical director include medical and expertise aptitude, technical understanding of various methods and techniques, people management skills, decision-making, problem-solving, etc.
8. Investment Banker
Investment Bankers work for financial institutions, large corporations, government agencies, NGOs, and private individuals. They evaluate their clients' financial data (assets, investments, etc.), assess risks and rewards, and offer sound financial advice and recommendations to help meet their financial goals.
Investment Bankers also help with financial mergers & acquisitions, business deals, and raising capital for business. To accomplish these tasks, they create financial models/plans and perform valuation assessments for their clients.
Investment Bankers must possess commendable interpersonal, analytical, market research, and project management skills. They must have sound financial knowledge. The most suitable MBA specializations for Investment Bankers include Economics, Finance, Corporate Finance, Accounting, and Risk Management.
Salary:
The average annual salary of Investment Bankers in the US is $100,669. The typical salary range is between $78,906 – $146,448 per year.
Pursue an MBA course online: The upGrad advantage
If you wish to survive and stay relevant in the cut-throat competitive job market, an undergraduate or postgraduate degree won't suffice. It would certainly help if you had an MBA degree along with a few years of work experience to increase your professional value. Companies always incline more towards candidates with both these traits. Thus, the best course of action will be to accept an entry-level job while simultaneously pursuing an online MBA course.
When it comes to online MBA courses, upGrad takes the crown. upGrad offers five Global MBA courses that will not only help you acquire top industry skills but will also groom you into a true professional:
The upGrad MBA provides an opportunity to learn from the faculty that are renowned in their respective fields. Along with that, the curriculum is industry relevant which makes you industry-ready and opens vast job opportunities.
The universities that are partnered with the upGrad are reputed and renowned which increases the significance of the individual. They also help in building a strong network and individual brand of the students.
upGrad has designed this Global MBA program in partnership with Australia's DBS and IMT Ghaziabad. It is a two-year online MBA course covering a wide range of industry-specific topics like Business Growth Strategies, Financing Strategies, Strategic Thinking, Design Thinking, Change Management, and International Business. On course completion, students are awarded dual credentials from DBS and IMT Ghaziabad.
2.

MBA, Liverpool Business School (LBS)
This upGrad offering is a 20-month MBA course that allows students to choose from different specializations like Finance, Operations, Marketing, Business Analytics, and Strategy & Leadership.
The course curriculum includes Digital Business Innovation, Business Growth Strategies, Marketing Strategies, Leadership, Strategic Thinking, Risk Management, and Project Management. Learners get to experience a week-long immersion program at the university campus (LBS).
upGrad offers this 15-month Executive MBA program with a special focus on Business Analytics. The course is designed for experienced professionals and aims to teach students core management skills across multiple domains, including Economics, Finance, Marketing, Human Resources, Operations, Supply Chain. The unique thing about this MBA course is that learners also explore and work with Big Data and Machine Learning technologies.
This MBA course in Digital Finance & Banking is a two-year program that teaches topics like Fintech Ecosystems Management, Financial Management & Valuation, Data Visualization in Finance, Design Thinking, Business Leadership, Artificial Intelligence in Business, Blockchain and Cryptocurrency, and Digital Fraud & Risk Analytics. It is the ideal choice for aspirants who wish to build a career in the BFSI sector.
upGrad encourages interactive and integrated learning through live discussions, case studies, mock interviews, resume building sessions, and offline peer-to-peer networking events.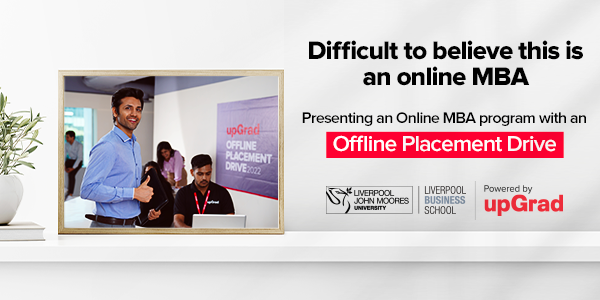 If you are keen on upgrading your career, check out Deakin Business School and upGrad's Global MBA Program. The program has been designed to stand at par with the best on-campus MBA programs across the globe.
Learn MBA Courses from the World's top Universities. Earn Masters, Executive PGP, or Advanced Certificate Programs to fast-track your career.
This leaves us with one question, are you excited to take the upGrad advantage?