Branding is much more than just a cool logo or well-placed advertisement. Your brand is the way you talk about your business to the world. It plays a significant role when it comes to creating a supreme identity in the market to give your company the competitive edge. Yes, branding can help elevate your business. So if you need to create or re-create your brand, you need these brilliant brand building techniques.
'Your brand can set you apart from your competition…'
Growing your business is easier said than done especially in today's highly digital world. You might find it very difficult to take your company to the next level because everywhere you look, there is competition. As the rest of the industries rely on the 'same old' marketing strategies, what you need is to discover a unique approach to building and growing your company.
FIRST is to FOCUS on your BRAND. The competitiveness in the market is all-time high today. Brand awareness, therefore, should be one of the main staples of your business. But before that, to be good at marketing, there needs to be a strong focus on creating the right brand for you.
Learn digital marketing courses online from the World's top Universities. Earn Masters, Executive PGP, or Advanced Certificate Programs to fast-track your career.
Top 5 Brand Building Techniques
'A Solid Brand Building Process Of Your Own'
Determine your brand's target audience:
Know your ideal customers because they're the reason for your marketing. Focus on discovering who they are and what they want. You need to tailor your mission and message to meet their exact needs. Without you doing any sales talk, your brand will reach out to people. So it is important to grab their attention.
Solidify a picture and use compelling words. These are crucial branding elements that will give the idea to your audience regarding what your business is all about. Through correct branding, your brand message comes across crystal clear. Hence, reaching the right group of people will be easier.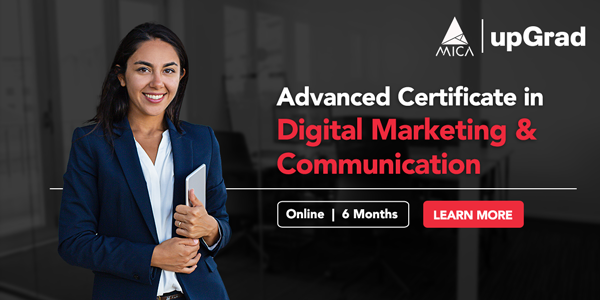 Branding: When's the Right Time to Start
Research brands within your industry niche:
There's nothing wrong in spying your competitors. It's different from copying. Looking at the branding design of other companies within your industry niche can actually help you think of better and unique ideas.


Never imitate. Instead, go beyond your competition's design and bring out the creativity in you. Your goal is to differentiate from other brands. It is one effective way to convince consumers to choose you over your corporate rivals. This is one of the most important brand-building techniques that you should not skip. Research your main competitors or benchmark brands and make your brand stand out.
Define a clear brand goal:
Craft a clear expression of what your company is most passionate about. Sharing it with the people through branding will bring a positive impact on your business. Determine the value that your product or service provides to people. It will serve as your guide towards knowing your company's goal. Be sure to express your corporate intention and purpose directly so people can easily reflect on the message that you're trying to deliver.

Branding is not just about the image or graphics. It is more of your business story. When you know where you are exactly heading, you will also know how to lead your customers to end on your sales funnel. Every steps matter so this tip is something that you must not ignore.
Future Marketing: The Ultimate Collaboration of Branding with AI
Plan and create the logo:
Once you're done with your branding research, it is time to plan and create your logo. This is probably the most crucial part because you will be making the image of your brand. Don't rush on things. PLAN. First things first. Draft images and pick the best and unique style. The picture or graphics must be relevant to your niche.
Use the right colour, font, and size of your image and texts. Be careful when elaborating your brand in drawing. You might overdo it that can drive potential customers away. Design your logo in a way that it remains simple but attractive to the eyes. Establish a visual style with impact and authority.
Use a tagline that tells your story:
This is the part where most brands commit mistakes. Your tagline is the short sentence that follows your business name. It should tell your business story in a short but effective way. Don't forget to use the right words to complete the tagline. In this stage, you can share additional information about what your business offers.
Some businesses even use technical writing software to create the perfect brand tagline. Professional guidance when it comes to content writing is available. You can avail the services of these creative marketing agencies to make sure that you are writing effectively for your audience. The best brand tagline is a phrase that is enough to convert a web visitor into a customer.
Consistency Is The Key
'Stay true to your brand building.'
Once you've chosen a brand voice, use it for every piece of content you create. Remember that a successful brand has to be consistent in communication and experience, across many applications. These are the factors that you have to consider when building your brand:
Print, signage, packaging
Website & online advertising
Content marketing & social media

Sales & customer service
There are other brand-building techniques that you can use. It is then important to document all the brand guidelines you find. Use them to create and distribute the right branding internally for better advertising campaigns.
Best Online Digital Marketing Courses
Build A Brand You're Proud Of!
When you're done building your brand, try to highlight it on your animated marketing videos. It is one of the best ways to give your brand the right amount of exposure for people's recognition. Integrate your brand into every aspect of your business. Be your brand's biggest advocate. Spread the word because no one knows your brand better than you.


Brand Positioning – A Focal Point of All Marketing Efforts
The visibility of a business can sometimes be the difference between a good branding and bad branding. So building the perfect brand is a great goal. Brands need to focus on where the bulk of audiences are today. Once you're there, grab the opportunity to be remembered.
Top Digital Marketing Skills
upGrad's Exclusive Digital Marketing Webinar for you –
What's new in Marketing?
Digital Marketing Free courses to Learn
Popular Digital Marketing Blogs
How does Instagram help in brand building and promoting sales?
The first step is to create a professional account that is separate from your personal account. Make sure that users of the platform are able to reach the brand's online page.

Your bio plays an important role here. This is the avenue to get more clicks to your business landing page or website. Also, remember to add a link to the business page. When you create your posts for your brand's Instagram handle, ensure that there is some form of uniformity in the tonality of content and design. This helps your followers to easily recognise you among your competitors.
How can market surveys help to build your brand?
You want to know what something really thinks about your product or service. Instead of trying several indirect ways, sometimes the best way to get answers is by simply asking them. In marketing terminology, it translates into surveying prospects or customers to understand what's actually going through their minds and by extension, the real world.

Market surveys are not just a channel to identify ways to please your customers or determine how best to position your products in front of them.

The idea is to delve deep into your customer's feelings, attitudes and preferences and let that be the guide in testing and launching new products and services. It also works as a platform to solidify your brand's position with customer satisfaction.
Why is customer satisfaction so important?
As a business owner, it is your job to have a continuous finger on the pulse of customer satisfaction. You always get it from the horse's mouth which indicates if your strategies are right or wrong. Although largely informal, from a company standpoint, this feedback is invaluable. That said, unstructured data is hard to control and formalize and therefore cannot form a true foundation for the business to take concrete decisions
Ride the Digital Wave
PGC in Digital Marketing from MICA & UpGrad
Learn More