The JAIN Online Advantage
Receive unparalleled guidance from industry mentors, teaching assistants and graders
Receive one-on-one feedback on submissions and personalized feedback on improvement

Available all days 9 AM - 9 PM IST.
For urgent queries, use the Call Back option on the platform.

Timely doubt resolution by peers and Teaching Assistants on the Q&A forum.
Personalized feedback on assignments and case studies

Personalized expert feedback on assignments and projects
Regular live sessions by experts to clarify concept-related doubts
Admission Process
There are 4 simple steps in the Admission Process which are detailed below:

Step 1:
Click on Apply Now for the program you are interested to apply for.

Step 2:
You will be routed to JAIN (Deemed-to-be University)'s website to submit your application and documents for verification.

Step 3:
Receive your offer letter for admission to JAIN (Deemed-to-be University)'s program.

Step 4:
Block your seat by paying the block amount.
Programme Fee - Indian Residents
Learners can pay by year or semester. Easy financing options available.
View Plans
Annual Payment: INR 80,000 * 3 (Annual payment * 3 years) = INR 2,40,000
Sem-wise Payment: INR 40,000 * 6 (Sem-wise payment * 6 Semesters) = INR 2,40,000
Additional Fees: One time Registration Fee: INR 2000. Yearly Exam Fee: INR 3000
Early Bird Scholarships Available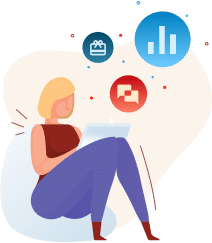 Refer someone you know and get Flipkart vouchers worth INR 3,000!*
*Referral offer is valid only on the BBA in Strategy & Leadership Program.