This is a Guest Blog by Sumit Verma, Head of Digital Marketing and Growth at Voler Cars.
Year after year, the debate rages on.
Google Ads or Facebook Ads? Which should I use for my business? 
While there are some similarities, each has benefits that differ from the other – depending on your business, budget, who you're targeting, and strategic goal.
Many businesses are leveraging the strengths of advertising on Google and Facebook Ads in order to achieve maximum visibility, increase leads and sales, and find new customers. They are adopting different strategies that align with the functionality of each platform and seeing a remarkable return on their advertising spend.
Though Google still has the bigger share of the pie when it comes to total revenue from online advertising, Facebook's piece is getting bigger and bigger each quarter, especially when it comes to mobile advertising.
Learn digital marketing courses online from the World's top Universities. Earn Masters, Executive PGP, or Advanced Certificate Programs to fast-track your career.
In this post, we will look at some of the unique factors that make Facebook stand out from other players in the digital advertising industry, for example, Search Ads.
Discovery Led
Ads shown on your search screen are shown based on what you're looking for i.e., they are intent led. Facebook provides a platform where you can discover new products & services based on your interests, and not necessarily intent.
Think of this like when you go to a supermarket. You always discover new things that you end up buying because you liked them, even though they were not on your shopping list initially (intent).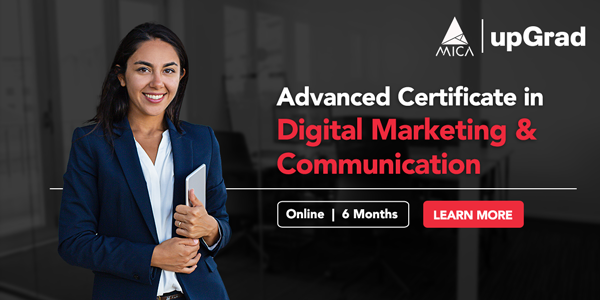 More Creative Options/Willingness to Evolve
Facebook has a wide variety of creative options when it comes to creating an ad. The Carousel and Cinemagraph are fantastic examples of leading through creatives and changing the landscape of digital advertising.
Canvas ads are also unique in the way that they let you create a micro-site within the Facebook platform to highlight your product/service.  Facebook has shown a higher willingness to adapt and evolve when it comes to ad products.
Less Intrusive
Unlike almost all other display ads on the internet, Facebook ads are non-intrusive and feel like they are a part of your news feed.
This increases the chances of a person engaging with them (as is clear with higher CTR/Engagement rates of Facebook compared to other display networks).
Images are More Eye-Catching Than Text
Facebook Ads combine high-quality images with meaningful text which is more stimulating to our minds than plain text.

Grabs More Eyeballs
People spend a lot of time on Facebook which is a great place to hold their attention. They are more receptive to advertising messages during their free time.
Diversification
Instagram (part of the Facebook family) is an unmatched platform for showcasing images and establishing your brand. It has a premium audience of over 500 million.

Event Advertising
Another unique feature available only on Facebook's platform is the ability to create an event to market your product/feature and build a sense of urgency.
Small business and event companies use this to a great advantage.
Best Online Digital Marketing Courses
Accessibility for Low-Budget Campaigns
Both Google and Facebook have tons of options, but overall, Facebook tends to be friendlier to low-budget campaigns.
In Google, if you restrict your budget to less than a few hundred dollars per month, you'll be scraping the bottom of the barrel in terms of keyword choices. But on Facebook, you can opt for a very low budget and still get in front of your ideal target users (just at a lower volume than you would at a higher budget level).
This also makes it easier to scale your campaign over time.
Top Digital Marketing Skills
More Targeting Options
This is probably the biggest draw in Facebook's arsenal.
Facebook's massive (and precise) targeting options let you choose who should see your ad based on their interests & behaviour, among other things.
Facebook was also the pioneer in establishing lookalike targeting.
Mobile First Approach
As the world moves towards consuming everything through their mobile devices, Facebook was way ahead of Google in optimizing their ad products, delivery and optimization for mobile.
In 2016, Facebook made 84% of its revenue from mobile ads compared to Google, which made less than 60% of ad revenue from serving ads on mobile.

Image source: VentureBeat
upGrad's Exclusive Digital Marketing Webinar for you –
Webinar with Q&A Session on Digital Marketing
Grofers Case Study
During the initial few months of establishing Grofers as a brand, one of the biggest challenges we were facing was the lack of awareness among people regarding buying groceries online, and the apprehensions they had in trying such a service.
With the help of search ads, we were able to reach out to people who had already shown intent towards shopping for their groceries online, (for example, today people who search for Grofers, buy their groceries online etc.) but this was a very limited group of people and our goal was to reach beyond this demography.

Digital Marketing Free courses to Learn
We created Facebook and Instagram carousel campaigns which highlighted how easy it is to shop from Grofers. The campaign also highlighted all our USP's through a series of carousel ads such as – Hassle Free Returns, On-Time Guarantee, Range of Products & Brands, Cash-On-Delivery accepted, no delivery charges and so on. All these messages could be delivered through one ad with a Carousel Ad creative on Facebook & Instagram.
Such campaigns help in overcoming inertia which a potential customer might have when trying something new.


Do comment below to let us know if you'd like to learn more about Facebook and Google advertising or want to gain further insights on other Digital Marketing areas.
Popular Digital Marketing Blogs
What are the different types of Facebook Ads?
Advertising on Facebook can give your business a competitive advantage. However, it should be used correctly. It is important to choose an ad format that will enhance brand awareness and reach. The most popular Facebook ad formats include photo ads, video ads, carousel ads, slideshow ads, collection ads, instant experience ads, event ads, messenger ads, story ads and mid-roll ads. If you want your ads to appear for your target group, you need to boost your posts, promote your page, increase engagement and send people to your website. It is important for the ad copy to be compelling and the image to be eye-catching.
How long should I run my Facebook ad?
There is no thumb rule about the duration of your Facebook ad. As long as it is performing and converting according to your target, you can run it. You can run it for weeks or months. If at any point you feel like you're not getting enough bang for your buck, you can switch tactics. You can probably roll out a new image or change the copy or CTA. The only way to find out whether your ad is working or not is by testing continuously. However, don't test it initially. Let it run for at least 3-4 days. If you tweak any settings during this time, you might end up resting Facebook's ad algorithm.
How much do Facebook Ads cost?
When it comes to Facebook ad spends, sky's the limit. Generally, in advertising, they say bigger the better. However, before you allocate a budget for your Facebook ads, make sure you have a clear advertising strategy. It's always better to do your research, understand your audience and then chalk out a budget. Remember, your ad is all about your audience and what you're getting them to do. If you're unsure about running a Facebook ad, it is wise to hire a marketing agency.
Ride the Digital Wave