What gives YouTube the popularity it enjoys around the world? From how-to videos to everyday hacks, food, fashion, style, travel, information technology, and whatnot, YouTube has a video for everything you need to know. And when you are not looking for anything specific, there are plenty of entertainment options that you can find on the platform.
Memes, funny animal videos, funny babies videos, videos of people having bizarre moments in life, and so much more is on the list. Whether you are looking to learn or simply kill time, there is a video for all (or dozens of videos, for that matter).
However, not every video ranks high in search results. Why do some videos get selected over others even if the content they cover is the same? There is not much point in uploading a video if it can't reach the audience you want to access. And that's where ranking comes into the picture.
If you are serious about getting into YouTube, check out our digital marketing courses from top universities.
Want your video to have a decent following, then make sure you understand the importance of YouTube video ranking on Google. In other words, how to get your video to show up in Google search results or as suggested videos.
How To Rank YouTube Videos
1. Work on Your Content
Know what kind of videos are generally sought out by viewers. When you learn what works and what does not, you will be able to create your content accordingly. Those that provide information or offer a solution to a problem have higher YouTube video ranking. Then, of course, are those that bring on a few laughs or have a wow factor.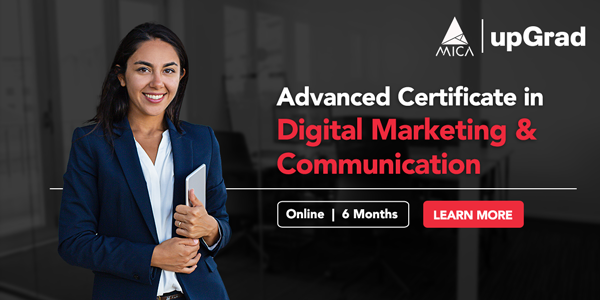 Creating good content is all about sharing fresh ideas, knowledge and information. If you have got your content right, you have managed to scale the first rung of the ladder.
While knowing 'what works' is important, it is equally a paramount factor to not be repetitive. Why do something that has been done before? There will always be takers for fresh ideas. Want to start a food channel? Why stick to those staid old-fashioned cookery videos where all you can see is the person before you instead of the food?
Digital Marketing Project Topics for Beginners
Change the focus. Make the food and the method the center of your video and watch the number of likes and subscribers soar. This has been done successfully by quite a few home cooks on YouTube in recent times.
2. Keyword Research
Probably the most important aspect of knowing how to rank YouTube videos involves keyword research. When you name your video, make sure you choose words that are most likely to be used for the search. One of the easiest ways to do this is to enter a search word on YouTube and go through the related suggestions.
Even before you upload the video, make sure the video file itself is search engine optimized. Enter any other relevant keywords and add a brief description of your video. This process goes a long way in pushing up your chances of being discovered. To learn more about: How to do keyword research for YouTube.
3. Leverage Metrics
While the number of views your video receives determines your ranking, there are other factors at play. The more the engagement on your video, the higher is its ranking on Google. It is therefore not enough that the video is simply clicked and viewed. There needs to be involvement from the viewer. This means, the more the number of comments, likes and shares, better the ranking of your video.
Therefore it is important to work on the quality of the video so that users will engage with it. The YouTube algorithm actively considers the time spent on each video; therefore, many YouTubers create longer videos so that users spend more time on the page. This definitely pushes up the rank.
Best Online Digital Marketing Courses
4. Work on the Visual Appeal
You cannot have a YouTube channel without a clear identity and an attractive visual appeal. Profile picture, channel header, website, social media links, and a brief description— all of this adds up. Viewers don't see your profile as one belonging to just another video creator, but as a serious contributor of content.
You can even go a step further to establish a brand image for your channel. Create a logo, be consistent with the design and make sure the quality of the video itself is in keeping with the brand image you want for yourself. It definitely lends some credibility to your content and can push up the number of subscribers to your channel.
5. CTR
CTR or click-through rate is the number of people that actually click on your video when it shows up in search results. The higher the percentage, the more is your ranking. This means that in case another video is chosen over yours, your ranking will automatically fall.
The best way to avoid this is by creating thumbnails that grab attention and selecting a title that fits your video well. While YouTube suggests random shots from your video as a thumbnail, you could create customized thumbnail as well. While it may not seem like much, but it definitely bears an impact on the CTR and therefore, the ranking.
Top Digital Marketing Skills
6. Target Those Subscribers
If you already have followers, it is easy to get those hits and likes. But for the new users on the block, making your channel available for viewership in the right places is essential to make a mark. This is where other social media platforms can be of great advantage. Promote your video on your social media page.
Include the video links in your email signature. Engage with people on their blog, pages and other media avenues that are relevant to the subject of your video. And lastly, make sure you direct viewers to your website or blog page at the end of the video.
Digital Marketing Free courses to Learn
upGrad's Exclusive Digital Marketing Webinar for you –
Webinar with Q&A Session on Digital Marketing
Conclusion
Knowing how to rank YouTube videos is necessary if you don't want your efforts to be aimless and a random shot in the dark. It is dependent on creative aesthetics as well as intelligent marketing. The quality of the video is as important as its placing.
Making use of available tools such as optimization, links, etc. to go a long way in boosting your ranking and CTR. Follow through with these suggestions, and the next video you upload might have more engagement than just friends and family.
The career opportunities in digital marketing are plenty; you get to choose what you want to become. If you are curious to get into the world of digital marketing, check out upGrad & MICA's Advanced Certificate in Digital Marketing & Communication
Popular Digital Marketing Blogs
How can beginners rank their YouTube Videos?
Even if you are a YouTube novice you can master the art of YouTube SEO to ensure that your videos start ranking on audience feeds. Start with video keyword research that will generate a list of keyword ideas. Try out this potential list on YouTube's search bar to get an understanding of what users actually think.

You can also find keywords via your YouTube "Traffic Source: YouTube search" report. It actually shows you the list of keywords that your audience has used to search for your videos.
How long does it take for YouTube to index a video?
The process of YouTube indexing your video to become searchable largely depends on the traffic that the platform is encountering at that very moment. Generally, the thumb rule says 8 hours from the time of uploading the video that it becomes searchable on audience feeds.

If you decide to alter information such as title tags, description, thumbnail, the same indexing time will apply for any uploaded video. It also applies in case you wish to change the status of your video from private to public.
How can you promote your YouTube channel for free?
With 12,000 hours of new content being uploaded on YouTube every day, the competition to make your channel a standout is fierce. However, you can give it the edge by creating content that your audience finds worthwhile. To promote it for free, use YouTube SEO to the fullest along with weaving in appropriate hashtags that spread the word around.

Building a community of subscribers who engage and share with your video content is vital. Collaborate with like-minded content creators, run contests, offer giveaways are few other ways to promote your YouTube channel for free.
Ride the Digital Wave