Out of all social media platforms, Pinterest may be one of the most misunderstood. Some people just see it as an online scrapbook of the wedding or house decor ideas, but Pinterest is much than just a collection of ideas. 93% of active pinners said they use Pinterest to plan for purchases and 87% said they've purchased something because of Pinterest. Thus, it can become a powerful platform to bring awareness to your business.
While 81 percent of Pinterest users are female, many men are joining the platform. Actually, about 40 percent of new signups are men. This means that retailers targeting men can also benefit from an optimized presence on Pinterest. Whether you're just starting with Pinterest or have been using it for a while, use these
5 simple guidelines to optimize your Pinterest account for eCommerce:
Have a Pinterest Business Profile
The first thing you need to do to optimize your Pinterest account for eCommerce is to convert it into a business account. By doing so, you'll be able to get access to more advanced features such as powerful analytics and the advertising platform. Also, once you have a business account, you'll be able to run ads on Pinterest.
If you already have a personal account for your business, you can easily convert it into a business one. Just visit business.pinterest.com and click on "convert your existing account." Then, fill out the form, and, last, verify your website. Verifying it will prevent any other business from creating a Pinterest account with your brand name.
Once your account is set up, optimize your profile starting with your profile photo and description. Most brands use their logo as their profile photo and use a small description highlighting what makes them special. For example, how renowned brand Valentino, has optimized its Pinterest account:


After your profile photo and description are optimized, you'll want to create an appealing story by showcasing your brand's look and feel. The best way to do this is through carefully composed boards. You should have multiple boards focused on different products, collections, featured items, or others. For instance, Gucci has different boards showcasing their collections and their artistic collaborations, as you can see below:


While adding pins to your boards, keep in mind that each one of them should have a description including your target keywords. Using them will guarantee your pins are shown for the right searches.
Optimize your Website for Pins
To strengthen your presence on Pinterest, you'll want to have as many people pinning your products and content as possible. To accomplish this, you have to optimize your site and make it pin-friendly to encourage your visitors to take action. Installing a social sharing widget like the ones offered by SumoMe or ShareThis can help remind your visitors to share products or content they like.
Additionally, add the Pinterest "Save" button or, even better, the hover Save button to encourage pinning. Using the latter will show the Pin button once a user hovers over an image.
Your images should also be optimized. Their size is important. If the images are too small or too big, they can easily get distorted when pinned. Opt for vertical images with 735 x 1102 pixels which contain less than 30 percent background.
Curalate states that those types of images are repinned the most. Surprisingly, they also state that brand images without faces receive 23 percent more repins. Last, colour saturation seems to be important for pinners. Colourful and bright images get more engagement and repin than dull and dark ones.
Buyable pins will allow you to sell your products right within Pinterest without having to take users to your website to make a purchase. This is great, considering that the average order value of Pinterest users is $50 higher than other social media platforms. Also, buyable pins convert twice as much as normal pins that lead to product pages. Thus, having them can boost sales coming from Pinterest.
Not taking potential customers to your site may seem like a bad thing, but it does have its benefits. By reducing the steps in the selling process, you'll make it easier for customers to make a purchase. With buyable pins, users just need two easy clicks to add a product to their bag and check out.
The best part is that using buyable pins is free, but you can always promote them to increase exposure to your products. If you use a website platform like BigCommerce, any product your visitor's pin will become a buyable pin. Pinterest simply uses a product feed which is matched with existing pins to find out which products are already on Pinterest. The platform recommends testing pins in secret boards to find out what types of pins perform best.
Facebook Marketing for Beginners
Use Rich Pins in Articles
Rich pins offer more detailed information about the content being pinned. For instance, product-rich pins show real-time pricing, availability, and the store's name. So, pinners can easily see where to buy products and get to product pages with a simple click. They can also get price notification alerts when the price of a product changes.
Now that we have buyable pins that allow users to buy products without getting out of Pinterest, product-rich pins have been slightly replaced. However, we can still use rich pins to provide more information about articles, recipes, and apps. For articles, this type of pins shows the article's headline, author, and story description. For apps, rich pins show an install button that users can easily click to download apps.
Rich pins will not only give your pins more visibility, but they will also increase your click-through rate or CTR. Target reported a 70% increase in traffic from Pinterest when they enabled Rich Pins.  
Last, make sure to use canonical URLs for your product landing pages. This can be done by adding a canonical URL tag in your site's link.
6 Strategies to drive Traffic from Instagram to Your Website
Using Pinterest's advertising platform can be just what you need to power up your eCommerce marketing efforts. Besides reaching your target audience, you'll also be able to reach people related to your target audience. When someone saves a promoted pin, other people can see that pin in their Pinterest feeds. This will multiply your exposure and increase your chances of conversion.
Pinterest offers three types of ad campaigns with different goals: awareness, engagement, and traffic. As the name implies, awareness campaigns are just meant to get your brand seen by as many people as possible, and advertisers pay per 1,000 impressions. Engagement campaigns will help get people to interact with your pins either by repinning, clicking or doing a closeup. Last, traffic campaigns will help you drive traffic to your site to convert visitors as they land on your product page.
The steps to create a campaign are pretty standard. You just need to have a business account, choose your campaign's goal, pick a pin to promote and select a target audience. Once your campaign is set up, make sure to add a Pinterest tag to your site to be able to track conversions.
Watch your campaigns carefully to monitor results. See what types of posts are creating engagement to boost those and replace any pins that are not performing well. Vertical, long pins usually perform better than landscape ones.
17 Ways to Leverage Instagram for your E-commerce
As with any other social media platform, Pinterest has its own way of working. Its users engage and interact with content differently from the way they would interact on Facebook, Instagram, or Twitter. Wise retailers have to be mindful of the differences between social media platforms to tailor content accordingly. By optimizing your business profile following all the guidelines discussed above, you'll have a better chance of crushing the competition on Pinterest.
What is Pinterest optimization?
For many digital marketers, Pinterest does not feature as one of their core social media channels when it comes to driving traffic to their website. That said, Pinterest has a proven track record for delivering traffic boosts for several eCommerce brands.

In order to reap benefits from your Pinterest account, you need to invest time in optimising your profile. This involves tactfully deploying Pinterest SEO strategies that will help generate organic traffic to your site. The main point of differentiation between Pinterest and Google SEO is keyword targeting, how they are identified and then used to optimise the account.

There are ranking factors on Pinterest that also play a vital role in the optimisation process. Add to that the engagement metrics, technical SEO, backlinks, social shares along with great content and you have a solid optimisation strategy in place.
Can you do paid advertising on Pinterest?
Pinterest is a combination platform that offers the benefits of a search engine with social media marketing. While the account optimisation process takes time to deliver results, you can gain short term traffic via investing in Pinterest ads known as Promoted Pins.

You can create your campaigns taking into account users interests, past activity, and actions on websites to show your Promoted Pins. Depending on the type of brand or business, Pinterest ads are a great channel to reach out to a targeted audience base.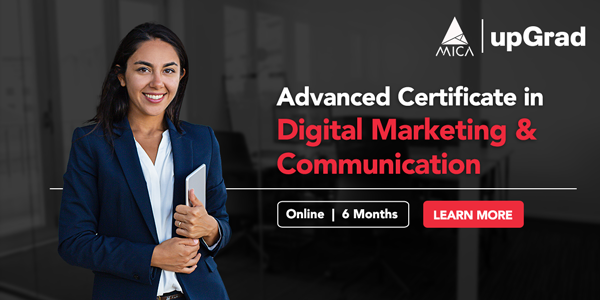 Are Pinterest ads effective?
If you are looking to diversify your digital marketing strategy, then Pinterest ads is something that you should definitely consider. Being home to 150 million active users, Pinterest ads are extremely effective and have given advertisers a bigger boost in clicks and CTR. Be it creating awareness or making a sale, Pinterest ads can be used as part of your entire marketing funnel.
Learn digital marketing courses online from the World's top Universities. Earn Masters, Executive PGP, or Advanced Certificate Programs to fast-track your career.
Featured Programs for you – Advanced Certificate in Digital Branding & Advertising from MICA
Ride the Digital Wave
UpGrad and MICA's PG Certification in Digital Marketing & Communication
Learn More