Content Marketing Skills
With two billion B2B and B2C companies transacting on the Web, generating business for your brand is an arduous task. How can you differentiate your product offerings and services to gain a competitive edge? Content Marketing plays a significant role in it. 
Best Digital Marketing Courses Online
Here are some insights about content marketing:  
91% of b2b marketers and 86% of b2c marketers utilize content marketing.   

30% of the total budget is allocated for content creation and dissemination through different channels by businesses.

Lead generation by content marketing is three times more as compared to traditional marketing techniques.

The use of content marketing instead of traditional marketing reduced overall cost by 62%. 
Looking at this data, it is not surprising businesses are deploying content marketing strategies to promote their brands, communicate with their target audiences, generate leads, increase their sales, and eventually improve their brand image. 
To generate desirable business outcomes using content marketing, marketers must possess these top four content marketers' skills.
In-demand Digital Marketing Skills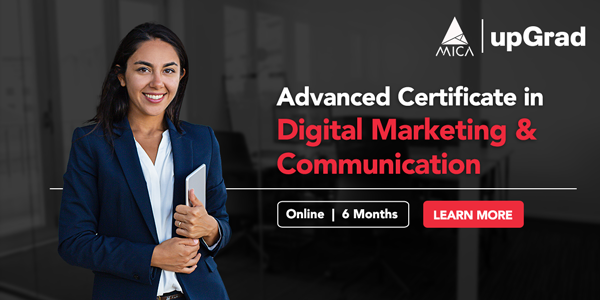 Learn digital marketing courses online from the World's top Universities. Earn Masters, Executive PGP, or Advanced Certificate Programs to fast-track your career.
4 must-have skills for Content Marketers
Skill #1: Creative Storyteller
Storytelling is the backbone of a successful content marketing strategy. As a copywriter, you must understand your customer's journey, behaviour, demographics, and your business goals to create engaging and compelling content that encourages your audience to take the desired action – become influencers or buy a product from your website.
If this doesn't sound like your cup of tea, then worry not. Copywriting skills can be easily acquired through certified courses available online today. The training enables content marketers to learn the art and power of using words to create compelling content (blogs, articles, web pages, landing pages, sales letters, newsletters, press releases, videos) that instantly connect with audiences.
Digital Marketing Free courses to Learn
Remember, a great storyteller empathizes with their audience. Their content echoes with their audience. You can achieve this by addressing their pain points and offering them solutions that add value to their personal or professional life.
Skill #2: Proofreading
For impactful conversations, content must be polished before it's presented to the audience. Even seasoned authors struggle to produce the error-free articulation of their words in the first copy. Thus, a successful content marketer must be mindful of grammar and syntax, and remember, practice makes perfect.     
Subsequently, you must check and edit your content for grammatical errors before it's published. Additionally, proofreading ensures that your content successfully delivers the envisioned message by measuring the readability and clarity parameters.
You can nurture editing skills through reputed courses offered on the Web or, perhaps, technical assistance. For instance, Grammarly is a free online tool that assists content creators in checking and editing their copies for grammar and syntax before publishing it on different content dissemination channels.
Read: Design Thinking in Content Marketing
Skill #3: Knowledge of Sales Funnel and it's Stages
The objective of any digital marketing strategy is to convert visitors into prospects and prospects into customers. To attain this goal, marketers use a sales funnel with different stages of the buyer's journey.
Based on the prospect's position in their buying journey, the three stages of the sales funnel include top, middle, and bottom. 
The bottom tier: Prospect is interested in a product/service and is browsing for information. 

The middle level: Prospect has matured their buying decision based on the information available. 

The top tier: Prospect is a customer now and can help advocate or influence the purchased offerings.
For visitors to turn into customers, a content marketer creates compelling stories that aptly fits into each sales stage.
Check out: Digital Marketing Tutorial
Skill #4: Search Engine Optimization (SEO)
Search engines are the backbone for generating targeted traffic on your website. Market research indicates that organic SEO tactics produce 51% of website traffic and 40% of revenue. Subsequently, marketers must optimize their stories for search engines to gain more and valuable traffic.
Since SEO and content marketing are deeply intertwined, several training modules are available on the Web for marketers to gain preliminary or advanced knowledge.
These courses train candidates in the following areas:
Research and analysis of Keywords

Keyword placement in content

On-page optimization

Competitor analysis
Thus, with optimal SEO tactics, content marketers can successfully generate targeted traffic on a website.
Popular Digital Marketing Blogs
upGrad's Exclusive Digital Marketing Webinar for you –
What's new in Marketing?
Conclusion
If you've made it to the end of this post, you now know just a little more about content marketing effectively. By keeping these simple steps in mind, you're well on your way to developing a valuable content marketing skills that works not just today, but for years to come.
If you're interested in diving deeper into the subject and cultivating the skills it takes to become a Digital Marketing expert, check out the PG Certification in Digital Marketing and communication by upGrad.
What is Content Marketing?
Content Marketing is the process of creating and distributing content to attract and retain customers. Simply put, Content Marketing is the use of content to market your business. Content is anything you create that triggers the user to interact with. It can be in the form of blogs, videos, infographics, social media posts, downloadable PDFs, etc. It is through content that prospective clients can get to know about your business in a non-invasive way. Once they begin to consume your content, they will also be more open to doing business with you.
How to use Creative Storyteller in marketing videos?
Developing characters, lighting for a mood, and simple sound design are all filmmaking basics, but they are also crucial for telling great stories on any video, including social media.

The story or narrative arc is the storyline that runs through the video. Within a story or narrative arc, a character can also have an angle and develop over time as the story evolves. Composition is how you place your subjects, characters, and objects in the frame. Sometimes the composition itself can tell its own story.
Why is proofreading important?
To produce high-quality scholarly and professional documents, effective proofreading is absolutely vital. Proofreading needs to be done accurately, precisely, and thoroughly to differentiate between writing that communicates efficiently with its intended readers and writing that does not.

A proofreader brings a new and ideally unbiased outlook to any writing. They will almost certainly not be as familiar with content as the content creator is. Therefore, proofreaders will have no predetermined idea about what the content is trying to communicate in most cases.
Ride the Digital Wave