This is a Guest Blog by Rajeev Sharma, Founder of Awrizon.
Digital allows brands to go beyond what they are meant to be.
The moment we think of consumers interacting with our brand first in Digital – it makes us sit up. Consumers expect the brand to behave in the same way as they experience it elsewhere. In fact, they expect much more than just the way it looks or even the way it makes them feel. They want to interact with it in the way they are accustomed to interacting with other brands. From one channel to another and back, across screens whether offline or online, the brand is expected to provide them with a seamless and superior experience.
The brand has 3 challenges in these scenarios:
1. It needs to understand the consumers' needs and expectations, especially their unknown and/or unmet needs.
2. It has to understand how it would use technology.
3. It needs to craft the experience in delightful new ways, which are less about the brand but more like a story that is weaved into consumers' lives.
Learn digital marketing courses online from the World's top Universities. Earn Masters, Executive PGP, or Advanced Certificate Programs to fast-track your career.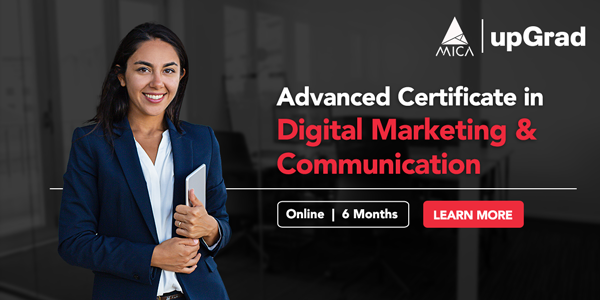 Thankfully, we are moving away from words like eyeballs, devices, users and more into terms that depict the consumers as they are – as humans with needs and problems, some expressed, some unexpressed. This new way of building a strategy is one that starts from the consumer and his/her world, backward.
A brand is a mix of several different facets, experiences, ideas, and relationships. Technology helps brands define how their message will be communicated. The consumers decide how, when and if at all they want to participate in these brand experiences. Technology doesn't affect the brand's core values; neither does it make anything more complex.
Companies such as Apple and Google continue to focus on simplicity despite the complexity in their businesses and the related advancements in technology. This perhaps is the most challenging time for brands to strike the right balance between pushing the boundaries of creativity and storytelling; at the same time remaining consistent.
A digital brand needs to show its promise and value up front. 
What is it going to do for the consumers?

What are the 'unmet' needs it promises to solve for them?
Marketers need to go beyond the current boundaries of the brand to think what the brand can do, i.e the larger, currently unthought-of context the brand can operate in. Yes, it is challenging but it is also equally exciting.
Great digital brands build new expectations and anticipate needs. This means thinking about consumers, going beyond the regular set of competitors while redefining the competition and discovering great experiences that add value to the users' lives.
There is a lot to be learned from brands like Disney, Apple, Google, Lego, Uber, Amazon and many others; on how to build themselves 'beyond' what they are meant to be.
Best Online Digital Marketing Courses
Let's see briefly how these brands got there:
At first, Google was just a search engine. A website allowing users to search and find whatever information they were looking for. Soon, the company realised it had to serve larger needs of users that extended beyond the web and ventured into mobile, television, automotive and other things soon to become great companions to, and admired brands by, billions of us.
Airbnb solved a need for travelers to find a place or a spare room while traveling around the world. It built an unmatched experience throughout the journey from the time of booking to the stay and beyond. With its rating and ranking system, it built an ecosystem of feedback and conversations, further improving its service.
Uber did the same. Technically, Uber is only a mobile phone app that helps connect riders with drivers. When Uber came into existence in 2009 (called UberCab then), it imagined a great untapped need of connecting passengers and drivers who were owners of vehicles; solving the problem of getting cabs when someone wanted it and almost exactly at the instant they wanted it. Uber offered a great experience based on convenience.
Top Digital Marketing Skills

The examples are many with all these brands having one thing common – the fact that they resolved an unmet/unexpressed need and built an experience that consumers continue to love and find immense value out of; embedding it into their lives and going beyond what they were meant to be.
upGrad's Exclusive Digital Marketing Webinar for you –
Webinar with Q&A Session on Digital Marketing
Digital Marketing Free courses to Learn
Popular Digital Marketing Blogs
How to identify customer needs and wants?
Running a business is all about identifying customer needs and solving their problems. When you do so, you can provide faster solutions, improve your products and services, and reduce the number of support tickets. To compete in today's market, it is important for you to do honest customer research and analysis. Start by identifying your target market, research on how many customers prefer shopping online or offline, understand the motive behind the purchase and keep your eyes and ears open by constantly listening to them. If you want to meet customer needs, it is important to know what they want in the first place. Keep a watch on your social media channels to see what customers are saying about your business.
Is there any way to exceed customer expectations?
If you want consumers to remain loyal to your brand, you have to go above and beyond in providing them with a great experience. We are occupants of an era where we have technology and metrics to help us exceed customer expectations. To start with, you have to set realistic customer expectations. Once you do that, you don't just have to meet them but exceed them too.

Some tips that might help you include – understanding why customers contact you, solve their queries before they blow it out of proportion on social media, send out birthday cards and coupons they can redeem on their next purchase, maintain consistency across all channels and try and personalise your interaction with them.
Is brand storytelling the future of marketing?
In today's day and age, if you wish to capture the attention of your target group, you must engage in brand storytelling. It's all about telling your story through interactive videos, social media posts and podcasts.

To weave a successful brand story – you must be aware of trends, focus on customer needs and wants, will evoke emotion in your audience, venture into various media and bring out your brand's personality.
Ride the Digital Wave