This is a Guest Blog by Shane Barker.
As a business owner, you're constantly on the lookout for ways to drive more profits while minimizing spending. Although you may have some trouble finding the right channels to help you with this, you do have several options. One of those options is influencer marketing. With the help of micro-influencers, you can drive engagement and conversions without breaking the bank.
Best Digital Marketing Courses Online
What does "Micro-Influencer" Mean?
In the simplest terms, people who have a certain influence on the opinions and purchase decisions of others are known as influencers. Among these influencers too there are several categories, based on the person's reach.
Micro-influencers are those influencers who have a smaller reach than typical influencers. They usually have a follower base of around 1,000 to 100,000. But despite this smaller reach, micro-influencers can significantly improve your performance in several aspects.
In-demand Digital Marketing Skills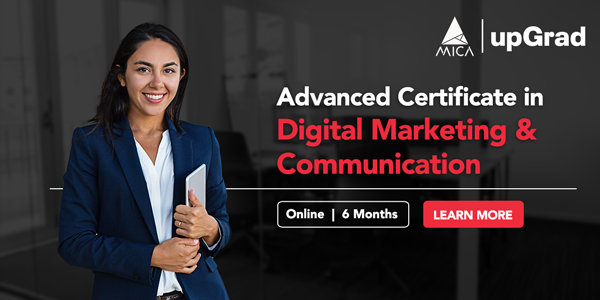 Learn digital marketing courses online from the World's top Universities. Earn Masters, Executive PGP, or Advanced Certificate Programs to fast-track your career.
How Micro-Influencers Improve Brand Performance
Micro-influencers can have a positive impact on several aspects of your brand performance. Some of the more notable ones are:
Connecting with a relevant audience – Since micro-influencers specialize in a specific niche, their follower base is also highly specific. It is comprised of people who are interested in the niche and trust the influencer for recommendations and tips. This means micro-influencers can help you reach a group of individuals who are likely to be interested in what you have to sell.
Engaging an audience –

As mentioned earlier, the audience of micro-influencers are interested in what the influencer has to say. So it's likely that they'll be interested in the content created by the influencer. This also means that they're likely to engage with sponsored content created for your brand. In addition,

Markerly

found that there's a much higher engagement rate for micro-influencers when compared to mega-influencers.

Driving conversions – With a highly engaged audience, the influencer can effectively promote your product and encourage their followers to make a purchase. This can lead to higher conversions. And since micro-influencers have a more engaged audience, they could help you boost conversions significantly. Some businesses have even

boosted sales by 300%

after launching a campaign with micro-influencers.
Digital Marketing Free courses to Learn
Check out this gifographic containing important facts and tips about micro-influencers:
The best part about micro-influencers is that they can help you achieve all these benefits at a fraction of the cost. Influencer marketing itself is already cost-effective. Working with micro-influencers is even more cost-effective because of the low cost of hiring these influencers. For one sponsored Instagram post, a micro-influencer may charge you anywhere between $75 and $250. But with macro-influencers you'll end up spending around $500-$3,000 per post.
upGrad's Exclusive Digital Marketing Webinar for you –
What's new in Marketing?
Learn digital marketing courses online from the World's top Universities. Earn Masters, Executive PGP, or Advanced Certificate Programs to fast-track your career.
Featured Programs for you – Advanced Certificate in Digital Branding & Advertising from MICA