Text and graphics are quite helpful when it comes to developing website content. Using video in your content is the ideal way to thoroughly explain any topic. Currently, businesses use video SEO as an element of their content marketing plan. Considering the increasing popularity of video content, it is highly recommended to incorporate video SEO for your business growth. So, let's first understand what SEO for video is.
Understanding SEO for Videos
SEO for videos is the process of video content optimisation to make it competent to rank on SERPs (search engine result pages) for the most relevant keyword searches entered by users. In other words, SEO for video is about optimising videos for various search engines like Google Video Search, YouTube, and Google Searches.
Not incorporating SEO for video leads to a situation where the video can't reach your target audience. Video SEO specifically focuses on enhancing the ranking or visibility of videos in video search engines. It allows your video to display on the search results' first page. Consequently, your video can reach a broad audience. Moreover, video SEO entails various channels on which it can be optimised.
Learn digital marketing courses online from the World's top Universities. Earn Masters, Executive PGP, or Advanced Certificate Programs to fast-track your career.
Benefits of SEO for Videos
1) Produce significant traffic
Optimising videos using certain keywords is possible, just like you do with blog post optimisation. If you can successfully rank your videos on YouTube or Google, you can easily attract traffic to your website. Moreover, you can revamp your blog content with videos.
One of the extensively used platforms to promote video content is YouTube. It is a kind of search engine for video content. So, it serves as an excellent platform to significantly bring traffic to your website. You can adopt an effective strategy to rank videos in the YouTube search results and obtain thousands of views by following the best practices for the optimisation of video search engines. Subsequently, you can direct these viewers toward your website. You can increase conversions by including links in the descriptions and videos.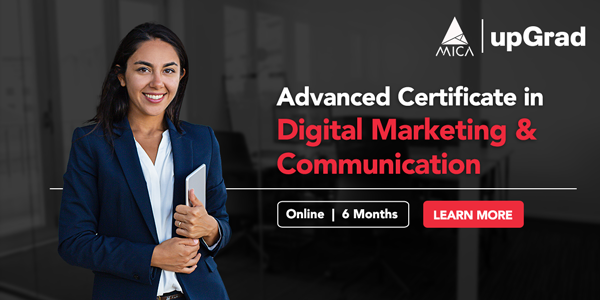 A massive share of video search results on Google is directed from YouTube. So, you can embed any kind of YouTube video on your website to increase engagement. Moreover, it retains the visitors on the website rather than leaving it and opening YouTube.
2) Boosts ROI
Ranking video in the first place on the search results improves your video engagement metrics. A higher ranking is most likely to grant you a higher rank in search results, helping you earn more views on YouTube. Consequently, SEO for video will always increase your ROI.
4) Boosts brand's visibility
Video optimisation can validate your brand's authority and provide valuable information to your audience. Consequently, your brand establishes closer connections with clients, and thus you will perceive a boost in the brand's visibility. Even if customers find out about your brand via organic means, you can boost brand visibility and attract them to your website. SEO for videos is quite valuable in increasing your brand's social media presence.
5) Guarantees broad reach
Video SEO helps you to reach the target audience on multiple channels. The reason is your videos can be discovered on Google and YouTube for certain keywords. Commonly, your target audience uses these keywords to search through via video SEO strategies. You can share these videos via email, Pinterest, Facebook, Twitter, and LinkedIn. To ensure broad reach, it is crucial to use video SEO to promote your video content across different platforms.
6) Attract links to your website
Videos are shareable and extremely captivating. Sharing or referencing your videos on other websites can increase the odds of those websites linking to your website. Other websites prefer to link to yours if your videos are original and engaging. Moreover, the links you incorporate in your video descriptions or YouTube bio can help you produce referral traffic.
7) Enhances website's core SEO KPIs
Once you have uploaded video content on your website, the target audience may be looking for the appropriate content to answer their queries. If they can discover your content and if it can satisfactorily answer their questions, they may often visit your website. Ultimately, this leads to increased traffic, reduced bounce rate (visitors retain on the website), and increased dwell time (visitors spend more time on the website). These are the performance metrics that boost your search rankings.
How to maximise video SEO on your website?
You can incorporate any of these strategies to maximise video SEO for a website.
1) Use video schema markup
Video schema markup refers to the HTML code that explains your video's concept to a search engine. Aspects like the video's description, title, thumbnail URL, and upload date significantly improve your SEO results. This microdata explains the purpose of your video content to Google. Moreover, it facilitates the search engine to populate rich snippets within search engine results.
If you don't incorporate video schema markup, your video content will be less visible. The more quality markup makes it easier for search engines to discover your content, understand it, and properly serve it.
2) Include hashtags
Using relevant and high-ranking hashtags for video SEO helps display your video when a user searches for a particular hashtag. Moreover, using hashtags helps you cover significant trending events, further extending your video to reach more people. 
3) Write a script
After identifying the most relevant keywords to your content, you can use them for scripting your video. If you're creating a video for your business, you need to answer visitors' questions. The engagement increases if you answer more questions.
The reasons for writing a script for video SEO are to keep the information focused on your video's concept and use of the keywords. Another benefit of writing a script for your video content is that you can use it later when uploading your video. Moreover, you can upload your script for subtitles to embed your desired keywords in the video.
4) Include filenames, tags, and descriptions
The video description contains a thousand characters. But, YouTube suggested video windows or YouTube results display only up to 100 characters. Within this limit, you have to explain the summary of your video to persuade visitors to click on "show more." You can optimise the video description by using the markup tools that the field supports. Specifically, you can capitalise, use the line breaks and bold text, and generate a call to action. Moreover, you can place links in the video description to direct visitors to your landing pages.
Optimising the video file's name before uploading it to YouTube is important. Rather than using the technical naming convention, you can concisely mention the concept of the video.
You can add tags to categorise the video content when you upload a video file. For example, if you are creating videos on learning alphabets, you use tags like learning, alphabets, what are alphabets, etc. These tags explain your video's concept and lead to video optimisation.
Tools to streamline SEO for Videos
You can use any of the below-discussed tools to have a successful SEO for video.
i. Google Trends
Google Trends is not only useful for finding keywords that people enter in Google's search engine, but it is also useful for YouTube keyword research. In this tool's interface, when you type in a keyword to optimise a video, it will display whether or not the particular keyword is trending on YouTube.
ii. Youtube Analytics
YouTube Analytics closely looks at tags when analysing your video SEO. It suggests the keywords that you intend to rank for in search results.
iii. Keywordtool.io
This free video SEO tool searches information from search engines like Google to recognise what users are searching for. 
Best Digital Marketing Courses Online
iv. TubeBuddy
This tool allows full access to your Youtube dashboard through a Chrome extension
In-demand Digital Marketing Skills
v. SEMrush
It understands market competition and allows you to add your URL to compare your video to similar videos of your competitors.
Kickstart your Digital Marketing Journey with upGrad
If you aim to become a Digital Marketing expert, you can pursue upGrad's Advanced Certificate in Digital Marketing and Communication. The course explains all concepts of digital marketing. Specifically, you will learn SEM, SEO, Social Media and Content Marketing, Marketing Analytics, and Branding. This course incorporates live projects, 15+ case studies, 90+ tools, and a video library to ensure effective teaching. After completing the course, you will get a Certificate from MICA and Meta, as well as MICA Executive Alumni Status. You will learn all fundamentals of digital marketing through daily doubt resolution and fortnightly coaching by industry mentors.  Enrol now to start your journey with UpGrad
Digital Marketing Free courses to Learn
Conclusion
Video SEO improves the website and overall SEO performance. When focusing on video SEO, ensure adding the right tags, titles, descriptions, and metadata. This approach helps search engines easily find, decode, and promote your content. SEO for video helps you to maximise your website content and increases your brand's visibility. So, know your way through video optimisation and get started!
Popular Digital Marketing Blogs
Is Video SEO and traditional SEO the same?
Both traditional SEO (YouTube SEO) and video SEO are identical in their goals. Youtube SEO focuses on ranking videos on YouTube, whereas video SEO aims to rank videos on search engines. YouTube SEO makes your video more search engine friendly to show them up in YouTube results whenever people search the topics that your videos include. On the other hand, video SEO optimises various aspects of the video, like titles, tags, and descriptions.
Why is it beneficial to include video transcriptions in SEO for videos?
The transcript exists in your website's background and incorporates the concept of your video's script. This will inform bots about the purpose of your video content. A webpage containing a video transcript increases the landing page's word count. It works like a long-form blog post. Moreover, it allows you to obtain more relevant keywords on your webpage and boost keyword density.
Why should you optimise your videos?
The following points justify the reasons to optimise your video: (i) Improves brand reach, (ii) Helps you to connect with your audience, (iii) Improves customer engagement, (iv) Boosts ROI, (v) Accurately understands user behaviour, (vi) Provides search results visibility (vii) Obtain leads.
Prepare for a Career of the Future