Marketing is an age-old phenomenon, it has many rules and best practices. The bottom part of the marketing funnel is to get conversions. There is one thumb rule which is very simple. In order to promote a business, the company has to spend an 'X' amount on advertising campaigns. Whether this X amount will be a substantial one or what should be the ratio of this amount with the working capital, which may vary from business to business. But advertisement is necessary and like it or not, you have to do it.
But actually, there is another thumb rule, which the companies almost tend to forget nowadays. And by doing so, they are actually neglecting the huge potential of their existing customer base. This is a good old tasted-tried marketing strategy, technically called the word of mouth strategy of marketing.
If we go by the management study books, then we should put it in the following way: Word-of-mouth advertising (WOM advertising), also called word of mouth marketing, is the process of actively influencing and encouraging organic WOM discussion about a brand, organisation, resource or event. To put it in a simple format, WOM advertisers seek to create something worth talking about and then actively encourage people to talk about it.
Learn digital marketing courses online from the World's top Universities. Earn Masters, Executive PGP, or Advanced Certificate Programs to fast-track your career.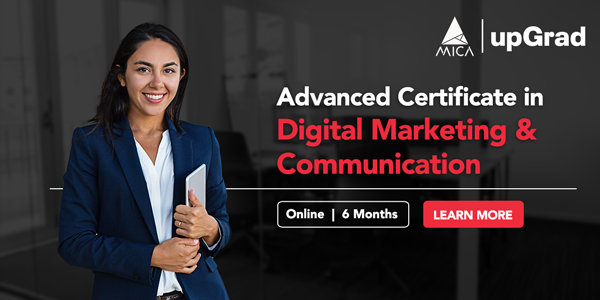 Now the question is, why does the word of mouth work perfectly when there is a chance that other institutionalised strategies can simply get bombed? According to a Google survey conducted recently, 74 percent consumers have specified that WOM is the key influencer behind any purchase decision they take. To add more to this, leading market research agency Nielson states that, 92 percent consumers believe that a recommendation from friends and family is actually way stronger and reliable in comparison to any state of the art marketing campaign! A market research conducted by them also depicts that the Millennials consider WOM as the #1 influencer for them. Before purchasing anything online, 68 percent consumers rely on the opinion of their fellow consumers. They go through their review of the product or service and then only take a purchase decision.
But why? Why do the consumers actually trust this word of mouth the most? Studies by the marketing experts cite that there may be two reasons for that. One, social currency. Second, Triggers. In today's world, everyone loves the idea of being 'special'. word of mouth provides the social currency of feeling special…any information by the insiders which was provided to them as word of mouth can be used as a social currency while passing on information about that product or service.
On the other hand, triggers are considered to be a natural social mechanism that reminds us of a brand or product even when we don't see advertising. For e.g. a friend has told us about a certain happy meal deal of a local restaurant. Next time, when we friends will go for a lunch, I will mention the deal and we can select that particular venue only.

Now that we understand clearly what word of mouth is and its actual potential, let's figure out, how to use this inexpensive but effective way of marketing to boost a business.
The ways in which any business can get the most out of Word Of Mouth Marketing Movement:
Social Influencers, spread the word of mouth through them:

Not all the consumers of a product/service will talk about it or recommend it. So the business has to identify the people who can do that effectively. Nowadays when social media is considered to be one of the most 'happening' media tools, bloggers, vloggers and other social-media influencers and their opinion can be considered as an important tool for spreading WOM. The truth is, consumers today trust a third party much more than they trust brands and their promotional campaigns. Getting the right message out through influencers is a new way of marketing and if done effectively, can lead to explosive growth for businesses.
Connect to Human emotions:

That too in such a way that it will brighten up the image of the business and in turn will favour the WOM. Getting associated with various NGOs and devoting a certain amount of money for the social welfare is always highly appreciated by the consumers and thus is considered to be an effective word of mouth marketing strategy. Think about the P&G campaign in association with Shiksha.com. It was a part of P&G's global philanthropy programme which in turn has helped them to earn respect in the eyes of their consumers.
Community Events, get associated with those:

People never stop talking about the community events and the association of brands with those. So be it the Dahi-Handi competition or the Diwali Decoration festivities, the brand has to get associated with these in order to 'live' the festivities with its consumers. If they can relate a particular brand with the festivities of their lives, half of the battle is won!
The customer is the master:

A recent report has found that the probability you'll sell to an existing customer is 60 percent to 70 percent, while that percentage is between 5 percent and 20 percent for new customers. Based on these numbers, businesses should be focused on creating customer service that transforms customers into big-time 'fans' who can't stop talking about the particular brand. An excellent and out of the box customer service can actually boost the business to a new level altogether.
Best Digital Marketing Courses Online
Easy review postings:

One of the grave mistakes the businesses do is they make it really difficult for the consumers to leave reviews and recommendations and thus communicating with the brand. The brands should focus on making the review and recommendation process simpler. They can also come up with campaign ideas which promote conversation about the brand within its consumers.
To sum up, when used correctly, word-of-mouth marketing strategies can be the most effective tool to promote the business. It can result in better sales as well as customer retention. But the brand has to be cautious and proceed with a full proof strategy of word of mouth marketing to make the most out of it.
In-demand Digital Marketing Skills
upGrad's Exclusive Digital Marketing Webinar for you –
How Marketers can enable Sales for Success?
Digital Marketing Free courses to Learn
Popular Digital Marketing Blogs