What is Big Data?
Big Data refers to the massive datasets extracted from various disciplines and sources, also are too complicated and extremely large for a small data processing software or application. There are six Vs. of big data that include Variety, Value, Variability, Volume, Velocity, and Veracity.
Let us explore these Six Vs. in detail
1. Value
There is an exceptional outburst of data in today's computing world. The scalability and performance of machines have increased manifold. Hence, we can do most of the tasks from our compact and reliable platforms such as smartphones which have more computing power than the computers that sent humans to the moon. And hence we generate a lot of data. This data is the most valuable thing companies are working on.
The data needs to be mined and carefully examined and segregated based on use cases and scenarios. This intrinsic process may crop in inaccurate data and provide unrealistic results. Hence, to make most of this data, the companies should focus more on data processing and cleaning paradigms.
2. Volume
 The amount of data outflow that the world generates amounts to petabytes. In some cases, if not registered carefully, it would result in unknown data and a potential business loss of billions of dollars. An organization must be able to store and explore data on demand and should have a well-defined mechanism in place to find business and professional opportunities out of it.
3. Variety
When we consider small datasets for any objective it's quite obvious what we are doing with the data, it is easy to process, but in the case of an organization or government scale data the real problem arises because the data can be quite uncertain and can require extensive research and analysis. It can be structured in some parts but unstructured in others. And hence we need a lot of preprocessing on data before we make some predictions out of it.
Explore Our Software Development Free Courses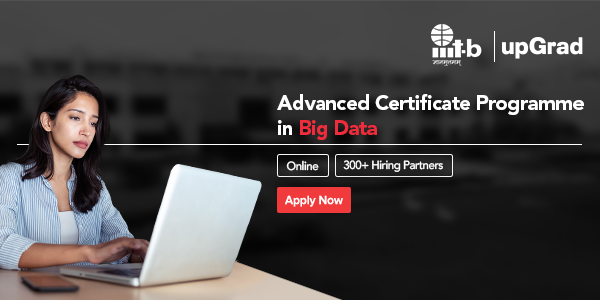 4. Veracity
It means the ability to be true or honest. It also involves the use of best procedures to process and examine huge amounts of data. To ensure it's credibility, the data must be well organized and always sourced from trustworthy sources. 
5. Velocity
The quantum of data you are processing should not impact your ongoing projects' pace, and some cases should provide real-time applications for the same.
6. Variability
It refers to the number of inconsistencies in data.
Read: Difference Between Data Science & Big Data
Explore our Popular Software Engineering Courses
Blockchain and Big Data
These two technologies have a lot of potentials to explore. While big data focuses more on data management and analytics, the blockchain focuses more on the validation of data and resources. Characteristics of blockchain:
One of the biggest advantages of blockchain is its decentralized feature. Here no single individual controls the data integrity. Hence, everyone in the network is verified and controlled by a centralized, decentralized blockchain feature and is verified continuously using multiple decentralized consensus algorithms and a technique called cryptography.

Distributed: A ledger type system in the blockchain is designed to collect and record any individual's entire transaction history. This information is now a part of a distributed database or ledger system that is theoretically impossible to breach. It involves the sharing of information to various networks, thus ensuring credibility and redundancy.

Immutable: The data which is generated using blockchain is completely structured and is relatively immutable. Hence if a transaction once completed remains immutable. The data which is to be analyzed should remain the same throughout the process.
How could Blockchain help Big Data?
There are a lot of opportunities that can be unlocked by the combination of these technologies. Blockchain can help us manage the quality and integrity of data. 
In-Demand Software Development Skills
Data Integrity
Bad or corrupted data is a headache for any organization; hence blockchain can help us to maintain the quality of data by conducting data integrity and providing audit trails. This ensures the trust is maintained because of the verification process involved in the process.
upGrad's Exclusive Software Development Webinar for you –
SAAS Business – What is So Different?
Management of data sharing
This involves sharing information and technology services without an increase in risk. 
Prevention of Malicious Activities
Blockchain helps us transform security infrastructure and hence secure the organization from malicious intents because of its distribution network. A single entity would require enormous amounts of computing power to create any problem and hence would be easily traced.
Predictive analysis
This is one of the most anticipated features of blockchain and data analytics. It helps us predict customer preferences, customer lifetime value, prices, and other businesses' paradigms. Blockchain provides an exceptional framework to get structured data from devices and individuals. This helps data scientists working on predictive analysis to focus their attention on algorithms and predictions. 
Also Read: Blockchain vs Big Data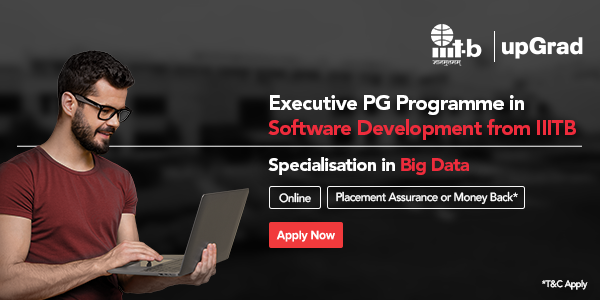 Read our Popular Articles related to Software Development
Wrapping up
Companies are looking for new and innovative technologies to work on, and Blockchain and Data Analytics, are some of them. These new-age skills are very useful to thrive in a competitive environment such as software development, where priorities change every time a new technology is evolved.
The hiring in the future will take place, considering these new-age skills. upGrad has been offering these cutting-edge skills in various domains such as a PG Diploma in Machine Learning and AI, Data Science, & Big Data offered in collaboration with industry partners Flipkart and Indian Institute of Information technology.
Your future can only be secure if you dedicate your time and effort to pursue your dreams. We at upGrad are here to help you achieve that potential and develop your skills into assets for future companies and organizations by providing real-time inputs and extensive placement support. Make your future secure with us, and don't let these challenges deprive you of your dreams.
Learn Software Development Courses online from the World's top Universities. Earn Executive PG Programs, Advanced Certificate Programs or Masters Programs to fast-track your career.
What are the emerging uses for Blockchain technology?
Blockchain simplifies data management and adds greater security. It helps in maintaining statistical transparency in systems like streaming platforms. The technology also bridges the gap between collaboration and data control. Blockchain provides accurate, authenticated, and secure transactions; it goes hand-in-hand with the supply chain. Another feature of Blockchain is its immutable transparency. The technology is also very beneficial in providing the facility of data privacy where every consumer is in control of their own identity and data. It will impact how businesses manage data.
What is the main purpose of Blockchain technology?
The main goal of Blockchain is recording and distributing digital information. The technology is the foundation of records of those transactions that cannot be altered, deleted, or destroyed. It allows the users to manipulate the ledger in a secure way. Blockchain also provides excellent transparency. Not many third parties or middlemen are needed; hence the technology also reduces cost. The technology offers new tools for authentication in the digital world and enables new digital relationships.
What are the types of Blockchain technology?
Public, private, hybrid, and consortium Blockchain are the four different types of Blockchain. The first type is the public Blockchain which removes the problems that come with centralisation. It is non-restrictive and permissionless, and anyone with Internet access can sign on to a Blockchain platform. However, a Blockchain network that works in a restrictive environment like a closed network is a private Blockchain. They are typically operated on a small network inside a company or organisation.A Hybrid Blockchain is a type of Blockchain that combines the elements of both public and private Blockchain. The fourth type is a Blockchain consortium. It is similar to hybrid Blockchain as it has both public and private Blockchain features. But it's different in that multiple organisational members collaborate on a decentralised work.
Lead the Data Driven Technological Revolution