Before taking a 3-year break because of health, I had worked for 2 years in an IT Company. I resumed my job in the year 2017 and have been working for a year now in the IT industry. Bioinformatics being my field of engineering, I soon realised that Front-End development/Full Stack development is not the job that I want to be working on a couple of years from now. Having a little exposure to Back-end development, and being blessed with good analytical skills, I wanted to utilize my talent and use it for my professional career as well.
In the month of June 2017, I started searching a course that would suffice both my requirement. Having an exposure to the cloud environment in the current role, I wanted to pursue something in the same line, as it intrigued me. After much research and consultation with colleagues and friends, I decided to take up Big Data Analytics to upgrade my skills. Then comes the selection of institute, where I ended up researching many academic course works provided by various online and offline platforms. But nothing clicked. While going through an article, Google Ad about
UpGrad's Big Data Engineering in association with BITS Pilani
flashed on my screen and the page took a fraction of a second to open up.
The Difference Between Free and Paid Online Programs
Explore our Popular Software Engineering Courses
The precise and crisp course with one of the prestigious institutes in India and the fact that it was being offered in Java finally put an end to my search. I spoke with UpGrad team and cleared further doubts and got selected for the program after clearing the entrance test.
Being an online platform, I had several questions and UpGrad almost solved many issues. Below are few of my queries.
1. Do I always have to read it from a desktop?
There's a mobile app from UpGrad for the program so I can use it even if I am not in front of the desktop/laptop.
2. How will I clear my doubts regarding the subject?
I always post my queries in the discussion forums so that the Teaching Assistant or the fellow members of my cohort respond and solve it. Voila! I must say, discussion forums have come to my rescue every single time.
3. Will I get any industry-oriented exposure?
Well, we did have a couple of recorded and live sessions from the people in Big Data field. Giving us a good deal of head-start on how things work out there. And there's placement facility at the end of the program.
Explore Our Software Development Free Courses
4. Any instant point of contact where I can reach out to instead of randomly dialling every person from UpGrad?
Student Mentor! Such a blessing to have one. Whenever I find myself lagging with topics, I send a query for more basic materials, I get them. If I am unable to meet the deadlines for the project and assignments, a gentle nudge comes in. Enrolling in a program with a lot of enthusiasm is pretty easy, but continuation at times gets difficult, which is where my Mentor comes in and pushes me little further.
5. Any materials to brush/work on new topics?
We were provided with the preparatory material before the beginning of the program which covered the required basics.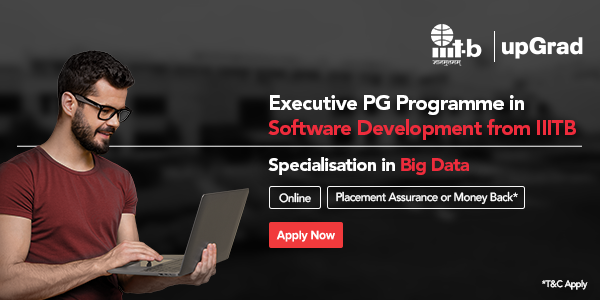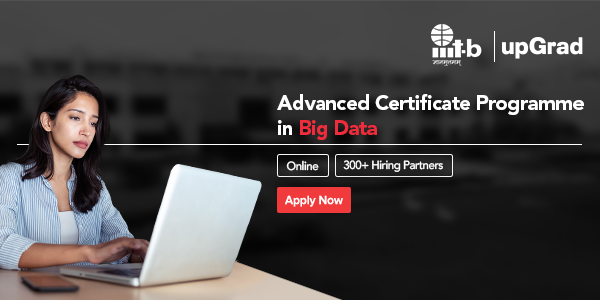 Also, to mention about the BaseCamps, I got to meet many of my cohort members face to face including the Guest Lecturers and Industry Experts. Gained a lot of experience in meeting people working on different platforms and yet coming together with a single goal.
In-Demand Software Development Skills
Analytics India Magazine Review: UpGrad & BITS Pilani Big Data Program
Challenges do exist in every new endeavour. But UpGrad has always listened to all our feedback and worked on all our queries very diligently. Online learning has its own pros and cons, but I would surely recommend UpGrad's Big Data Engineering Program to every aspiring Big Data Enthusiast who is already thinking of upskilling themselves. With a dedicated and highly organized team at UpGrad, I wouldn't think twice to take up another program to upskill with them.
Big Data is already creating a wave. Many companies have opened up the doors for the same. I missed it out when the world was busy moving towards Android and Full Stack Development, but I did not want to miss it out this time. Amidst hectic work and travelling, taking up studies after a Post-Graduation wasn't really my cup of tea. But then, if not now, when?
Conclusion:
If you are interested to know more about Big Data, check out our Advanced Certificate Programme in Big Data from IIIT Bangalore.
Learn Software Development Courses online from the World's top Universities. Earn Executive PG Programs, Advanced Certificate Programs or Masters Programs to fast-track your career.
Read our Popular Articles related to Software Development
What is Big Data Engineering?
Big Data engineering is a branch of information technology that deals with the creation, testing, and maintenance of complicated data processing systems that deal with massive data sets. This sort of engineering concentrates on gathering, cleaning, converting, and enriching various types of data so that downstream data consumers, such as business analysts and data scientists, may extract information in a systematic manner. Overall, it entails not only collecting Big Data but also transforming and storing it in a specialised database that can be used to generate insights or create machine learning-based solutions.
What do Big Data engineers do?
Big Data engineers are in charge of making data available to Data Scientists and Data Analysts, ensuring that the data is trustworthy and in the correct format. They also conceal important data in order to keep it safe. Big Data engineers are well-versed in engineering and strive to optimise and reorganise data in accordance with business needs, to spend less time on data preparation and operationalize data engineering pipelines. Big Data engineers are critical to Data Analytics because they develop and construct the infrastructure required for analytics.
What skills do you need to become a Big Data Engineer?
Big Data engineers collect, organise, and assimilate data into a Big Data environment for a business. They plan and build data extraction procedures and pipelines that automate data extraction from a number of internal and external sources. The algorithms that translate the data into a practical or commercial format are also created by Big Data engineers. Any competent Big Data engineer must have formal expertise in computer science, maths, or engineering fundamentals. These include topics like functional decomposition, logical reasoning, issue solving, solution engineering, abstraction, and developing repeatable procedures, among others.
Lead the Data Driven Technological Revolution