Automation has been around for a long time, say, since the industrial revolution which automated a lot of processes and reduced human effort. Intelligent automation is taking it a notch further with automation not only reducing physical but also the mental strain on humans. It has found applications in industries dealing with humongous amounts of data and the solutions arrived at using it out of which banking is one of the biggest benefactors.
Top Machine Learning and AI Courses Online
The implementation of Know Your Customer/Client has significantly helped Indian citizens conduct their money spending and managing habits. Moreover, banks have found it increasingly helpful in keeping money laundering in check. Companies of all sizes are embracing KYC procedures to protect themselves and their customers.
Earlier this year, The Reserve Bank of India even allowed banks and other financial service providers regulated by the central bank to perform video-based KYC authentication to establish a new customer's identity during onboarding, which PayTM seems to have readily implemented.
Globally, the banking industry spent nearly $30 billion on data and business analytics tools and software in 2019. This sector has also been the sector with the fastest adoption of AI tech than any other, shown in a UBS Evidence Lab report where 75% of respondents at banks with over $100 billion in assets say they're currently implementing AI strategies, and only 46% at banks with less than $100 billion in assets.
Trending Machine Learning Skills
Enrol for the Machine Learning Course from the World's top Universities. Earn Masters, Executive PGP, or Advanced Certificate Programs to fast-track your career.
How do we see it being implemented?
Robotic Process Automation (RPA)
It is an essential component of the banking industry in spite of being rather unnoticed. RPA helps banks operate on smartphones to create a more efficient mobile banking system and even provide in-person services at the various branches. If put in a human perspective, AI is the brain and RPA is the eyes and hands.
RPA allows for efficient, repeated processes and data collection, while AI is used to interpret that data and record changing behaviors to respond accordingly. In banking, these systems would help in reviewing financial documents and cut down the possibility of human error.
Know more: Top 4 Examples of Artificial Intelligence in Day-to-Day Life
RPA+AI
Coupled with RPA, AI can replicate simple as well as complex and labor-intensive activities that require expert judgement or difficult decision-making at greater scale, speed, and accuracy than humans. The AI system can review documents in a matter of seconds and is less prone to error. The system can cut down on loan-servicing mistakes, many of which result in interpreting thousands of new wholesale contracts per year due to human error.
Robots with AI
work 24X7 with the highest accuracy at the lowest cost.

allow one to add more robots on a click during peak hours of your business.

generate full audit trails for each process to help you achieve process compliance and reduce business risk.

reduce cost by 30–70% and also reduce the turnaround time from days to hours or minutes.
Banks and other financial institutions that take advantage of RPA have seen first-hand how this AI technology is both labor-saving and cost-effective.
For example, in 2017, DBS partnered with IBM to scale up the Centre of Excellence (COE) in RPA, highlighting the growing desire of financial institutions to expand RPA beyond back-end operations. Just five months after it was set up, DBS had already optimized more than 50 complex business processes. And HDFC Bank is using an AI-based chatbot, "Eva" (which stands for Electronic Virtual Assistant), built by Bengaluru-based Senseforth AI Research. Since its launch in March this year, Eva has addressed over 2.7 million customer queries, interacted with over 530,000 unique users, and held 1.2 million conversations.
Chatbots
Chatbots have become an expected part of the customer's experience in all industries. According to a survey by LivePerson, 67% of customers prefer interacting with chatbots that provide customer support, due to their quick and efficient settlement of the issue. One of the key advantages of chatbots in the banking industry is that they are designed as both voice assistants for customers who prefer to call and as messaging assistants with personalized content that instantly responds to the client's request.
Read: How to make chatbot in Python?
Intelligent Process Automation (IPA)
Intelligent process automation (IPA) being a game-changer, is capable of understanding structured and unstructured data. Unlike RPA, IPA can figure out the context of text and images and reiterate to facilitate informed decision making. It offers a single solution for document intake, understanding, and digitization of structured, semi-structured, and unstructured documents.
This allows for end to end automation of common document-based processes including contract analysis, customer on-boarding, commercial underwriting, financial document analysis, mortgage processing, billing form reviews, insurance claims analysis, and much more. With its cognitive intelligence capabilities, IPA can understand the text, images, documents, and make accurate judgments based on the surrounding context.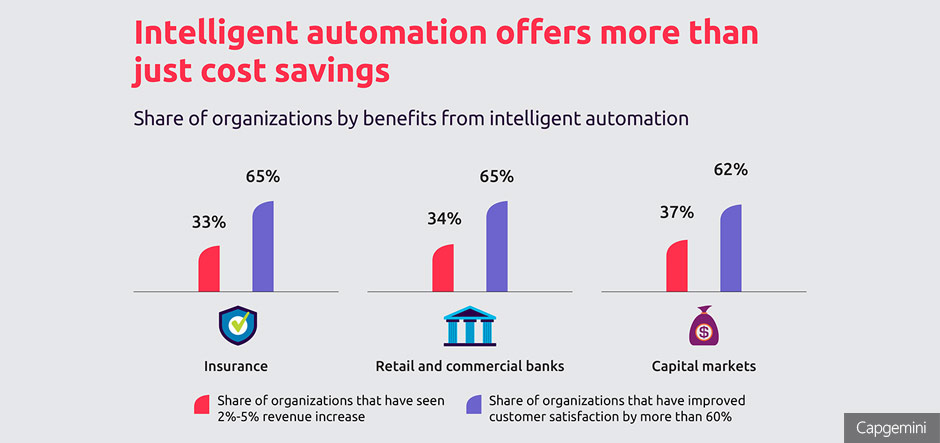 How does the future look?
Automation isn't only making it easy on the banks but also on the end-user, especially in the midst of a pandemic that has stretched for more than 6 months of this year. Although economies are trying to revive themselves, intelligent automation is a support that the finance sector can rely on to keep them functioning in this time of uncertainty, delivering to the customers with easy ways of banking to safeguard individual economies, after all, one drop makes the ocean.
Visible examples of areas of banking that have directly benefited from intelligent automation are commercial lending and regulatory operations like KYC and anti-money laundering (AML).
By using ML and RPA, data from structured and unstructured loan documents to process risk and loan eligibility, an acceleration of at least 30% is observed.
It has been found that to identify false positives in name screening results, using RPA and ML to automate the entry of data into AML applications like LexisNexis have proven results. More than 25% of effort in client onboarding operations is reduced with KYC.
Integration of sophisticated AI can increase their capacity to respond to 60% of standard queries with automated mails as opposed to 20% coverage they currently offer. The pandemic will most likely change how banks work and engage with customers, now and into the future. The establishments that will survive will be the ones that are able to react and adapt the quickest. This is the new normal.
Know more: Career Opportunities in Artificial Intelligence: List of Various Job Roles
Wrapping up
If you're interested to learn more about artificial intelligence & machine learning, check out IIIT-B & upGrad's PG Diploma in Machine Learning & AI which is designed for working professionals and offers 450+ hours of rigorous training, 30+ case studies & assignments, IIIT-B Alumni status, 5+ practical hands-on capstone projects & job assistance with top firms.
Popular AI and ML Blogs & Free Courses