In today's economy, technology is the most sought-after topic, and every course indirectly or direct links to the use of computers. This is when Computer Science comes into the picture. Computer Science has been around for the longest time ever and almost feels like an advent of ancient times. However, it has only been recently seen that universities have adapted to more advanced studies, and short courses have come forth to help learners and enthusiasts in this quest.
In terms of a lucrative career, statistics show that people holding a Master's degree in Computer Science make more than their graduate counterparts. The estimate is 28% and is a good enough reason to take the course. A few parameters to consider before opting for a Master in Science in Computer Science are documented in this read-up. 
Is a Master of Science in Computer Science worth it?
When it comes to higher studies regarding Computer Science, it is worth questioning the validity. In the past, getting an entry-level job with a Bachelor's degree was easier. Gradually, more technical positions opened up. One of the benefits a Bachelor's degree is that it opens you to industry experience with which you can find a suitable job position and be content.
What if you want to choose a career of your liking and excel in it in a specific field? One can argue that a Bachelor's degree in Computer Science suffices the industry's requirements. But the industry is dynamic and seeks more high-skilled workers with each year passing by. More advances in technology result in the need for proficient experts. A Master's in Computer Science will help you secure a career where you can lead technical teams and diversify in any field.
Learn Software Development Courses online from the World's top Universities. Earn Executive PG Programs, Advanced Certificate Programs or Masters Programs to fast-track your career.
Five essential reasons why you should take up a Master of Science in Computer Science
Lucrative Career
Diversity in Job Roles
Commence your Ph.D. degree
Specialization
Skills to expect in a Computer Science master's degree Program
Lucrative Career
We know that a Bachelor's degree in Computer Science can be rewarding for money-making but to a specific limit. You can easily claim more incentives for your post with high technical skills and a higher degree in a Computer Science specialization. Of all the Master's domains, people holding a Master's in Computer Science are paid the most. According to Payscale, a Master's in Computer Science degree can fetch you an average of 360,000 INR per annum. With time, a Master's degree increases the chances of promotion with which you can quickly end up 2,160,000 INR per annum. Hence, it is only safe to assume that you can achieve remarkable things in your career with a Master's in Computer Science degree.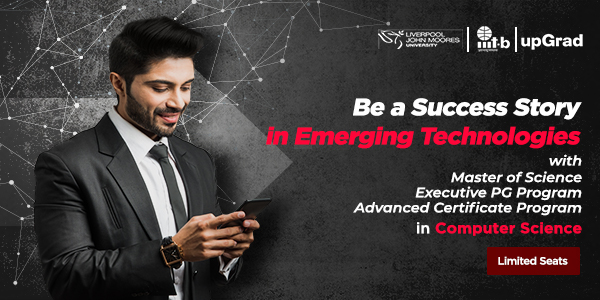 Diversity in job roles
The Computer Science industry is an evolving giant that spreads its wings far and wide. Job designations have come a long way in the past. If you opt for a master's, you are open to these opportunities – 
Web Developer –

The demand for web developers is an ever-growing one. Web Developers design websites and web pages for businesses. With new ideas come new brands and elaborative requirements. With this, the job of web developers becomes even more crucial.

Software Developer –

Software Developers develop software applications and programs. In the upcoming decade, software developers will see a steep rise.

Information Security Analyst –

An Information Security Analyst is entrusted with the job of protecting the information and network security of the company and coming up with innovative ways to tackle technological obstacles and welcome advancements.

Computer Systems Analyst –

They design systems and software per the company's needs and maintain and analyze the health of software systems.
upGrad's Exclusive Software Development Webinar for you –
SAAS Business – What is So Different?
Commence your Ph.D. degree 
Taking a step to pursue a Master's in Computer Science launches you on a pedal to attain a Ph.D. in the Computer Science industry. A master's degree is usually required to obtain a Ph.D. degree. Besides, a master's degree makes you eligible for teaching in schools, colleges, and universities. To take up a teaching job, you need to have a B.Ed degree on top of your specialization. On the other hand, if you decide to work for a research-based company in industry research labs, you can choose a master's degree in Computer Science.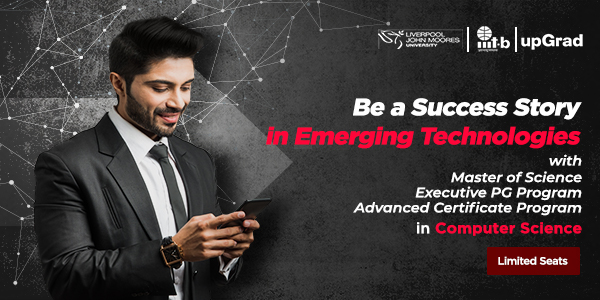 Specialization
A Master's degree in Computer Science teaches you about the following fields. Besides having a critical thinking advantage and using new technologies, you can also acquire several occupational benefits.
Robotics
Computer Security
Computing and Data Analysis
Ethical issues of computing
ALgorithm problem-solving
Programming and Game Design
Web Design
Skills to expect in a Computer Science master's degree Program
Cryptography

– This will help you learn to uphold the confidentiality and integrity of data. It will enable you to protect data against cyber hacks.

Applying machine learning

– You gain extensive knowledge regarding two significant machine learning models – supervised and unsupervised. This will assist you in software automation.

Advanced database management

– You will be able to construct databases and configure systems with advanced algorithms with this skill.

Testing complex systems

– With the help of this skill, you can quickly improve software quality by implementing advanced strategies that will test your system's requirements throughout development.

Object-oriented programming and designing

– You will be acquainted with the latest designs and practices in software development which involves hardcore programming and model-driven architecture.
Popular Courses & Articles on Software Engineering
How do you ensure the right Master's Program in Computer Science?
A Computer Science degree can build exciting opportunities for you in the tech industry and the teaching world. It is the connection that brings man and machines together. 
upGrad offers a Master's in Computer Science course specializing in full-stack development. With its 19 months program, you can form a firm grip on the tech industry and its workings. If you're a tech professional, it's a plus since the course offers a flexible learning schedule. One of the main advantages of choosing a Master's in Computer Science through upGrad is the reputation it holds. It is affiliated with Liverpool John Moores University. 
Getting the right benefits out of a course is extremely important. Finding a system that caters to your time management needs is in your best interest if you are a working professional. This course allows you the privilege of knowing industrial skills in your way. You can accept this as an excellent opportunity to connect with our counselors and learn more about Masters in Computer Science only at upGrad.
Key highlights of the Program:
Online Sessions + Live Lectures
7+ Case Studies and Projects
Software Career Transition Bootcamp for New Coders & Non-techies
Interview Preparation
High-Performance Coaching (1:1)
AI-Powered Profile Builder
Personalized Industry Sessions in Small Groups
World-Class Faculty Members & Industry Experts
10+ Programming Tools and Languages
Exclusive access to Data Science & Machine Learning for free
Exclusive Job Opportunities Portal
E-portfolio- Showcase your expertise and skills by using an e-portfolio to potential employers. Get expert advice on creating an appealing GitHub profile.
Career mentorship sessions
High-performance coaching
Student support 24×7 availability
Exclusive job opportunities and portal
Is Computer Science MS hard?
With the right resources and hard work, you can quickly get your hands on a Master of Science in Computer Science degree. upGrad offers a Computer Science degree in a convenient period without you having to slug your way through all semesters in a typical classroom setting.
What is taught in Masters in Computer Science?
A Master's degree in Computer Science has the power to deliver the necessary resources for you to pursue Software Development using programming languages like Java and Python. You can specialize in any of the fields mentioned above.
Is it worth studying MSc Computer Science?
For many students, it has proven to be worthy. Above all, it is a lucrative career. Therefore, you can opt for your decision without a second thought.
What are the job opportunities after MSc Computer Science?
A Master's in Computer Science allows you to work in the following positions: Computer Engineer, Computer Systems Analyst, Information Security Manager, Assistant Professor - CSE, Computer Network Architect, Data Scientist, Web Designer, and Software Consultant.
5. What is the salary after a Master of Science in Computer Science?
The average salary for a person holding a Master's in Science in Computer Science is 360,000 INR per annum. Entry-level positions provide an average salary of 275,250 INR per annum. Experienced job-holders make up to 2,160,000 INR per annum.
Prepare for a Career of the Future