Instructors
Along the way, you will receive support from an unmatched faculty of data science instructors with decades of industry experience.
The upGrad Advantage
Strong hand-holding with dedicated support to help you master Data Science
Receive unparalleled guidance from industry mentors, teaching assistants and graders
Receive one-on-one feedback on submissions and personalized feedback on improvement

Support is available all days for 24 hours.
For urgent queries, use the Call Back option on the platform.

Timely doubt resolution by Industry experts and peers
100% Expert-verified responses to ensure quality learning

Personalized expert feedback on assignments and projects
Regular live sessions by experts to clarify concept related doubts

Live sessions by experts on various industry topics
One-on-one discussions and feedback sessions with industry mentors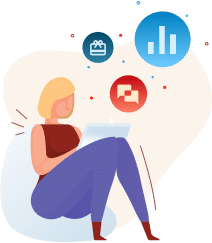 Refer someone you know and receive Amazon.com vouchers worth up to $300!*
*More details under the referral policy under Support Section.