Faculty
Learn from best NMIMS faculty and India's leading Analytics, Marketing, HR, Finance and Supply Chain professionals. Interact weekly with the faculty members and experts to understand concepts, clarify doubts and practice business problem-solving. The faculty list is only indicative.
Prof. Shubhashish Biswas
MBA (IIMA)
Subhashish Biswas has the experience in using data, analytics and technology to aid strategic and operational decision making.
Dr. Pooja Basu
Ph.D, PGDBA
Dr. Pooja has 7 years of corporate experience. In the past, she has been associated with corporates like ICICI Bank & East Coast Construction & Industries Ltd.
Prof. Amit Parakh
PGDM, ACA, CS, CFA, FRM
Prof. Parakh has played a key role in executing valuation assignments, developing credit rating models and structuring transactions for the Structured Products Group and ICICI Bank.
Dr. Chhavi Taneja
Ph.d. (University of Delhi) | Master of Business Economics (University of Delhi)
Dr. Chhavi Taneja's work experience spans over seventeen years. She has worked with prestigious market research agencies such as Nielsen and some premier management institutes.
Prof. Harneet Jayakar
PGDM (IMT- Ghaziabad), BE (Mumbai University)
Prof. Jayakar has 6+ years of industry and academic experience, working for corporates like JP Morgan, Mahindra & Mahindra, and HDFC.
Dr. Dimple Pandey
MBA (ICFAI, Hyderabad)
Dr. Pandey's areas of expertise include Corporate Finance, Economics, Capital Markets, and she has been associated with ICICI and JP Morgan Chase.
S Anand
CEO
A gold medallist from IIM Bangalore, an alumnus of IIT Madras and London School of Business, Anand is among the top 10 data scientists in India with 20 years of experience.
The NMIMS Global Access and upGrad Advantage
Strong hand-holding with dedicated support to help you achieve your career goals
Receive unparalleled guidance from industry mentors, teaching assistants and graders
Receive one-on-one feedback on submissions and personalised feedback on improvement

Available all days 9 AM - 9 PM IST
For urgent queries, use the Call Back option on the platform

Timely doubt resolution by peers and Teaching Assistants on the Q&A forum
Personalised feedback on assignments and case studies

Personalised expert feedback on assignments and projects
Regular live sessions by experts to clarify concept-related doubts

Fun-packed, informative and career-building workshops
Sessions by industry professionals and professors
Group activities with your peers and alumni

Live sessions by experts on various industry topics
Group discussions
One-on-one discussions and feedback sessions with industry mentors
Admission Process
Please find below the detailed steps to be followed as a part of the admission process.

Step 1 : Complete Application
Fill programme application form and pay one time registration fee of Rs. 1500

Step 2 : Selection Test
Appear for a 30 minute online Aptitude test, consisting of 15 questions encompassing Quantitative Aptitude, Verbal reasoning, Logical Reasoning and Data Interpretation.

Step 3 : Get shortlisted and receive the offer letter
The candidates will be evaluated based on their profile, i.e., professional experience, graduation and post-graduation degree scores, and selection test. Select candidates may be asked appear for an online interview.

Step 4 : Block your seat
Upon receiving the offer letter from NMIMS Global Access, block your seat by paying a seat reservation amount of Rs. 40000

Step 5 : Document Submission
Submit self attested documents.

Step 6 : Balance Closure
Pay the balance fee. 0% interest EMI options available.
Our Learners Work At
Top companies from all around the world have recruited upGrad alumni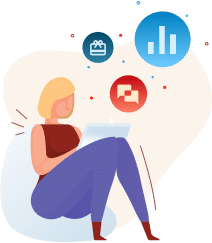 Refer someone you know and receive Flipkart vouchers worth INR 3,000!*
*Referral offer is valid only on the MBA (Executive) with Specialisation in Business Analytics programs.