Program Faculty
Learn from one of the top management faculties in India.
Dr. P. K. Jain
Emeritus Professor, DMS, IITD
Dr. P.K. Jain has a teaching exp. of 45+ years in Finance, He has served as HOD of Dalmia Research Program on Management in Asia.
Dr. Surendra S. Yadav
Professor, DMS, IITD
Dr. Surendra S. Yadav did B.Tech from IIT Kanpur, MBA from University of Delhi, and Ph.D. in management from University of Paris 1 Pantheon-Sorbonne.
Admission Process
There are 4 simple steps in the Admission Process which is detailed below:

Step 1 - Submit your Application
Participants must submit an application form and submit copies of their credentials at the upGrad portal.

Step 2 - Get Reviewed and Shortlisted
Applications will be reviewed based on the eligibility and subsequent shortlisting process as laid down by the Program Coordinator.

Step 3 - Intimation of Selection
Offer letter is sent to the student.

Step 4 - Payment
Student makes a payment.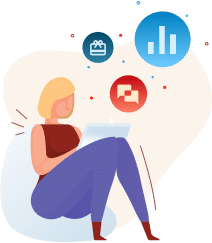 Refer someone you know and receive Amazon.com vouchers worth 49 USD!*
*More details under the referral policy under Support Section.