The NMIMS Global Access and upGrad Advantage
Receive unparalleled guidance from industry mentors, teaching assistants and graders
Receive one-on-one feedback on submissions and personalised feedback on improvement

Student Support available all day for your convenience (24*7)
For urgent queries, use the Call Back option on the platform.

Timely doubt resolution by Industry experts and peers.
100% Expert-verified responses to ensure quality learning

Personalised expert feedback on assignments and projects.
Regular live sessions by experts to clarify concept related doubts.

Fun-packed, informative and career building workshops
Sessions by industry professionals and professors
Group activities with your peers and alumni

Live sessions by experts on various industry topics
One-on-one discussions and feedback sessions with industry mentors
Admission Process
Please find below the detailed steps to be followed as a part of the admission process.

Step 1 : Complete Application
Fill programme application form and pay one time registration fee of Rs. 1500

Step 2 : Selection Test
Appear for a 30 minute online Aptitude test, consisting of 15 questions encompassing Quantitative Aptitude, Verbal reasoning, Logical Reasoning and Data Interpretation.

Step 3 : Get shortlisted and receive the offer letter
The candidates will be evaluated based on their profile, i.e., professional experience, graduation and post-graduation degree scores, and selection test. Select candidates may be asked appear for an online interview.

Step 4 : Block your seat and Complete the Payment
Upon receiving the offer letter, block your seat by paying a caution amount and pay the balance fee. Submit self attested documents. Pay the balance fee. 0% interest EMI options available
Our Learners Work At
Top companies from all around the world have recruited upGrad alumni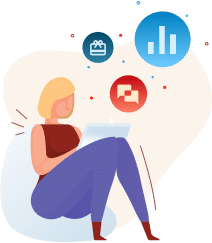 Refer someone you know and receive Gift Vouchers worth INR 3,000!*
*Referral offer is valid only on the MBA (Executive) with Specialisation in Business Analytics programs.