This is part 2 of a five series post I am writing with the aim to help a product aspirant enter into the world of Product Management.
In my previous post, I have provided an extensive list of resources required for a person to kick-start his journey in product management. And in this post, I will be explaining how to identify the company that is best suited for you or is most likely to hire you when you are out looking for a job.
As explained before too, Product management requires competency in 3 domains – Tech, Design, and Business, but not all product managers excel at all three domains. It is important for a Product management aspirant to understand the role that would fit him best based on his core competencies.
To help you visualize these roles, I will be portraying the 3 types of Product Managers based on famous characters from TV series. Choose the personality that you relate to most, and discover the companies which will be a right fit for you. Please note that in this post I have exclusively focused on Indian startups for the purpose of examples.
Read: Product management jobs and their career prospects.
Explore our Popular Business Management Courses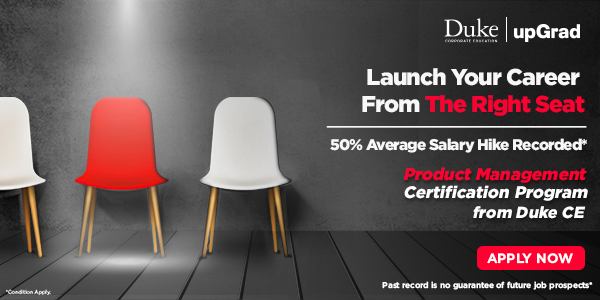 Walter White from Breaking Bad
Walter White is a middle-aged chemistry whiz in Breaking Bad who is wasting his life as a chemistry school teacher. Through various twists and turns in the plot, he gets involved with some drug peddlers in the city. When he sees the quality of meth they are selling, he feels unsatisfied and ends up creating the purest meth ever, and he does it all by himself, in a makeshift lab.

If you relate to the character of Walter White in some ways – feeling frustrated with bad technology being used or know of better ways of doing things because of a better than average or deep understanding of technology – then you are a tech-first kind of person.
Tech-first people do great when the company they work for works on a proven business model and the industry it operates in has a standard user experience across solutions. Here, innovation means making something feasible with a leap of technology.
It would be beneficial for you to join companies that are pioneering new ways of solving real-world problems through a technology-first approach.
Few examples of such companies are – Ather, GreyOrange, Belong, UnoCoin, ZebPay, Niki.ai, Razorpay, JusPay, Mad Street Den, Postman, etc.
Career Paths and Career Transitions in Product Management
Jerry Seinfeld from Seinfeld
Jerry Seinfeld is a famous American comedian who played himself in the iconic show 'Seinfeld.'
Although there were many such shows by different comedians, Seinfeld was unique.  He made a show about 'nothing.' In the show, Seinfeld and his friends just lived their daily lives, and yet managed to make everyone laugh with their general observations and unique personalities.

This unique way of doing a show made it stand out from all other shows and see major success.
If you relate to the character of Jerry Seinfeld in 'Seinfeld', and look at the world in a completely unique and refreshing way, then you are a design-first kind of a person.
You will shine the most in places where the business model is already proven and technology is not a competitive advantage in the industry. Here innovation means re-envisioning the presentation of the solution, making it more delightful and easy.
Some of the companies that would suit a design-first Product Manager are BookMyShow, Zomato, ScoopWhoop, Practo, CueMath, Scripbox, TVF, Voonik, HealthifyMe, Bank Bazaar, Eat.fit, etc
Top Essential Management Skills to Learn in 2022
.
Pablo Escobar from Narcos
Pablo Escobar was a notorious South American drug lord. And Narcos is a dramatized story of his life.
In the series, the genius of Pablo Escobar is seen as he finds clever ways to transport drugs from Colombia to all parts of the world, strikes brilliant strategic partnerships to help his business, and always stays one step ahead of the government and his competitors.


If you relate to the character of Pablo Escobar from Narcos, and prefer being aware of the market scenario to the extent that enables you to always be on top of things; if you can strike great partnerships, and iron out all issues that can damage your product's consumption, then you are business-first.
Such people excel in roles where technology know-how is not a competitive advantage and product design is not the primary success criteria. But the overall structuring of the business is the real game winner. Here innovation means the way the business is done through the product.
upGrad's Exclusive Product Management Webinar for you –
How to craft GTM Strategy for a Product?
Some companies excelling in this field are Rentomojo, Swiggy, SlicePay, Droom, MagicPin, Byju's, Urban Ladder, BlackBuck, Oyo Rooms, Ola Cabs, Flipkart, HouseJoy, NoBroker, ZoomCar, etc.

Product Management 101 and Career Prospects
To sum up, I hope this article helped you create a mental model of the difference in jobs or roles of Product Managers across companies. However, to get the maximum out of this article, here are some things to keep in mind –
A Product Manager's job is always a mixture of – tech, design, and business. Every successful Product Manager has to be comfortable with all three domains. This post was written to help you understand how a Product Manager's role demands excellence across different verticals and different companies.
A single company can have multiple types of products. Example – Flipkart has a team working on a recommendation system, which requires a tech-first Product Manager. But a team working on the seller-side app requires a business-first Product Manager.
In this article, I've broken down the Product Manager's role into Tech, Design, and Business. I've not specifically created a separate role for data, as every Product Manager requires some knowledge in data. Knowledge of data is independent of product or the business but dependent on the stage or maturity of the business. Established businesses, whether tech-first, design-first, or business-first, require data-focused Product Managers. This is because once a product matures there will be a lot of data available, and the business requires a Product Manager who can understand and make sense of such data. Once there is an established business, only incremental changes are required on all fronts. Hence, every Product Manager, by default, will need to become data-oriented.
Our Top Management Articles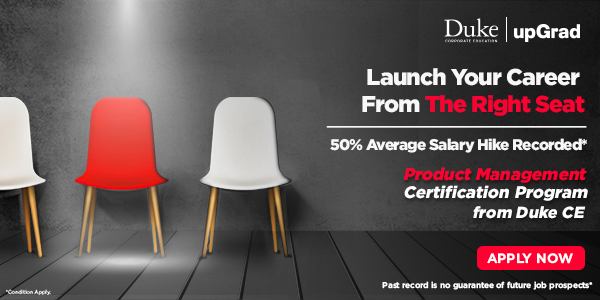 Study Product Management Courses online from the World's top Universities. Earn Masters, Executive PGP, or Advanced Certificate Programs to fast-track your career.
Similarly, this article doesn't focus on growth, as every Product Manager dealing with a product in its nascent stage of build-up, will have to be growth-oriented, unless a separate role of a Growth Manager has been carved out.
Featured Program for you: Design Thinking Certification Program from Duke CE
Read my next post in this series to figure out your position on the Product Management Ladder?
What are the different types of product management jobs?
Product management jobs are of different types. One of them involve being a creator or an ideator – one who studies the market, customer preferences and so on, and then comes up with ideas for new products. Yet another type of product management job involves managing an existing product for the company which may be offered by several competitors, but is still in demand among consumers (such as personal loans). A third type of product management job is more of a senior leadership role wherein one must manage a host of different products for the organisation.
Which type of product management job is the best?
All product management roles are excellent, and have very good career paths providing one is invested in the role, and works hard on constantly upgrading their skills in tune with the changing trends of the market. They provide some of the best salaries, and enable individuals to wear different hats as they work on different aspects of managing their product – such as financial planning and analysis, risk assessment, marketing strategies, channel management, and more. It really depends on what you are passionate about, and how you would like to apply your interests to your job so that you enjoy it and are successful at it.
How do I know if I am suited to a product management role?
It is very simple. All you have to do is ask yourself a few basic questions. The first one is – "Am I good at collaborating with people from different departments?". Product managers need to have excellent people management skills. The next question is "Am I passionate about developing and managing different products for the industry I am working in?". The best product managers are often those who are passionate about the products they manage, and completely believe in them. The final question is – "Do I have a good knowledge or understanding of technology?" This is an important requirement for product managers. If you wish to upgrade your skills, then you can easily pursue online courses.
Build Cutting-Edge Products
UpGrad's Post Graduate Certificate in Product Management

Learn More