Conversational marketing is a unique form of marketing in which the company or the marketer engages with the customers through a dialogue. While there are several aspects of conversational marketing, it essentially includes engaging with website visitors and converting them into potential customers with a dialogue. Over 50% of site visitors have already utilised conversational marketing tools such as chatbots, as they believe it to be one of the easiest ways to seek answers to user queries.
Conversational marketing focuses on reducing the duration of the customer journey through quick engagement. This form of marketing has brought a significant change in the way businesses engage with their customers. It also enhances the experience of the brand for the consumer. 
Learn digital marketing courses online from the World's top Universities. Earn Masters, Executive PGP, or Advanced Certificate Programs to fast-track your career.
Let's take dive deep into the world of conversational marketing and its various aspects which influence customer engagement!
Importance of Conversational Marketing
While conversational marketing brings a fresh perspective into the world of marketing, companies are advised to keep their traditional ways of marketing their products. Both forms of marketing can co-exist. While other forms of marketing focus on creating awareness, conversational marketing focus on converting. Hence, it is also called converting marketing.
It acts as a tool to interact with customers in their preferred language and style of conversation. Conversational marketing is becoming quite popular as companies observe improved funnelling of customers, and the conversion rates of businesses have also improved with the tool's implementation.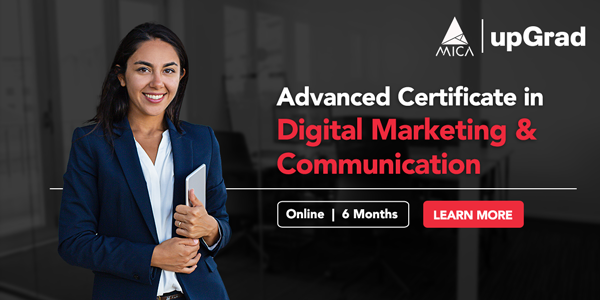 Several traditional approaches to marketing focus on pushing a product and service to a customer and making a sale. However, in conversational marketing, the focus is solely on the customer and their needs. You can use conversational marketing in the form of live chats or create a dedicated portal on your website that will handle the queries of the customers. You can do so by making good use of chatbots and AI. With these technologies, you can take the customer to the right decision. 
The best part of conversational marketing is that it relieves your sales team from the burden of answering numerous queries that come their way every minute. Also, these chats allow the company to understand the customer and use the insights to improve its products and services. Once you know the customer's needs, you can use converting marketing to serve them better. 
How to Use Conversational Marketing?
While implementing conversational marketing can initially seem challenging, you don't have to change your existing systems to start. You must use conversational marketing to support your existing system and better convert leads. Conversational marketing makes use of a framework. You need to understand this framework if you want to implement this form of marketing. The framework consists of 3 steps: 
Engage

Understand

Recommend
Now, let's understand all of these three steps in detail. 
Step 1: Engage with your customers using chat
Several companies invite their customers to fill out forms. While getting the details of your customers is important, customers do not have the time to fill out lengthy forms. Sometimes, they might even be reluctant to give their personal information. Therefore, companies should switch to chat to engage better with their audience. When you use chat to interact with your customers, you get to know them better.
Chats lead to higher conversion rates and better business opportunities. Your customer also feels heard, and it allows you to curate an experience for them. You can start the conversation when a customer visits a website and books a product or service demo. This will take the potential lead down the funnel at a quicker pace. 
While having a dedicated resource to chat with your customers is necessary, providing 24X7 chat services is a big challenge. Here's when chatbots come into the picture. You can use chatbots to engage with your audience throughout the day. 
Step 2: Understand your leads quicker and better
Converting your leads to a customer is a time-consuming process. However, you can use conversational marketing to reduce the time between the first interaction with a lead and them becoming your customer. Several studies suggest that a company or a business must respond within the first 5 minutes after receiving a query from a customer. If the companies respond within the first 5 minutes, their chances of qualifying for the lead increase exponentially. 
Conversational marketing uses chatbots to keep the business activities for the entire day. These bots can interact with your leads in real-time and reduce the response time to a maximum of a minute or two. Chatbots have a fair understanding of what the visitor is looking for, and it tries to answer all the queries that the person might have. You can create a bot and feed the frequently asked questions into the system so that it can start a conversation with the visitor. 
A chatbot gives you enough time and allows you to develop a strategy to serve your leads better. It also gives your sales representative a good premise of the lead they will interact with. 
Step 3: Take your customer to the next step
While interacting with potential customers is great, the most important step of conversational marketing is bringing them closer to the final purchase. Bots can give you a fair understanding of the customer, but when it comes to closing a sale, nothing can undermine the importance of human interaction. Bots use intelligent routing and take potential customers to the sales team. 
Once the lead reaches the sales team, you can reach out to the customers in different ways. Now that the company has gathered enough information on the leads' needs, the sales representative can start preparing accordingly for their interaction with the lead.
The bot can offer resources to help people with their inquiries or suggest tailored solutions if the sales reps need more preparation for a meeting. And by further qualifying them and gradually distributing pertinent content, they can nurture leads to the next step.  
Benefits of Conversational Marketing
Conversational marketing comes with several benefits. Let's try to understand the benefits companies can get from this effective marketing tool.
Adds a human element
The best part about conversational marketing is that it allows you to add a human touch to your engagements with prospective customers. Buyers today want to interact with businesses in real-time so that they can explain their requirements better. With chatbots and conversational AI, you can listen to your customers and curate an offering that meets their needs. 
Improves conversion
If the customer is happy with their interaction with a business, there is a high chance that they will avail of your products or services. Conversational marketing allows customers to get into a conversation and share their requirements. The customers feel heard, and their trust in the business grows by a certain level. 
Chatbots are instant; hence, the customers get replies to their queries in seconds. This kind of marketing improves the conversion rates and the quality of leads that flow into the business.
Allows Cross-Selling and Up-Selling
Conversational marketing helps you understand your customers better. You can get a fair idea about their interests and the kind of products they are looking for based on the chat history of the chatbots. This information acts as a goldmine for businesses as they can use it to identify more opportunities and cross-sell other products or services of the business that might interest the buyer. 
Increases Customer Satisfaction
Keeping customers satisfied is one of the primary objectives for most businesses. Conversational marketing has made customer satisfaction a cakewalk. It helps improve the overall buying experience. Once the user enjoys the experience of purchasing a product or availing of services, there is a high chance that they will return to the website. Also, they get to interact with a chatbot in real-time instead of waiting for 24 to 48 hours for their queries to be answered. 
Shortens the Sales Cycle
While there are several stages in a sales funnel, good use of conversational marketing can help you eliminate a few of these stages and convert the leads quicker. With conversational marketing, you can cut down on lengthy procedures like filling up forms and sending e-mails. It allows you to clear the prospective client's doubts, allowing them to make an instant purchase. 
Conversational Marketing Examples
Several companies are now using conversational marketing and turning around several eyeballs. Most of these companies are new-age and have disrupted the space with the unique use of conversational marketing. Let's have a look at a few conversational marketing examples. 
LinkedIn
LinkedIn uses conversational marketing to understand the users and give them tailor-made solutions to suit their problems. LinkedIn is no longer just a website for professionals, but it has evolved into an effective marketing platform where people can interact with each other and make meaningful relationships. 
Best Digital Marketing Courses Online
Whole Foods
Whole Foods is another company that has used conversational marketing to its great advantage. They implemented a Facebook Messenger bot that makes grocery recommendations to the users, along with a few recipe ideas. Whole Foods' initiative has transformed how businesses interact with customers in the new age. 
In-demand Digital Marketing Skills
HubSpot
HubSpot is another leading company that has made great use of conversational marketing. They use their chat tools to understand the needs of the customers. Once they have a fair idea of what the customers want, they curate a solution, especially for them. They also offer conversational video marketing through several platforms. 
Digital Marketing Free courses to Learn
Conclusion
To build a new-age business that thrives, you must understand the importance of conversational marketing. There are several companies out there who are looking to drive this experience for their visitors. If you are interested in building a career in the same, you can take up the Advanced Certificate in Digital Marketing Course from MICA and upGrad. The course focuses on digital marketing and several other techniques that have come into the space. At the end of the course, you also get a certificate from MICA and an executive alum status, landing you exceptional work opportunities!
Popular Digital Marketing Blogs
What is the most important aspect of using conversational marketing?
The most important aspect of using personalisation is implementing personalisation. Only when the messages are personalised conversational marketing works effectively.
How does conversational marketing improve lead generation?
It offers a unique way for potential customers to interact with the business. Once the tool understands the queries, it makes recommendations that are best suited for the customers.
What is the best conversational marketing strategy?
The best conversational marketing strategy is to choose the communication channels and define comprehensive Q&As.
Prepare for a Career of the Future