As information technology grows more complex, the everyday activities of people are increasingly simplified. From retail shopping to medical advice, one is reliant on the internet for absolutely everything. Naturally, a cybernated world calls for jobs that are geared to make the most of the digital platform. And one of the most popular ones out there is that of a digital marketer.
Being highly aware of the emerging social media platforms and, trends in marketing is a key requirement for this job. A digital marketer is responsible for creating awareness about the brand in measurable ways using relevant online tools. Understanding the scope of digital channels is essential to make the most of it. If you are a beginner in digital marketing marketing, and want to gain expertise, check out our digital marketing certifications from top universities. 
So from a website and social media handles to blogs, email campaigns, online ads and more— a digital marketer knows how to use it all to communicate more about the brand. Digital marketer should have a wide range of skills to tackle every channel.
As a relatively new career field, there is still a fair deal of ambiguity regarding the role and responsibilities of the job. While the term marketing is understood well by most people, digital marketing is a whole different ball game altogether. 
What Does a Digital Marketer Do?
1. Develop Marketing Strategies
Understanding the digital consumption patterns of customers is necessary to come up with solutions for selling it better. To come up with creative marketing campaigns, a digital marketer also has to have awareness about SEO, SEM, Content Marketing, Design, etc. The aim is to utilize these tools to increase brand awareness among consumers, drive traffic to the site and yes, ultimately convert to sales.
Coming up with an effective digital marketing strategy involves being clear about your goal and the channels you are going to use to get there. Do you want to focus on increasing your followers, number of likes, or do you want to be the top result on a Google search? Are you interested in lead generation? Clearly state your goal to figure out the best possible way to execute it, and a digital marketer is responsible for it. Learn more about creating digital marketing strategies for startups.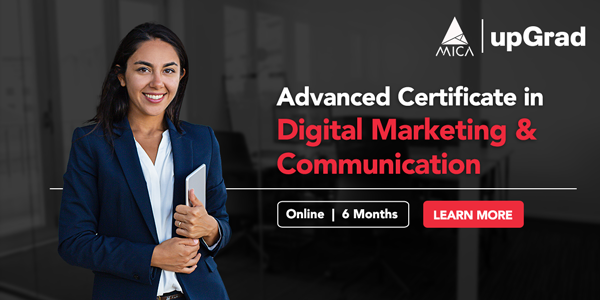 2. Use Analytics
The greatest advantage of digital marketing is that the results can be pretty immediate. Since the response is in real-time, it is easy to find out what works and what does not. It also helps to use web analytics to measure the traffic to the site. This helps identify consumer behaviour patterns too. The number of clicks versus the number of conversions— such things are easily tracked using analytics.
Tools like Google Analytics can also help you collect data that is useful while coming up with strategies and campaigns for the future. So whether you choose to do an email marketing campaign or a social media campaign, using such tools will direct you towards the right strategy.
It is also the role of a digital marketer to analyze big data so that the team can make faster decisions regarding the best marketing practices for the brand.
Best Online Digital Marketing Courses
3. Search Engine Optimization
One of the most important tasks of a digital marketer is to realize the relevance of both SEO and SEM. You cannot expect to have a vibrant digital footprint if you don't know how to leverage SEO content. The cyber-world is a large and complex web of information.
He/She should be aware of the differences between SEO and PPC. Without following effective SEO practices, any marketing tool you adopt will be like shooting in the dark. And while a digital marketer need not know the technical aspect of this function, he or she must understand its importance completely to make the most of the strategy.
4. Marketing Creative Content
Without high-quality content, you cannot generate user engagement. Whether the content is written copy, video, social media or any other, good content is necessary to create brand awareness. The impact of good content is also easily visible. By tracking the number of likes, shares and comments, it is possible to know whether or not the brand is connecting with consumers. And this kind of involvement with content is possible only when it is well-crafted.
Of all the different types of content out there, videos have the highest level of engagement with users online. A digital marketer needs to have an understanding of two things— the kind of video trends in the world today and the platform for sharing these. While some video lengths are suited to longer formats, some need to be shorter in length.
upGrad's Exclusive Digital Marketing Webinar for you –
Webinar with Q&A Session on Digital Marketing
Top Digital Marketing Skills
5. Promotional Strategies
To sell products offline, discounts and offers are always a go-to tool. However, in the digital world, you cannot announce a sale and sit back. To communicate with the consumers, you need to create a medium for them to participate. Digital promotional strategies, therefore, are a little different.
Contests, for instance, are a popular way to get people to connect online. When you announce a contest, users are persuaded to follow the company page, visit the website, promote the brand among other users, and so on. And while only a few are eligible for the reward, the brand manages to penetrate many more with relative ease.
On social media, for instance, various giveaways and contests are announced regularly to increase the number of likes and followers of a brand. In other words, the brand is made to come alive and not appear as a distant, cold entity. It is the role of a digital marketer to keep this banter going and constantly come up with newer ways to engage with the audience.
Learn more: Digital Marketing Tutorial: A Step-by-Step Guide To Become an Expert
Digital Marketing Free courses to Learn
Conclusion
While until sometime back, digital content was almost supplementary to mainstream TV and print campaigns, today many brands prefer to invest in digital branding more than conventional advertising avenues. It involves lower monetary investment, the results can be measured almost immediately, and there is a platform for nearly every target group.
It, therefore, becomes imperative for a digital marketer to be abreast of the latest digital media trends across the world and how it can be used to promote brand awareness among consumers.
If you are curious to get into the world of digital marketing, check out upGrad & MICA's Advanced Certificate in Digital Marketing & Communication.
Popular Digital Marketing Blogs
Why should you choose a career in digital marketing?
A lot more businesses today are choosing to go the digital way rather than market through traditional media channels. As the gap in skills is widening and demand is overtaking supply, the job market for individuals with digital marketing qualifications is growing manifold.

By choosing to start a career in digital marketing you can look forward to a professional life that comes with more career options, high pay packages and are open to only the select few who are qualified.
Where can you learn digital marketing?
As someone who is considering taking up a career in digital marketing, it is important that you acquire relevant knowledge in the field. As a complete novice, you can start the process with some self-study.

You will find a ton of resources online which can be a little overwhelming. But with the right amount of effort, creativity and knowledge, you can kickstart the learning process. You can also upgrade your self-acquired knowledge with certification on digital marketing from the number of digital training institutes offering a range of online and offline programs.
Who Can Do Digital Marketing Course?
Anyone can enrol for a digital marketing course, in India, or anywhere in the world. Having said that, the course makes sense for those individuals who are either interested to transition into a career in digital marketing, make a fresh start in this domain or wish to enhance their existing marketing skills to keep pace with the competition.

Other than that, those who are also working in the field such as digital sales executives, Internet marketing specialists, search engine optimization (SEO) marketing specialists or digital marketing directors can opt for a recognised and accredited digital marketing course. A professional qualification will add weightage to their existing credibility and will definitely look good on their CV.
Ride the Digital Wave