Have you ever felt like you're stagnating in your career?
Have you thought that maybe it's time to do something else?
Have you got the feeling that you could do more, and are capable of much more, than what you're currently doing?
Well, Manik Singla had all of these existential questions running through his mind as well, so he decided to take a step back (and also a step forward) and take charge of his career!
This 29-year-old started his career as an entrepreneur with his first venture in Patiala, which is where he grew up and where he completed his studies in engineering. But he spent a large part of his professional life working with a manufacturing firm in Delhi, as a partner, helping them develop their business.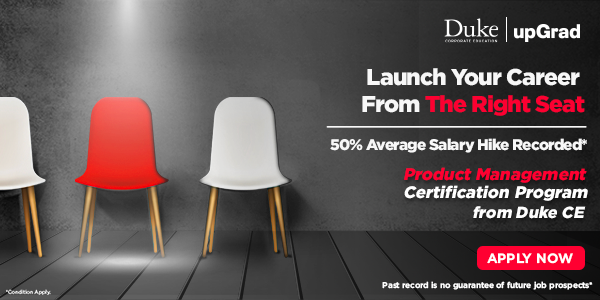 "At that time, things were not going very well in the manufacturing sector in India, and we were incurring a lot of expenses and running into losses. That is when I realised that it's time to get out of it and do something that's more up and coming."
– says Manik Singla.
As Singla found himself at the crossroads of his career, his wife landed a job in Bengaluru and he decided to move to the 'city of opportunities' with her last year, in September.
Finding himself amidst bustling young energy, technology-focused firms and a race for the most upcoming skills in new and in-demand areas – to bag the most lucrative jobs; Manik Singla decided to explore what could be the right career path for him, rather than jumping into the next best offer that came his way. Even if it meant taking the time to up-skill himself.
Explore our Popular Business Management Courses
He immediately began his research and started talking to different people to figure out what he could do next. Through a friend, Singla found out about UpGrad's Product Management Programme and after going through the curriculum, which he thought was exhaustive offered multiple opportunities to learn new skills, he enrolled himself into the Product Management course and kick-started his new innings!
Singla had found his calling with UpGrad. The big motivation for him to take up the program was its holistic approach – including mentoring from top product experts, building your own product portfolio, and a problem-solving approach to real business challenges. The fact that he really wanted to put to use his business development and analytical skills, and add to them all the other skills the program was offering, Singla decided to take up the program.
"I could have taken up a sales job in a big organisation but I did not want to do that. I would have not been satisfied with a 20-30 per cent growth in my life. So, I understood that I will have to struggle a little bit to be up-to-speed with the latest in the tech world if I really wanted to grow in life."
– he explains.
And guess what, he managed all too well! The interactive nature of the learning platform, coupled with immersive content impressed Manik Singla and kept him engaged till the end of the 5-month program. From the choice of topics to the delivery, everything "was bang on" according to him.


He felt that the buddy system for each student, which helped him maintain deadlines and do more than he otherwise would have, was particularly supportive in his learning journey.
"They constantly push you and make you do work, which makes you feel like you are connected to the course."
– he says.
Top Essential Management Skills to Learn
With the help of UpGrad's career support and interview preparation assistance, Singla landed an internship with the on-demand payments and e-commerce firm, Instamojo. Along with his performance during the program and two months at Instamojo, Singla soon converted the internship into a full-time job as a Product Manager.
At Instamojo, he got to further apply his knowledge in a real business scenario, and put to use all that he had learnt in the program, which focuses heavily on industry case-studies and application of knowledge to real-life businesses.
One such learning that came in handy for Manik at Instamojo, was – why you should do what you should do while building a product, which is what the company was struggling with and Singla was able to fill in that gap given his skills and perspective picked up during the program.
upGrad's Exclusive Product Management Webinar for you –
How to craft GTM Strategy for a Product?
We asked Dalan Mendoca, Product Manager at Instamojo, what his view on Manik's work so far has been-
"We were looking for a PM who could deepen our understanding of the Small and Medium sized business market. Manik, with his kick-ass user research skills and experience as a business owner himself, gave us some eye opening insights about our target audience."
Our Top Management Articles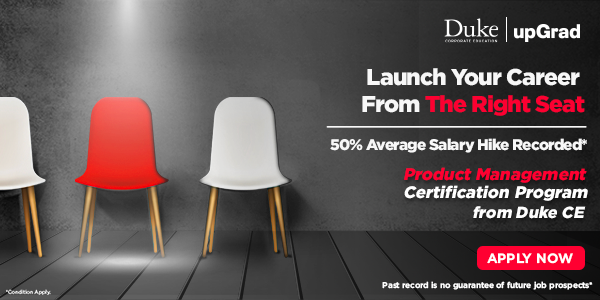 I would definitely recommend the UpGrad Product Management Program to anybody who comes to me and says that they want to become a product manager but don't know where to start from", Singla concludes.
Study Product Management Courses online from the World's top Universities. Earn Masters, Executive PGP, or Advanced Certificate Programs to fast-track your career.
Featured Program for you: Design Thinking Certification Program from Duke CE