Fintech is a continuously rising field, and as per CB insight report, the fintech funding has topped $8.3B. Fintech startup entrepreneurs and innovators are continually trying to identify new growth opportunities and work for it. Every day new fintech apps are being developed by the production departments. Know more about product management process.
That is why we have brought this article to clarify what fintech is and how it can help you digitize product management in fintech and its development process?
What are the Fintech Companies?
Fintech (Financial Technology or Technology in Finance) companies are responsible for providing technology solutions to automate the financial services of the business and customers. Fintech companies help create and help product management for fintech or applications for money transfer, money management, banking, and investment.
These days New York has been overtaking London by stealing a significant share of the fintech market. Despite all uncertainty in the Brexit market, London is leading the market. Fintech does not mean banking, and many businesses do not want to be fintech as they prefer to morph into a bank. Fintech applications can be divided into the following types:
Lending:

The fintech loan app is developed for lending operation management. For this, the user need not to visit the bank branches, credit unions, and offices. The money lending process can be executed right from within the app, and it consists of a KYC check, credit rating assessment, and verification.

Equity Financing:

Crowdfunding organizations are getting popular. Every individual can use fintech crowdfunding platforms, and they can use it to raise money for future developments.

International Money Transfer and Payments:

Fund management is an essential part of financial service providers and fintech companies. Every business is trying to introduce a new tool to transfer money and make payments in a real-time and cost-effective manner.

Personal Finance Management and Budgeting:

Personal finance management and budgeting software have always been a challenge for users due to awful customization and manual operation. Digital finance management systems help users to collect all data in one place.
Read: Product Management in Banking Industry
Check out our management courses to upskill yourself.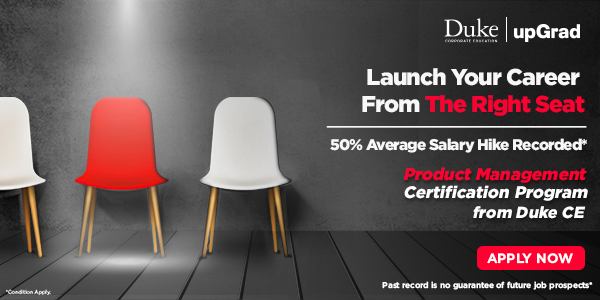 How to Create a Fintech Startup?
Initially, it may be difficult for any business to understand the buyer's or customer's behavior; this makes business more relevant and as per the user's requirement. They can then easily make the product better and improve its functionality as well. To start a new fintech, here is a small checklist that will help you in making it as per user requirement:
Fintech must address the actual pain of the users and help them in simplifying their life.

The application must help the users in smoothening their financial operations.

The solution may be used more than once.

Your idea drives you personally.

It is not a one-time problem.
Still, if you are not sure about the product management details of fintech, you can hire some specialists for that. The service providers help businesses in managing their fintech products.
Must Read: Highest Paying Cities For Product Managers
What Should a Product Manager of Fintech Know?
In Fintech, you can help and understand all decisions related to business. As a fintech service provider, you can offer various services to your users like a cross-border way to transfer money, student loan processing, a new way to file taxes, or implement an entire business. For any Product Manager to accomplish product management in a fintech company, they are supposed to answer the following questions:
Which use case will be solved by the product?

Is the user experience necessary, or does this service make sense?

Can the required or planned service be implemented through the given architecture?
You will be having answers to all the above-listed questions, but as a Product Manager of fintech, one should be answerable to the following questions also:
How will the funding of the new loan product take place?

To identify the risk of the borrower, are you using the right factors?

Is the product price competitive as per market?

Do you have a well-structured legal agreement for client-ready?

Is the customer handling team ready with the relevant answers to frequent client queries?
Common Aspects to Handle for any Fintech
If you have decided to design a fintech product, then just try to be ready with the answers to the following questions:
What solution exactly am I going to design?

Why am I designing this solution exactly?

Who will be the users of this product?
When you have answers to these questions, you will design a better product than your customer's requirement.
While designing any fintech product, one critical aspect is to build a model or design as per customer requirements that can handle their finance or money securely or properly. However, every fintech may not need to do so, but they have to deal with finance at some stage.
Read: A complete guide on product manager career growth
Explore our Popular Management Courses
upGrad's Exclusive Product Management Webinar for you –
How to craft GTM Strategy for a Product?
Some Essential Aspects for Fintech
Fintechs are supposed to automate financial services and simplify them for their customers. Every fintech products have a good ecosystem, and it has the following components:
The solution that may be either used via mobile or web by the users is indeed a complete product. Fintech products also have to be integrated with card payment processing, investment platforms, open banking technologies, so they need sup tech and regtech solutions.
Typically there should be three teams that you can hire. One is a development team may be responsible for developing and maintaining the products; the main executors and customer support team are the rest of the two teams. They should be aligned as per business and app requirements.
 

Physical and Financial Resources
Fintech startups and other companies are not usual or general business organizations. Many businesses even prefer to outsource complete product development to the latest product development trends. Moreover, these companies should have some budget for marketing, promotion, facilities, office, and partnership.
Study Product Management Courses online from the World's top Universities. Earn Masters, Executive PGP, or Advanced Certificate Programs to fast-track your career.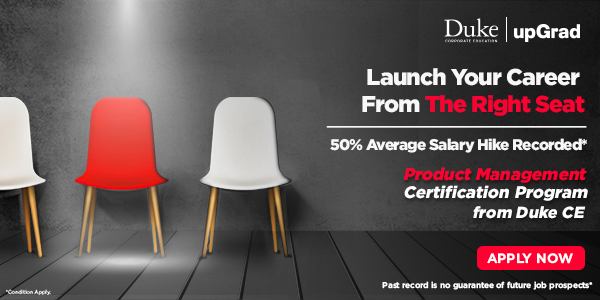 Top Management Skills to Learn in 2022
Final Words
These days fintech companies are rising rapidly. However, these companies need to have perfect development teams and skilled managers to operate them successfully. Businesses can speed up the implementation process and get maximum quality and compliance with legal requirements and product specifications.
Our Top Management Articles
If you are highly intrigued by what you read, you can enroll in the Post Graduate Certificate in Product Managementoffered by upGrad. The certification program delivered by experts will help you kickstart your career to be a successful product manager.
Not just that, you can leverage your certification to transition successfully into the role or scale-up in your current role to help your organization deliver optimum products and manage delivery efficiently.
Q1. What are some examples of Fintech products?
Q2. Is cryptocurrency Fintech?
Since Fintech is just a term that denotes different kinds of financial technologies, people often want to know if cryptocurrencies are also part of Fintech. However, the thing to understand here is that Fintech is a term that is used to denote a particular industry or sector, whereas crypto is a certain discipline. According to experts, crypto comprises a specific subset that is Fintech; the entire crypto discipline is not Fintech. In fact, most crypto experts are said to reject the idea that crypto is Fintech. They assert that crypto hails from a fundamentally different origin while Fintech is built on traditional finance combined with technology.
Q3. Is blockchain Fintech?
Blockchain is essentially a decentralized, digital public ledger system that is encrypted and secure. In the Fintech industry, there are certain core technologies, and blockchain is one of them. Blockchain was originally designed keeping in mind the cryptocurrency Bitcoin. But later on, owing to its various features and benefits, blockchain technology was adopted for all other cryptocurrencies. And soon enough, as its popularity rapidly increased, it was used in many other sectors, including insurance, finance, medicine, logistics, etc. At the core of blockchain is cryptographic technology and highly complex algorithms that account for its highly secure framework.
Build Cutting-Edge Products