Every path that you pursue has its own set of struggles. You can dream of becoming a CEO of some tech giant or could try your hands on being a product manager; either way, the road to getting there can be bumpy if you don't plan well.
Let's take Steve Jobs as a reference. He wasn't a lone wolf. When he presented the first-ever iPhone back in 2007, it wasn't his contribution alone. He had a massive team behind the curtain, which helped him constantly. There is a specific and constant need for teamwork when creating something. A team could include people from different backgrounds like sales, market, communications, engineering, etc. These teams are often led by product managers who are also termed as "mini-CEOs."
Study Product Management Courses online from the World's top Universities. Earn Masters, Executive PGP, or Advanced Certificate Programs to fast-track your career.
Let's begin by understanding the role of a senior product manager.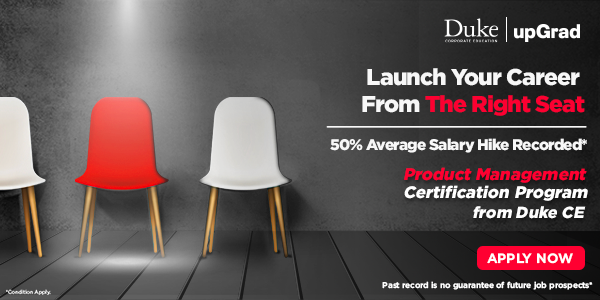 Who is a Senior Product Manager?
In simple terms, a product manager is responsible for delivering products that align with business perspectives and fulfils the market demands. They are aimed to lead the development and marketing team through the different life cycle stages. The job role of a product manager varies and depends entirely on the organization they are serving. For instance, for some organizations, marketing is a responsibility, whereas, for others, it isn't. How well a product will perform after its launch solely depends on a product manager.
Once a product manager gains an overall experience of 3 to 5 years, they are eligible to become Senior Product Manager. The job roles and responsibilities remain the same. However, they have a bunch of Associate PMs and PMs working under them.
Our Top Management Programs & Articles
Want to become a Senior Product Manager? Here's How!
Once you are a product manager, you look forward to becoming a Senior Product Manager. The path that leads you to the role is simple and straight but needs your constant effort.
Start with making an impact from the beginning when you are designated as an Assistant Product Manager or Product Manager. In becoming a Senior PM, you must show the talents you exhibit. Showcase your problem-solving skills, learn to reasonably execute them, and come up with more than one solution. As a Senior Product Manager, you will be entitled to "look for problems" and "identify solutions." Therefore, draft your potential from the very beginning.
In terms of skills set, there is nothing new. You will still be doing everything you did as an APM and PM. As a Senior Product Manager, your three differentiating qualities would include nuance, anatomy, and strategy.
Senior Product Manager – Roles & Responsibilities
The primary role of a senior product manager is to work on product planning and creating product strategy. They are the decision-makers and the ones to supervise the product flow. Furthermore, they are also responsible for deciding the "what" and "why" of the product.
Let us now take a broader look at the responsibilities of a Senior PM:

Creating the Product Strategy
A product strategy document must contain the outline of the product, like how it will be successful, what will contribute to its evolution, etc.
Analyzing the Product Roadmap
The roadmap is a visual construct of how well your product will evolve in the future. It also helps effectively set goals and track down the product's metrics.
Maintaining the Product Backlog
Managing a list of product backlogs containing the requirements and the list of dos and don'ts about the product.
Skills Required for Senior Product Manager
Let's go through the right set of skill sets you need to become a Senior Product Manager.
Excellent Research Abilities
Along with product management skills and business expertise, you must know your customer. Once the ground is ready, the product manager can then jump to build strategies and apply them to the product. Moreover, as Senior PM, you must be updated with the latest trends and market needs.

Marketing and Sales Abilities

As a product manager, you have to possess abundant knowledge about sales and marketing. As an SPM, you need to prioritize the strategies that will prove beneficial for your product in the long run.
Some of the other skills that you need as an SPM are:

Delegation Skills

Thinking Skills

Product Management

Customer Service

Communication Skills

Technical Experience

Business Skills
How Does a Senior Product Manager Career Path & Salary Look?
Product management roles and positions have seen a massive increase over the last few decades. In America, Product Management jobs took the fifth-ranking spot in 2019. Thus, if you are looking to endure strategy, design, and leadership, being a PM could be a courageous step.
Are you wondering about the product manager's salary? Let's walk you through the Product Manager Salary structure.
Given below are the some of the average salaries for different types of product managers:
Associate Product Managers:

INR

13.3 LPA

Product Managers:

INR 15 LPA

Senior Product Managers:

INR 24 LPA

Director of Product Management:

INR 50.5 LPA

VP of Product Management:

INR 58 LPA

Chief Producer Officer:

INR 6-20 LPA
Conclusion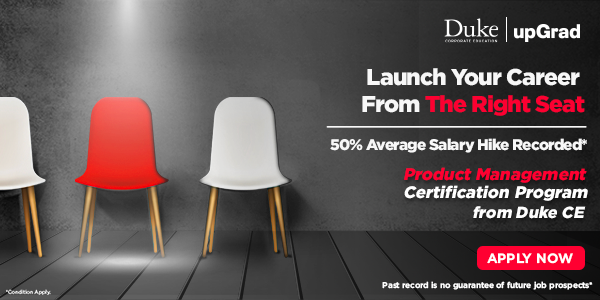 Product Managers have a lot on their back and have a crucial role in the entire product cycle. Therefore, being an excellent PM has its share of efforts.
If you wish to pursue your career as a product manager, check out the Product Management Certification Program from Top Duke CE Faculty offered by upGrad. The key benefit of this 6 to 11 months program is its Career Mentorship 1-on-1 Sessions and Unlimited Content Access for the next 3 years.
Featured Program for you: Product Management Certification Program from Duke CE!