Today, global startups are focusing on building products that leverage blockchain security. Read more about Blockchain trends and predictions. The founders of these startups are very confident about the technology and spinning the benefits in innovative ways. In this article, you'll learn about six futuristic blockchain technology startups from around the world. As a blockchain enthusiast, we believe, you'll be pretty intrigued to contemplate a future in the domain.
Learn Online Software Engineer Programs from the World's top Universities. Earn Executive PG Programs, Advanced Certificate Programs or Masters Programs to fast-track your career.
Check out our free courses to get an edge over the competition
6 Blockchain Technology Startups
Tell us in comments if you've previously heard about any linkage between tea and blockchain. Quite impressive, right? Well, Tealet is a B2B marketplace for independent tea growers to transact with their retail and wholesale buyers directly.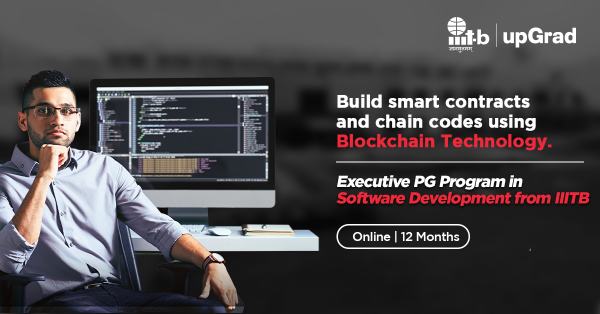 Tealet, headquartered in Las Vegas, serves as a transparent supply chain platform that provides optimised online marketing, international logistics, and low costs payments via bitcoin — the best-known cryptocurrency enabled by blockchain technology. Now that's something clever of Elyse Petersen, the startup founder.
Check out upGrad's Advanced Certification in Blockchain
Headquartered in New York, Props by YouNow is "a decentralised ecosystem of video applications." PROPS is a commitment to the future of digital content creation launched as a decentralised interactive video platform to align the interests of creators, developers, and other users.
With years of experience in developing, sustaining, and growing a thriving virtual economy, YouNow leverages blockchain technology to support the tokenised economy on its platform. Overall, this trust empowers creative professionals to share their talent and earn their share.
Check out upGrad's Advanced Certification in DevOps
Read: Blockchain Project Topics and Ideas for Beginners
Vault12 is your "Personal Crypto Security" or document security service in the digital age. Based in Mountain View and New York, Vault12 leverages blockchain technology through "Threshold Cryptography" to safeguard critical enterprise data.
Blake Commagere and Max Skibinsky, the founders, consider Threshold crypto as the best alternative to Public Key Infrastructure (PKI) failing to shield businesses and governments from rogue hackers. "With Threshold Cryptography, critical data is encrypted in pieces that are meaningless in isolation." It ensures that there is no data on vulnerable servers and passwords to steal.
Explore Our Software Development Free Courses
Ripple (RippleNet) enables financial institutions to process their customers' payments anywhere in the world. The process is instant, reliable, and cost-effective. Banks and payment providers use the digital asset XRP to reduce their costs further and access new markets.
Chris Larsen, the founder, is harnessing this power of blockchain to make it easy for 200 customers worldwide. Ripple has already had its effect in San Francisco, London, New York City, São Paulo, Dubai, Singapore, Sydney, and Mumbai. To help you understand their function, you can recall the role of Western Union now in the race of obsoletes.
Open Health Network is effectively using blockchain technology. If misunderstood, controversy can prey on their intent. Here we hope to explain it in simple words. Global medicine requires continuous R&D. So far, the data needed for this R&D has been difficult to source.
As a result, despite strict medical privacy laws, medical records were compromised. OHN, with offices in Washington DC, Los Altos, is trying to bring in transparency through smart contracts wherein consumers can control and monetise their health information. Interesting, right? Tatyana Kanzaveli and Maksim Tsvetovat are harnessing the power of Artificial Intelligence, Big Data, and Blockchain Patient Experience Management Platform.
Read: Blockchain Developer Salary in India
Explore our Popular Software Engineering Courses
We have a hunch that The San Francisco based FanVestor (an EdenLedger Company) is the coolest of all the six startups. Michael Golomb's FanVestor is a next-gen global fan engagement ecosystem that enables crowdfunding for sports, entertainment, and media industries.
The FanVestor platform is a commercially viable and institutionally credible fin-tech platform that utilises the latest in Blockchain, ML, and Big Data. With FanVestor, fan-following from all economic levels can now contribute to an icon's financial success. We won't need an institution to sponsor an underdog, FanVestor will orchestrate the funding.
upGrad's Exclusive Software Development Webinar for you –
SAAS Business – What is So Different?
How do I get started with Blockchain Technology today?
Earlier it used to be a very tedious process. Now, online education has made it simple. It is very convenient and you can sign up for any online blockchain technology program. However, you must consider the pedagogy and the practical experience of your faculty in the blockchain domain. You have to assess their experience in developing the technology.
As you'll know that IBM is an enterprise leader in the blockchain domain. It employs highly talented individuals who have established themselves as thought-leaders in the global blockchain community.
At upGrad, you have the opportunity to be trained by an IBM blockchain expert so that you have the view of the future from the front. The Executive Program in Blockchain Technology Management from Indian Institute of Management, Ghaziabad is the perfect way to get started.
In-Demand Software Development Skills
Conclusion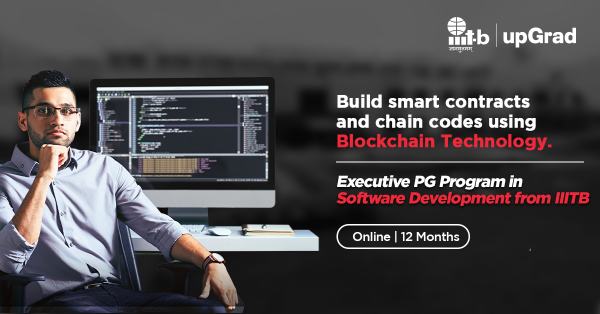 Finally, we are glad to lead you so far but the real credit is yours who has the fire to roast knowledge and bug for innovation, thanks to your entrepreneurial instincts. Who knows that this decision that you take today, could be the very impetus to found yourself in the domain. Years down the line, in one of our articles, we may be talking about your blockchain startup of global eminence.
Read our Popular Articles related to Software Development
There is a rise in careers in blockchain technology and blockchain has tremendously changed the very face of the technology industry forever. If you're interested to become a blockchain developer and build smart contracts and chaincodes, checkout IIIT-B & upGrad's Advanced certificate program in blockchain technology.