Since the very inception of UpGrad, as an idea, the founding team – Ronnie Screwvala, Mayank Kumar, Ravijot Chugh and Phalgun Kompalli, were clear on the need for new age programs for working professionals to keep up with the pace of changing technologies and skills to stay relevant. While learning is at the core of the UpGrad experience, what really drives us is the professional growth of individuals by helping them realize their career ambitions.
The fact that traditional, offline education institutes are rarely reinventing themselves is giving online education companies the added responsibility of offering industry-relevant education to make graduates and working professionals highly employable. In this day and age, it is becoming crucial to plug the skills gap in emerging technology areas.
It is with this goal in mind that we launched the UpGrad Product Management Certification Program.
"We have long been a service-driven economy but India is going digital now… building innovative consumer digital products right here is what will boost this economy further and that's the thinking behind our programs such as Product Management. We are preparing our learners for the careers of tomorrow."
– Ronnie Screwvala

Why Product Management?
Ravijot, Co-Founder and Product Head at UpGrad, was previously running his own startup in the Bay area. He mentions –
"We knew that the role of a Product Manager has been an established one in the home of tech products – Silicon Valley. But in India, the role is fairly nascent and less than a decade old. When we started conducting industry research our key finding was that the role varies a lot from one company to another and is not very well-defined at an industry level and definitely not very well-understood at the candidate level."
So, we knew we were attempting a challenging problem but one that was worth solving. Soon, Kriti Mehra (an alumnus of ISB Hyderabad with Product Management experience of over 6 years post-MBA and hence a first-hand feel of the market needs) joined the team as Program Director and kicked off the market research.
The team's approach was to drive the program design from the industry's perspective. So the team began their user research from the product heads from leading companies in India such as inMobi, Flipkart, Furlenco, and others. The product heads in India concurred that there is a huge gap in the Indian product ecosystem with respect to associate product managers and product managers as the skills they are taught at college are not in line with those needed for a new-age tech product role. As a result, most of them learn on the job.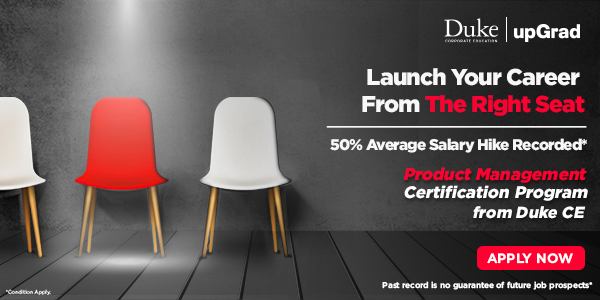 This impacts the tech product ecosystem in two ways:
Fresh Associate Product Managers miss key pieces of the puzzle such as user research, design, data analysis and have to learn most of it on the job.
The progression from Associate Product Manager roles to Senior Product Manager (SPM) roles is sparse as these roles require individuals with more expansive experience.
On being asked about what they were looking for in a potential Product Manager or an Associate Product Manager, hiring managers mentioned:
Someone who has gone through at least  one to two product cycles
Someone who can synthesize learnings across the product cycle
Someone who can think of the big picture as well as goes into details
Someone who can anticipate future requirements and plan for the same
According to reports from digital research firms such as App Annie, India's mobile app market is growing sharply and in 2015-2016 it outpaced even the US, with a 71% rise in total app downloads. Given the parallel increase in internet and mobile penetration in India, among other facts, we knew that the need and demand for digital product development skills and hence, industry-ready Product Managers, was only going to rise in the coming years.
With this extensive research in hand, the team set out to design a 5-6 month long comprehensive online program in Product Management. One that would bridge the gap between what the industry was looking for, in terms of skills and exposure, and the current skills of the talent pool. At the same time, a program that would be possible for professionals to pursue without letting go of their jobs and therefore, earning capacity. The vision of developing the program was to enable talented and motivated students to make the transition into Product Management roles, irrespective of which university or background they came from.
WTF is a Product Manager?!
How did we design the program?

"Our main aim while developing the program was not just to teach concepts but more importantly teach how to apply the concepts in solving real business problems. We, therefore, designed a program that allowed students to go through various stages of a product cycle, right from doing the market analysis of an idea to taking it to the MVP stage to building features that enable user engagement and growth"
– says Kriti Mehra, the Program Director of the UpGrad Product Management Program

The curriculum has been designed in collaboration with over 30 Industry Leaders from top Product Companies such as Zomato, Myntra, Amazon, Uber, Goibibom, Paytm, BookMyShow and others.
The four core pillars of the Product Management Program, as she expands, are:
Learning from Experts: (

2-3 hours per week of content plus 1-2 hours per week of meetups and interactive sessions)




The concepts and frameworks are built in collaboration with leading domain experts from India's very own Silicon Valley, which one learns via recorded modules, interactive sessions, and meetups.

Exclusive 1-1 mentoring: (

3-5 hours per week)




Learners get mapped to an industry expert relevant to their background and goals and avail 3 sessions of 1 hour each to discuss their doubts and plan growth.

Hands-on Industry Experience: (

1 hour per month)




Learners get to create their own UpGrad Product Portfolio to showcase their product skills to prospective employers. Work on 5+ real industry problems to apply their learnings in the real world.

Dedicated Career Support: (

1 hour per week for 2 months)




Each participant avails multiple rounds of resume reviews, and practice for their recruitment process via mock interviews. Further, they are connected to relevant opportunities via the UpGrad network.
We strongly believe that a professional education program is not just about getting the job but also keeping the job. Our program touches upon various functions that a Product Manager will need to know to make a multitude of decisions depending on the stage of the product and the nature of product problems.
As Manish Upadhyay, one of our students who transitioned from a Growth  Marketing role into Product Management at FloChat mentions –
"This course got me to the core of what product management is all about: finding the right solution to the right problem and for the right market. We were able to learn first-hand from experienced Product Managers and also to learn and implement new skills right away."
Career Paths and Career Transitions of a Product Manager
What is one-on-one mentoring?
A key role in the learning journey is played by the mentor who is allocated to a student. The mentor is a Senior Product Manager or product head from a leading product company who mentors the student's approach towards solving product problems and expands his or her thinking towards product management.
The culture of mentoring is an important building block of Silicon Valley and the consumer-tech industry where the role has risen to be one of the most sought-after ones within a short span of time. We realized that even though the current Product Managers in India lacked such mentors when they were starting out, they are more than willing to take time out and give back to the community so that others, who are starting back where they did, don't have to face the same difficulties. We saw several mid to senior product management professionals in India happy to sign up with us and mentor our students through monthly 1-1 sessions.
Here's what one of the program mentors Saurabh Sharma, AVP, Products at Paytm says –
"I came onboard as a mentor with UpGrad in July 2016, when they were just launching the program. I was happy to join since it was a unique program that aimed to help selected professionals learn product management in a structured way.  The expectations from a Product Manager's role vary a lot depending on the stage of the product (and company). This makes it essential for companies to pick driven individuals who take ownership of whatever is thrown at them besides having hands-on Product Management experience. This was one of the reasons I believe mentoring is essential for this domain as the whole ecosystem benefits and companies like us get to hire better-trained individuals as well."
And the results have been extremely positive too! The mentor-mentee connect has worked superbly with instances of mentors often being so impressed with the approach and effort put in by the mentee that they offered the mentee a position in their team or connected them to other product heads in their network.
Another impact of mentoring is the community that is invariably built, which is a strong component of any Product Managers learning and growth journey.
As Vishrut Shukla, another one of our mentors who is currently a Product Manager at Microsoft, and has earlier worked at Zivame and BITSAA puts it –
"In my experience so far, every interaction – be it a webinar, event, speaker talk, offline workshop or mentorship session – has been extremely enriching. The deeply insightful discussions, knowledge sharing and idea generation leaves me spellbound – every single time. While UpGrad, on one hand, produces Industry-ready, upskilled, formally trained and freshly minted product 'thinkers' and 'doers', on the other hand, it keeps the experienced folks alive, kicking, renewed and contributing back to the community. It's truly remarkable how UpGrad is bringing aspiring and experienced product builders together and I sincerely hope the movement continues and gathers more steam. Onwards and upwards!"

What has been the career impact so far?
Since the launch in July 2016, the program has seen 6 successful cohorts and has trained 240 product managers out of a total of 6300 applicants. UpGrad conscientiously maintains a high selectivity criteria for the program in order to ensure personal attention to all students as well as ensure the quality of UpGrad trained Product Managers who join the industry after the program.
We ensure strong career support for our learners to become job-ready. Not only do we want to prepare them for the recruitment process, which includes resume reviews and mock interviews, but also connects them to relevant people for the right opportunities.
We are truly humbled to see the acceptance that our Product Management Program has received from technology and internet companies in India. The fact that companies like Paytm, Zivame, Instamojo, Grofers  Airpay, Happay, Foyr, Listup, Tapzo and several more have recruited our students in Product Management roles, is a matter of great pride for us as it validates our efforts in creating impact in the right direction. We have also started creating an impact in the international product ecosystem with our students pursuing career opportunities abroad- one of the recent success stories being one of Chagaleti Anjineyulu interning as a product manager at togoparts.com in Singapore.
Overall we have witnessed over 2 dozen career transitions from the initial three batches alone. This is over and above the students who are either using their skills to perform better at their existing jobs or using their skills to now build their own tech product startups. The newer batches are all motivated to set new milestones.
Meha, one of our students who successfully made a career transition, mentions –
"UpGrad helped me connect the dots and get the overarching view of a product's journey from ideation to execution. Thanks to the Career Support Team, I bagged not one but two Product Management offers!"
Further, we have also seen companies nominate their employees for the program to help them learn the ropes of Product Management. Multiple types of companies have deployed the program for a variety of use cases – an established music company like Saregama enrolled its Product Managers to better equip them for the digital age.
India's largest startup, Flipkart, helped employees transition to Product Management roles by putting them through the program while a US-based retailer like Target did the same for senior level employees transitioning to product roles.
Shiju Thomas, our Learning Business Partner at Flipkart says –
"UpGrad ensured that we received the right content as well as had access to the subject matter expert to discuss our business's learning needs. Post the program, the 2 employees who have completed the program have been glad to be able to not just talk the product language but also apply their learnings on the job; whatever they learned through the UpGrad Program."

What does the future hold?
Product Management is still a niche space in India with a limited talent pool and for us to achieve the vision of Digital India, we need much more Product Managers who are much better trained. We, at UpGrad, are proud to help expand and strengthen this talent pool.
A product mindset is needed in most businesses or organizations, especially in the IT context, given that the IT industry is moving from a service to a product-based ecosystem. There is a need to develop strong product thinking to revive the IT industry and India has not been a leader on that front, yet. The way the country owned the IT movement and experienced huge growth in the late 90s and early 2000s needs to be replicated if India wants to develop an important, global stature. 
Between 2015-17 over 30,000 IT employees were laid off by tech giants. 65% of IT employees are not retrainable. However, where there are layoffs and industry contractions, there are many other expansions, emerging technologies and industries, and opportunities. In the Indian IT industry, revenue from Digital Technology projects is growing 7X faster than from traditional projects. To tap into this trend, 2 million IT employees need to be re-skilled and 1.5 million new employees trained by 2025.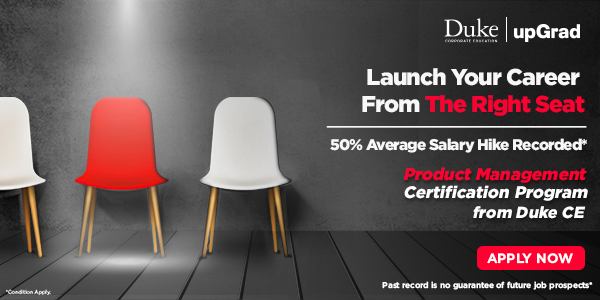 At UpGrad, our vision for the program is to be recognized by professionals and companies alike, as the one-stop destination for those looking to become career-ready Product Managers or for employers trying to find trained professionals for the job. In the coming months, we will be expanding our footprint across the product ecosystem in India and other countries in Asia, Africa, and the Middle East.
One question that we often get from prospective students is why UpGrad doesn't opt for an academic partner for the Product Management Certification Program, unlike the other programs where we have built lasting university partnerships. The answer lies in the focus on the end-result. When our students transition or step into the industry and land job opportunities, no one ever asks them for their certification. They are evaluated on the basis of their structured resume, their diverse portfolio, and their polished interview skills, which is exactly where we put our focus and resources to ensure that we achieve the right kind of outcomes for a Product Manager's role – job-readiness and applicable skills.
As Mayank Kumar, UpGrad Co-Founder and MD puts it –
"Economic growth in today's digital age is going to take more than just talent development. It also needs a massive change in mindset. A change from Service mindset to Product mindset and Requirement mindset to Innovation mindset. The National Skill Survey reports that 70% of our college graduates do not have employable skills and 80% of companies mention a shortage of digital talent required. This is a sign that both recruiting companies, as well as job-seeking individuals, need to focus on hands-on skills. While a good degree or certification does add value to a candidate's profile, the real value lies in industry-relevant skills, which is where we as a country need to improve and that is why a comprehensive program in Product Management is very much needed."
Though India still has a long way to go, with the growth of the startup ecosystem and the digital revolution taking over even traditional industries like IT, retail and manufacturing, this change in mindset has already started happening. UpGrad is proud to be a part of this revolution: helping prepare professionals and enabling companies to build and recruit the right talent.
Study Product Management Courses online from the World's top Universities. Earn Masters, Executive PGP, or Advanced Certificate Programs to fast-track your career.
Build Cutting-Edge Products